Yum! Impacted by Chinese New Year & 2 Stocks at 52-Week Lows
Revett Minerals  (AMEX:RVM): Closing price $2.34
Revett Minerals released an update on underground activities at its Troy Mine, along with an update of year-end 2012 reserve and resource estimates. The company recently completed underground travel-way inspections from the South Adit.
The inspections, in coordination with MSHA and a Revett geotechnical consultant, confirmed groundfall along a portion of the main haulage route approximately 3,000 feet from the South Adit entrance. Based on information gathered to date, a connecting drive from a northeastern stope of the North Orebody to a southeastern stope in the Lower Quartzite is currently being developed and will allow for further inspections of the mine and planning of alternate haulage and utilities routes.
The firm has continued to scale and de-water sections of the North Orebody from the Service Adit and has regained access to portions of the Lower Quartzite haulage route which remains operable. The new connecting drive and ongoing inspections should be completed within three to four weeks. Revett is currently following a plan to safely resume production, including development of a secondary escape-way and rerouting of utilities which we believe will lead to commercial operations recommencing by early April.
Should the company discover structural damage in the Lower Quartzite haulage route, alternative access routes may need to be considered. The company will provide an update if structural damage is discovered in the Lower Quartzite haulage route or other factors that hinder the Company's ability to meet the timeline currently being proposed. Shares closed down 2.09 percent on the day at $2.34, and have traded in a 52-week range of $2.20 to $4.90.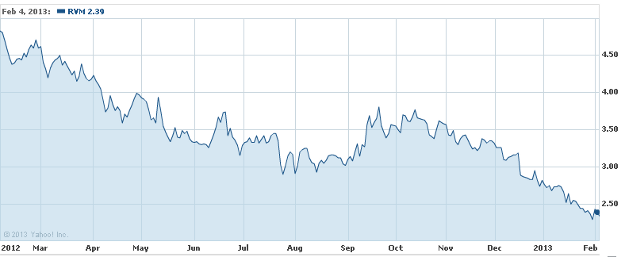 United Dominion Real (NYSE:UDR): Closing price $23.47
UDR posts a FFO of 35 cents against consensus of 33 cents. Shares closed down 0.3 percent on the day at $23.47, having been traded in a 52-week range of $22.31 to $27.75.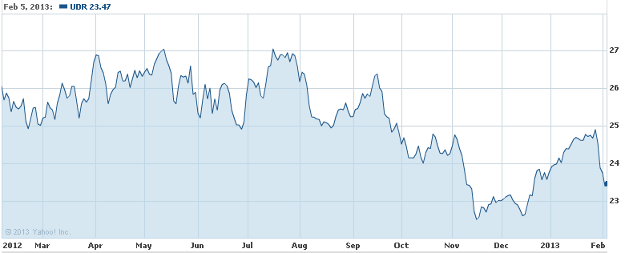 Yum! Brands (NYSE:YUM): Closing price $62.08
The firm reported a negative impact from the Chinese New Year on its sales in January, but thinks that trend will reverse in January. Additionally, it expects to launch an aggressive ad campaign in China subsequent to the Chinese New Year. Yum! estimates a mid-single digit earnings decline in 2013 compared to 2012. The fall is disappointing, but it foresees 2013 as an 'aberration' rather than a trend. These comments were taken from the fourth quarter earnings conference call. Shares closed down 2.91 percent on the day at $62.08, and have been traded in a 52-week range of $61.05 to $74.75.

Don't Miss: Is Life Technologies Likely to Outperform?