YUM's Chinese Market Faces Avian Flu Tremors and 4 Other Hot Stocks
Shares in Yum Brands Inc (NYSE:YUM) followed a downward spiral in Chinese airline stocks after news of the re-emergence of bird flu in that country. Already on the defensive after a supply chain issue related to chicken caused a food scare in February in China, the fresh jitters caused the YUM stock to tank over 6 percent during the past five days.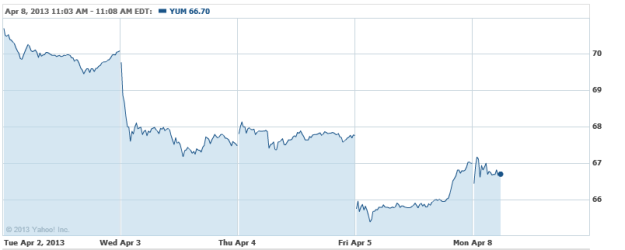 General Motors' (NYSE:GM) Australian manufacturing unit responds to difficult market conditions by cutting about 12 percent of its workforce, a move that comes on the heels of Japanese competitor Toyota Motor Corp's (NYSE:TM) reduction of its Australian staff by 7 percent last year. Brutal competition, difficult exports due to a strong Australian dollar and cheap competing imports for the same reason have created a tough situation for Australian automakers. Even Ford Motor Company (NYSE:F) announced hundreds of layoffs over the past one year, even though the Australian government is offering subsidies for the protection of jobs. The government, on its part, made soothing noises: "We will work with the industry to ensure it is sustainable in a period where the Australian dollar is very strong," said Gary Gray, acting minister for climate change, industry and innovation, and reported by MarketWatch.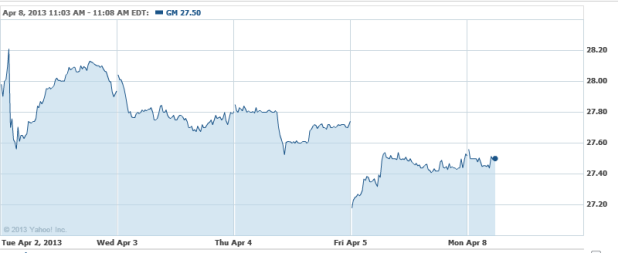 GE (NYSE:GE) agrees to acquire Lufkin Industries Inc (NASDAQ:LUFK), a leading provider of artificial lift technologies for the oil and gas industry and a manufacturer of industrial gears, paying $88.50 in cash for every share in the latter. The $3.3 billion acquisition will enhance GE Oil & Gas' presence in artificial lift technology as well as give it a stake in a fast-growing business – Lufkin grew its revenue in 2012 by 37 percent to $1.3 billion. Its artificial lift business saw a 47 percent increase during the year. Artificial lift, used in 94 percent of the roughly 1 million oil-producing wells around the world, helps lift hydrocarbons to the surface in reservoirs with low pressure and improves the efficiency of naturally flowing wells.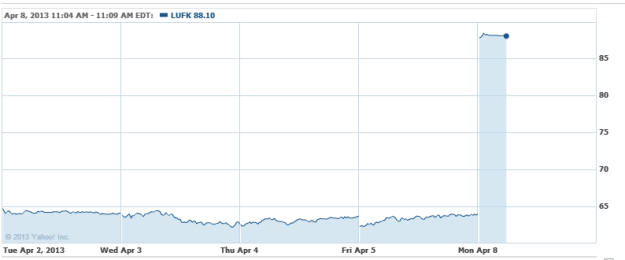 Anheuser-Busch InBev (NYSE:BUD) inches closer to its $20.1 billion objective of acquiring the other half of Mexican brewer Grupo Modelo that it does not own already by striking a tentative deal with the Department of Justice, which had sued to block the acquisition. The proposed resolution is acceptable to AB InBev, Grupo Modelo and Constellation Brands Inc (NYSE:STZ), the main players in the transaction. Though the Department of Justice confirmed the development, it made it clear that any settlement would have to completely protect the rights of US consumers.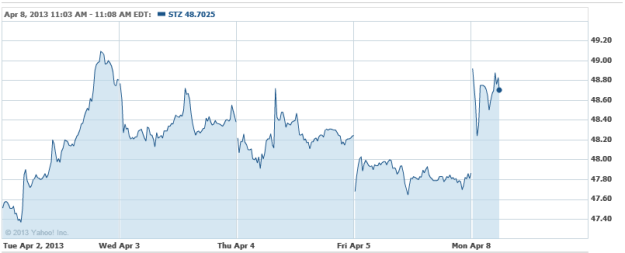 Don't Miss: Will the Recovery Continue for Huntington Bancshares?