Zale Corp. Earnings Cheat Sheet: Margins Shrink as Costs Rise
Zale Corporation's (NYSE:ZLC) third quarter loss narrowed, but margins shrank. Zale Corporation is a specialty retailer of fine jewelry. It operates approximately 1,218 specialty retail jewelry stores and 672 kiosks located mainly in shopping malls throughout the United States of America, Canada and Puerto Rico.
Don't Miss: Wall St. Cheat Sheet's newest Feature Trades of the Month!
Zale Earnings Cheat Sheet for the Third Quarter
Results: Loss narrowed to $9 million (loss of 28 cents/diluted share) from $12.1 million (loss of 38 cents/share) in the same quarter a year earlier.
Revenue: Rose 14.5% to $411.8 million YoY.
Actual vs. Wall St. Expectations: For ZLC, the mean analyst estimate was a loss of 57 cents/share. Estimates ranged from a loss of 45 cents per share to a loss of 75 cents per share.
Quoting Management: "We continue to make progress in our multi-year initiatives to return the Company to profitability," commented Theo Killion, Chief Executive Officer. "Our results validate that the work we've done to improve our marketing, our product and our guest experience is beginning to take hold."
Key Stats:
Gross margin shrunk 0.7 percentage point to 50.1%. The contraction appeared to be driven by rising costs as the figure rose 16% from the year earlier quarter while revenue rose 14.5%.
The company's revenue has now risen for two straight quarters. In second quarter, revenue increased 7.6% to $626.4 million from the year earlier quarter.
Competitors to Watch: Signet Jewelers Ltd. (NYSE:SIG), Blue Nile, Inc. (NASDAQ:NILE), DGSE Companies, Inc. (AMEX:DGSE), Tiffany & Co. (NYSE:TIF), Birks & Mayors Inc. (AMEX:BMJ), Nordstrom (NYSE:JWN), J.C. Penney (NYSE:JCP), Macy's (NYSE:M) and Saks (NYSE:SKS).
Stock Performance: Shares of ZLC are up over 5% from the previous close of $4.42.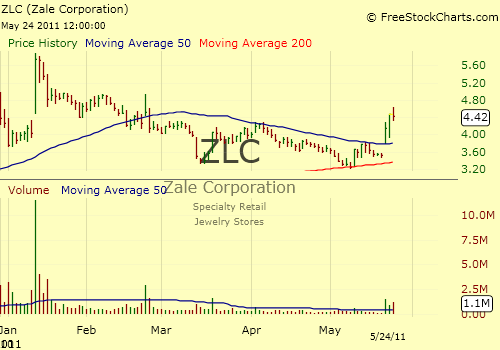 Don't Miss Wall St. Cheat Sheet's newest Feature Trades of the Month!
(Sources: YahooFinance, Xignite Financials)