Zion Bancorp Earnings: Stock Up Big on Beat
S&P 500 (NYSE:SPY) component Zions Bancorporation (NASDAQ:ZION) swung to a profit in the first quarter and beat Wall Street's expectations in the process. Zions Bancorporation provides a full range of banking and related services through its banking and other subsidiaries.
Don't Miss: Wall St. Cheat Sheet's newest Feature Trades of the Month>>
Zions Earnings Cheat Sheet for the First Quarter

Results: Swung to a profit of $52.6 million (8 cents/diluted share) in the quarter. The Zions Bancorporation had a net loss of $60.2 million or a loss 56 cents per share in the year earlier quarter.

Revenue: Noninterest income rose to $134.1 million from $107.6 million.

Actual vs. Wall St. Expectations: ZION beat the mean analyst estimate of a loss of 17 cents/share. Estimates ranged from a loss of one cent per share to a loss of 30 cents per share.

Quoting Management: "During the first quarter we were especially pleased to see a substantial moderation of loan losses and continued improvement in credit quality, which allowed for a material reduction in our provision for loan losses," said Harris H. Simmons, chairman and chief executive officer. Mr. Simmons continued, "We believe these improved credit measures and trends are sustainable, and will lead to continued operating profitability through the remainder of the year."
Mr. Simmons concluded, "We look forward to further credit improvement, increased loan volumes, and the eventual rationalization of our capital structure through the refinancing of higher cost preferred stock and subordinated debt, all of which should lead to material improvement in our earnings levels in future periods."

Key Stats:
ZION's profit in the latest quarter follows losses in the three previous quarters. The company reported a net loss of $72.2 million in the fourth quarter of the last fiscal year, a loss of $47.3 million in the third quarter of the last fiscal year and a loss of $113 million in the second of the last fiscal year.
Competitors to Watch: Citigroup Inc. (NYSE:C), Bank of America (NYSE:BAC), Deutsche Bank (NYSE:DB), JPMorgan Chase (NYSE:JPM), HSBC (NYSE:HBC), Metlife (NYSE:MET), PNC (NYSE:PNC), U.S. Bancorp (NYSE:USB), Financials (NYSE:XLF) and Wells Fargo & Company (NYSE:WFC).
Today's Performance: Shares of ZION are up over 4% in after hours trading.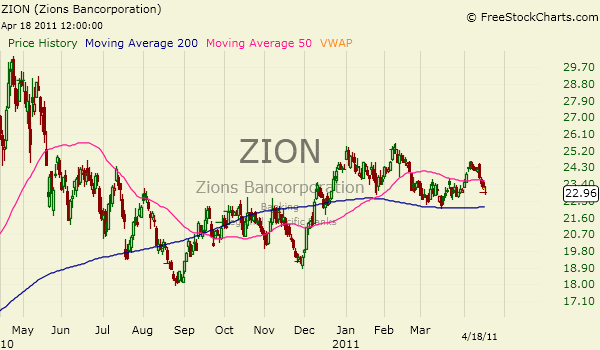 Don't Miss Wall St. Cheat Sheet's newest Feature Trades of the Month!