Zoran Corporation Earnings: Loss Widens
Zoran Corporation (NASDAQ:ZRAN) reported its results for the first quarter. Zoran Corporation is a provider of digital solutions in the digital entertainment and digital imaging market.
Don't Miss: Wall St. Cheat Sheet's newest Feature Trades of the Month!
Zoran Earnings Cheat Sheet for the First Quarter
Results: Loss widened to $30.4 million (62 cents/diluted share) from $4 million (loss of 8 cents/share) in the same quarter a year earlier.
Revenue: Fell 6.1% to $84.9 million YoY.
Actual vs. Wall St. Expectations: ZRAN reported an adjusted net loss of of 43 cents/share. By that measure, the company fell short of the mean analyst estimate of a loss of 38 cents/share. Estimates ranged from a loss of 36 cents per share to a loss of 40 cents per share.
Quoting Management: "During the first quarter we achieved a number of new design wins with new customers in DTV, including several tier-one manufacturers which was consistent with our goals and resulted in an expanded and more diversified customer base," said Dr. Levy Gerzberg, president and chief executive officer of Zoran. "In printer imaging, momentum continued to build around our laser solutions which address both color and monochrome printers, and we achieved multiple deployments of our proprietary IPS software with new and existing customers. In our set-top-box product line, which includes Broadband-receivers, we saw new design wins and deployment of our solution with operators in India. While we are seeing slower than anticipated adoption of Docsis 3.0, continued demand for the traditional Docsis 2.0 slightly offset the shortfall. DVD continued to increase profits as we harvest end-of-life revenues."
Key Stats:
Last quarter marked the fifth consecutive quarter of gross margins expanding as the company's gross margin expanded 0.1 percentage point to 51.8% from the year earlier quarter. Over that span, margins have grown on average 3.3 percentage points per quarter on a year-over-year basis.
Over the last five quarters, revenue has fallen an average of 3.5% year over year. The biggest drop came in the fourth quarter of the last fiscal year, when revenue fell 20.5% from the year earlier quarter.
Competitors to Watch: Trident Microsystems, Inc. (NASDAQ:TRID), Broadcom Corporation (NASDAQ:BRCM), Pixelworks, Inc. (NASDAQ:PXLW), Texas Instruments Inc. (NYSE:TXN), Entropic Communications, Inc. (NASDAQ:ENTR), NVIDIA Corporation (NASDAQ:NVDA), Silicon Image, Inc. (NASDAQ:SIMG), ON Semiconductor Corp. (NASDAQ:ONNN), MaxLinear, Inc. (NYSE:MXL), and LOGIC Devices Incorporated (NASDAQ:LOGC)
Stock Performance: Shares of ZRAN are up 0.12% after hours.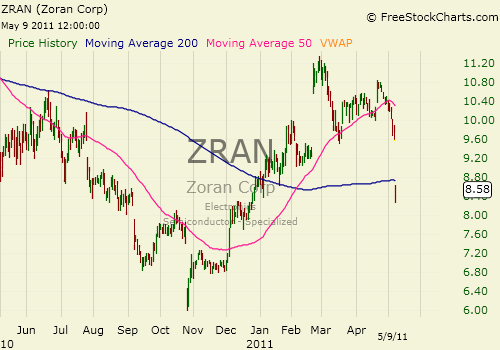 Don't Miss Wall St. Cheat Sheet's newest Feature Trades of the Month!