Zynga Beats Expectations, Amazon Falls In Line, and 3 More Hot Stocks
Zynga Inc. (NASDAQ:ZNGA): Shares of Zynga are continuing the major run they had after hours on Thursday in the wake of a quarterly report that saw beats for both earnings and revenue (earnings per share of -2 cents, beating by 2 cents; revenue of $152.1 million, beating by $8.4 million). Despite soft fourth-quarter guidance, the appointment of mobile gaming industry veteran Clive Downie as COO is helping fuel shares, even as daily active users fell 23 percent quarter over quarter and 49 percent over last year, to 30 million. Job cuts helped research and development spending drop 48 percent; daily active and monthly active users also experienced declines.
Amazon.com Inc. (NASDAQ:AMZN): Amazon reported EPS of -9 cents, falling in line with projections, as revenue of $17.1 billion beat by $400 million. Product sales surged 19.6 percent in the third quarter, though that figure was dwarfed by services sales, which saw gains of 45 percent. North American sales grew 31 percent as international contributed 15; Amazon's cost of sales rose 20 percent to $12.366 billion during the period.
Cliffs Natural Resources (NYSE:CLF): Though EPS of 68 cents fell shy by 3 cents, revenues of $1.55 billion beat expectations by $70 million, with the stock up on reports that Cliffs's cash cost per ton in U.S. iron ore fell 4 percent year-over-year. Better market prices and higher-grade ore led to revenue per metric ton gains of 28 percent to $108.88 in Asia Pacific; Cliffs anticipates that China will maintain its healthy steelmaking pace, and it expects demand for its U.S. iron ore and North American coal businesses to remain healthy.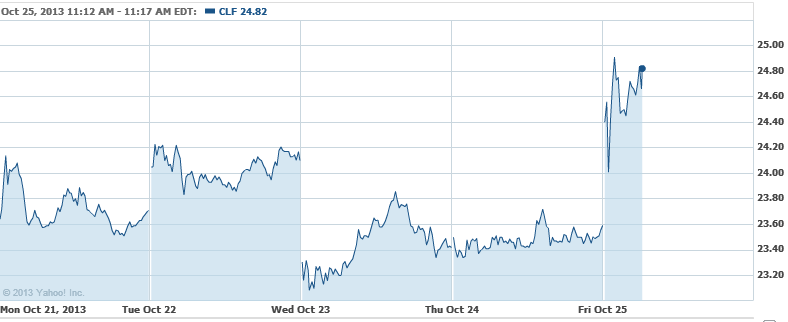 The New York Times Co. (NYSE:NYT): The New York Times Co. has officially completed the sale of the Boston Globe and Worcester Telegraph to Boston Red Sox owner John Henry after a judge lifted a temporary block on the sale due to potential conflicts with an ongoing lawsuit. The all-cash deal for $70 million was completed after the The New York Times Co. agreed to allocate a portion of the sale proceeds to be used in a potential settlement of a lawsuit involving one of the properties being sold.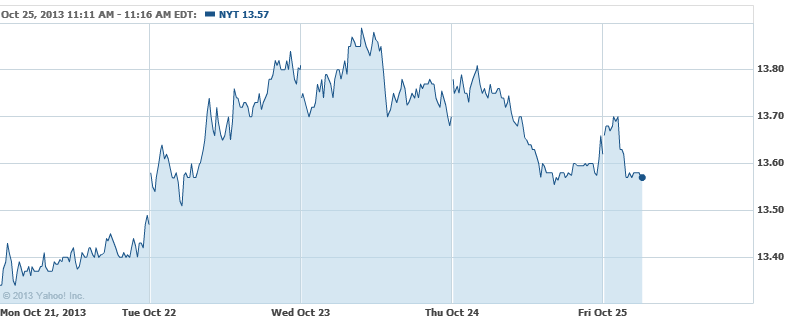 Alcoa (NYSE:AA): As it turns out, two of the world's largest aluminum makers — Alcoa being one of them — have made an estimated $1.4 billion in revenues due to higher fees as a result of a logjam at London Metal Exchange warehouses, thus justifying why the two are some of the most vocal opponents of an LME proposal directed at easing bottlenecks at the facilities.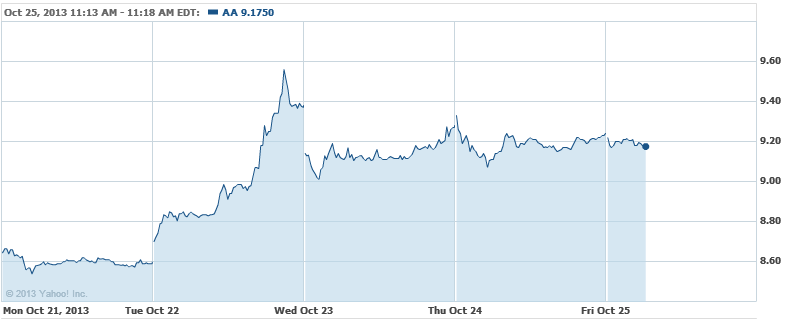 Don't Miss: Zynga Struggles On: Analysts Pleasantly Surprised.