Zynga Class A Reiterated With Hold and 2 More Heavily Traded Stocks to Follow
Zynga (NASDAQ:ZNGA): Current price $3.38
TheStreet Ratings has reiterated Zynga Class A as a Hold, along with a ratings score of C-. The analyst noted that Zynga's strengths can be observed in multiple areas, like its impressive growth in net income, a mostly solid financial position with manageable debt levels by most metrics, and growing profit margins. On the other hand, weaknesses are present, including weak operating cash flow and a mostly disappointing performance in the stock itself.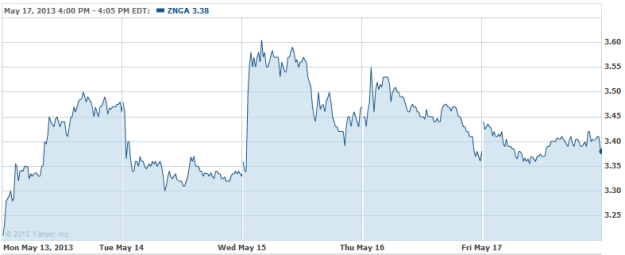 Intel Corporation (NASDAQ:INTC): Current price $24.04
A Romanian teenager, Ionut Budisteanu, 19, has won first place at the 2013 Intel International Science and Engineering Fair for employing artificial intelligence to develop a viable model for an inexpensive, self-driving automobile. Budisteanu said that his research addresses an important global matter, as in 2004, car   accidents caused 2.5 million deaths around the world, and 87 percent of crashes came from driver error. Using 3-D radar and mounted cameras, Budisteanu  formed a feasible design for an autonomously controlled auto that could detect traffic lanes and curbs, and also the real-time position of the car, which would cost only $4,000. For his achievement, he received the Gordon E. Moore Award of $75,000, which was named in honor of the Intel co-founder and fellow scientist.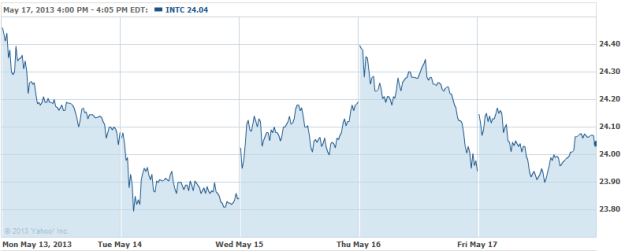 The Goodyear Tire & Rubber Company (NYSE:GT): Current price $14.74
Goodyear conducted the "Grand Opening" of its new Global Headquarters on Friday at Akron, as Goodyear Chairman and Chief Executive Richard J. Kramer, Ohio Lieutenant Governor Mary Taylor, and Akron Mayor Don Plusquellic cut a ribbon featuring the pattern of a tire tread and made brief remarks to mark the official opening of the firm's new offices.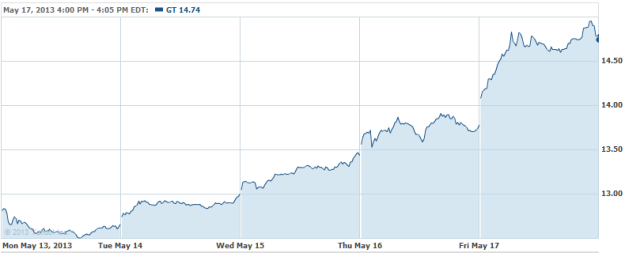 Don't Miss: Is Google Ready to Crush PayPal?