Zynga Meeting Closes Doors to Media and 2 More Heavily Traded Stocks to Follow
Zynga (NASDAQ:ZNGA): Current price $3.01
Zynga is conducting its yearly meeting of shareholders in San Francisco on Tuesday, but one day after it announced massive job cuts and the shutting of several satellite offices, legal counsel Jeffrey Schmidt would not allow a reporter from The Wall Street Journal into the gathering. Further, the firm did not offer a live webcast. Zynga hosted the meeting at the Marriott Marquis hotel, with quite a few investors in a cordoned off room outside, with only registered shareholders permitted to attend. A company spokeswoman said afterwards that Zynga held meeting the same way last year, being standard company policy.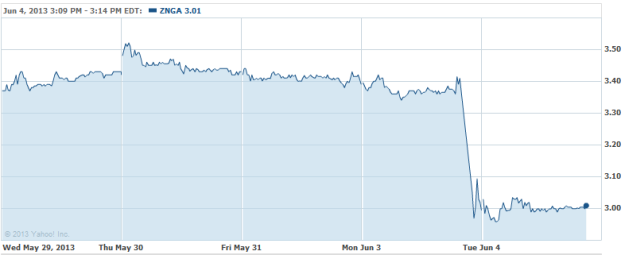 Sprint Nextel Corporation (NYSE:S): Current price $7.30
Again, Sprint's board is mulling the idea of delaying the June 12th shareholder vote on SoftBank Corp.'s takeover proposal, while DISH Network Corp. (NASDAQ:DISH) endeavors to secure a $25.5-billion counterbid for the telecom, according to two inside sources, who also reported that Sprint wants a binding offer from Dish, instead of the preliminary offer it made in April, including details on financing sources. For the time being, the board is endorsing SoftBank's $20.1 billion offer, which it okayed in October following months of friendly negotiations. Dish spokesman Bob Toevs said that his firm is still negotiating with Sprint's board and management, and cooperating with the it so as to complete due diligence for the deal.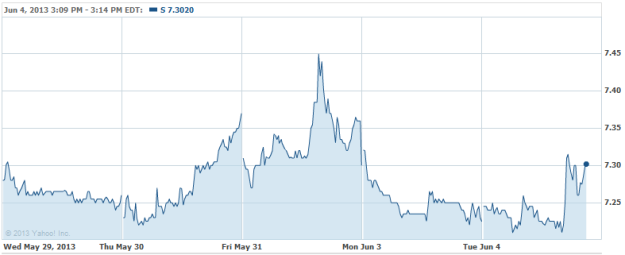 Bristol-Myers Squibb Co. (NYSE:BMY): Current price $46.73
On Tuesday, Bristol-Myers Squibb and AstraZeneca (NYSE:AZN) said that the FDA will run an accelerated review of their lipid disorder drug metreleptin. The firms want to market metreleptin as a treatment for metabolic disorders linked to rare forms of the condition lipodystrophy, a disorder that affects the metabolism of fats. The FDA conducts quicker reviews of some medications which can be employed to treat a disease that has few or no therapeutic options. The companies said that lipodystrophy affects only a few thousand patients globally, and metreleptin has received orphan drug status in the United States and the European Union.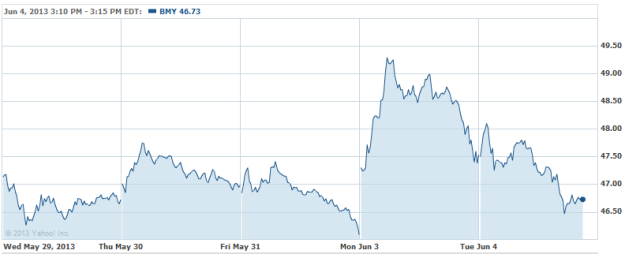 Investing Insights: Pandora's Perfect Storm.