Zynga Pops On Word Of New CEO and 2 More Heavily Traded Stocks to Follow
Zynga (NASDAQ:ZNGA): Current price $3.07
Zynga shares are up more than 11 percent in late afternoon trading, on word that the company is hiring the former chief  of Microsoft Corporation's entertainment unit Don Mattrick as its new chief executive officer, Inside sources report that Mattrick will succeed the current Chief Executive Mark Pincus, who will remain chairman. The appointment becomes effective on July 8, and might be announced Monday, according to one of the persons. Mattrick faces the task of restarting growth at Zynga, amid growing rivalry from upstarts like King.com, as well as a shift in the manner in which people play social games, away from laptops and toward handheld devices.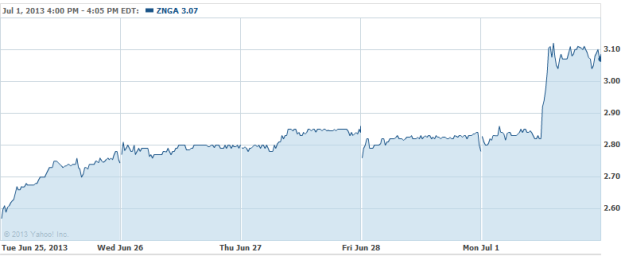 Sprint Nextel Corporation (NYSE:S): Current price $7.07
During the early morning hours on Monday, Sprint finally shut down the Nextel network, using a form of a software code to carry out the execution. Back in 2005, Sprint bought Nextel for $35 billion, in a deal that is widely seen as quite unfortunate, and has planned for years to close down Nextel's inefficient second-generation tech so that the airwaves could be used for more. Sprint network chief Bob Azzi said that the end of the network came with the dispatch of software code; just past midnight, an initial script was sent to stop calls from working on the network and then over a few hours, another set of code turned off the actual radios at more than 20,000 remaining Nextel sites. The shutdown also rids Sprint of the burden of maintaining multiple network technologies in the competitive wireless industry.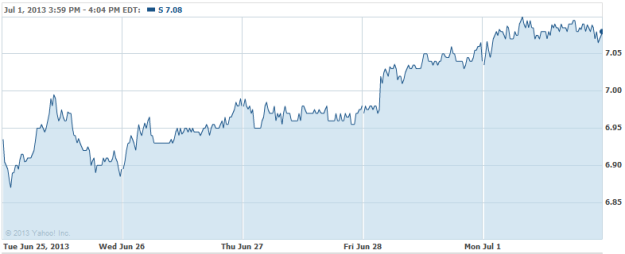 Pfizer (NYSE:PFE): Current price $27.78
A study indicates that Eliquis, the blood thinner marketed by Pfizer and Bristol-Myers Squibb Company (NYSE:BMY), worked as well as the current standard of care in preventing blood clots, and with fewer bleeding complications. In a trial of 5,400 persons, the medication was found to be equivalent to the generic warfarin at preventing new clots and death in patients having a venous thromboembolism, or VTE. In VTE, clots form in the body's big arteries, often in the legs or pelvis, and can then break off and travel into the lungs, leading to a potentially deadly pulmonary embolism.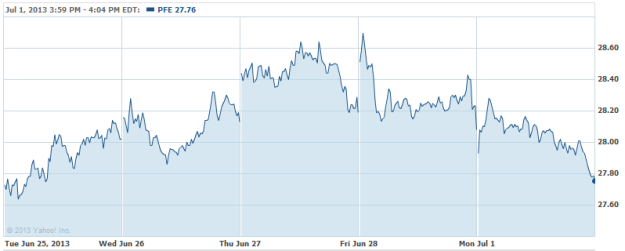 Don't Miss: Google Is Closer to Winning Its Books Battle.