Zynga Resolves Trade-Secrets Misappropriation Dispute and 2 More Heavily Traded Stocks to Follow
Zynga Inc. (NASDAQ:ZNGA): Current price $3.09
A September 9 filing at a California state court indicates that Zynga and its former studio general manager have resolved a trade-secrets misappropriation case. In October, Zynga brought a suit against Alan Patmore in San Francisco County Superior Court, claiming that he took company files with him when he joined Zynga rival Kixeye. Both firms develop games to be used on social media websites. Zynga said the files contained revenue information and monetization strategy for its games, along with design documents for more than 10 unreleased games and 14 months of confidential emails reserved solely for Zynga's executive staff.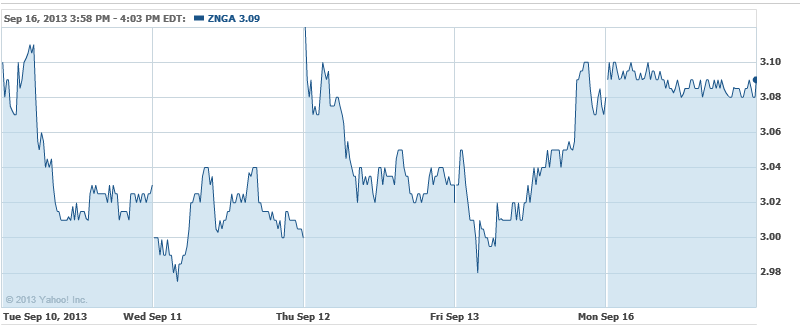 Dell Inc. (NASDAQ:DELL): Current price $13.86
A source told Bloomberg that Dell intends to raise $3.25 billion through a two-part bond offering after gaining a shareholder OK for a $24.9 billion leveraged buyout. The maker of personal computers intends to issue $2 billion of first-lien 7-year notes and $1.25 billion worth of second-lien 8-year securities, according to the source. Bankers for Dell's offering intend to commence marketing the debt as early as Tuesday. Credit Suisse Group AG, Barclays PLC, Bank of America Corp., Royal Bank of Canada, and UBS AG are conducting the offering.

Omeros Corp. (NASDAQ:OMER): Current price $8.45
Omeros shares are up almost 60 percent after an analyst elevated an estimate for potential use of the firm's drug that is used during eye surgeries. The company's shares had fallen by 47 percent in the 12 months before Monday. The drug, OMS302, is being developed for use during ophthalmological procedures, among which include cataract surgery. The Food and Drug Administration is becoming more strict on the sterility of topical solutions used during intraocular lens replacement surgery, and OMS302 would be the sole product combining pain relief and pupil dilation that meet new requirements, said analyst Liana Moussatos at Wedbush Securities in Los Angeles in a Monday note.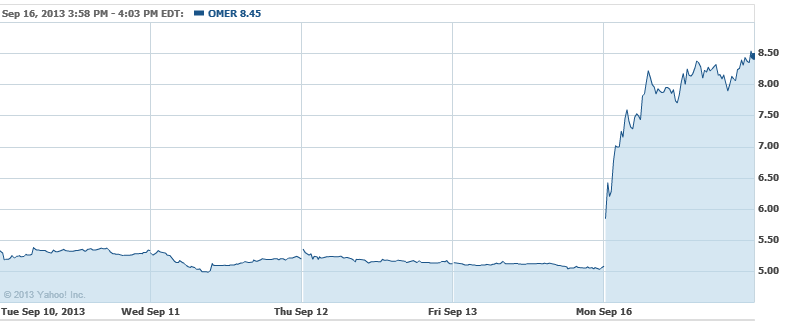 Don't Miss: Did Apple Start an iPhone 5S Price War in Japan?