Zynga Slides On Beijing Game Studio Exec Exit and 2 More Heavily Traded Stocks to Follow
Zynga (NASDAQ:ZNGA): Current price $2.58
Zynga shares are down more than 6 percent in late afternoon trading Monday, on word that Andy Tian, chief of the firm's Beijing game studio, is exiting the company. The stock had climbed by 15 percent in 2013, through June 21, compared with a 12-percent gain for the Russell 1000 Index. The firm says that Tian will be replaced by John Yin, who came to Zynga in 2012 from Electronic Arts. These changes were first reported by The Wall Street Journal.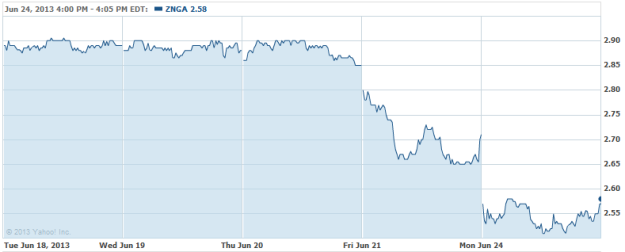 Groupon (NASDAQ:GRPN): Current price $7.97
Shares moved down modestly in afternoon trading on Monday, even though a report by William Blair & Co. called the stock undervalued, and also said that the stalled chief executive search poses no problem. However, Groupon's stock is up over 60 percent thus far in 2013, and investors are "enthused about the recent sequential increases in local revenue," wrote analyst Ralph Schackart at William Blair in a Monday research note. Schackart continued that Groupon's shares could climb as much as 20 percent near-term to $9.50, if the can boost international sales and reduce costs on its retail business, Groupon Goods.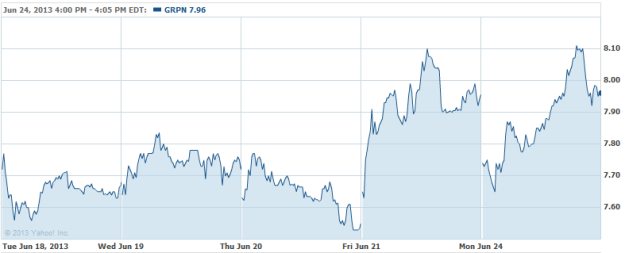 Clearwire Corportion (NASDAQ:CLWR): Current price $5.03
On Monday, Clearwire said that the independent proxy voting and corporate governance advisory firm Institutional Shareholder Services, with respect to Sprint Nextel's revised bid to purchase the approximately 50-percent interest in Clearwire it does not currently own at $5 per share, has recommended that Clearwire stockholders approve the proposed merger with Sprint. In its updated report released on Friday, ISS stated, "Given the cash consideration being offered by Sprint is higher than the tender offer from DISH, and therefore the best alternative currently available to maximize value, shareholders should vote FOR the proposed merger with Sprint."