Zynga's Executive Merry-Go-Round and 4 Other Hot Stocks
Zynga (NASDAQ:ZNGA) appoints Atul Bagga, formerly analyst of Capital Markets, as its new Vice President of Finance, reporting to CFO Mark Vranesh who was appointed in November 2012 in place of Dave Wehner. Bagga has experience covering videogames and Internet companies and also has a finance background. He is a graduate of UC Berkeley's Haas School of Business. But senior level departures continue at the gaming company, and the latest to leave is CIO Debra Chrapaty, who is joining as CEO at enterprise cloud storage service provider Nirvanix. Her position will be taken by mobile CTO Dorion Carroll.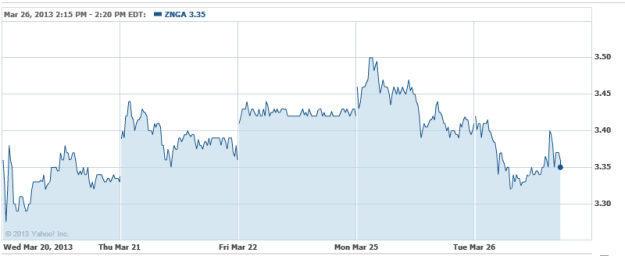 A group of hedge funds that initially intervened in the lawsuit between Chesapeake Energy Corporation (NYSE:CHK) and indenture trustee Bank of New York Mellon Corp, are now seeking to withdraw from the suit in a bid to streamline the trial by reducing the number of parties involved and avoiding duplicative filings. Between them the hedge funds hold about $250 million worth of Chesapeake Energy Corp debt. The lawsuit relates to a dispute over the company's claim that it met a deadline to redeem $1.3 billion in bonds early at par, i.e.100 cents on the dollar. The trial will begin April 23.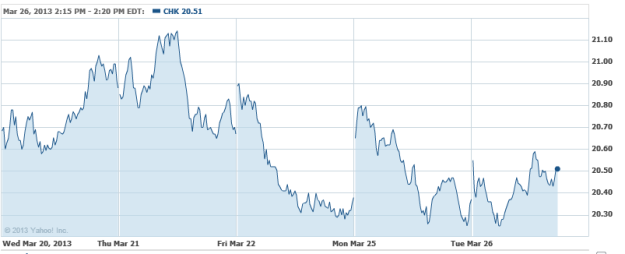 Research firm Piper Jaffray has upgraded game software maker Electronic Arts (NASDAQ:EA) from Neutral to Overweight and boosted its price target from $20 to $23. The factors cited include an expectation that its operating margins would improve, boosted in no small measure by the 2014 FIFA World Cup. Another significant factor: the stock weathered December and March quarters well, in fact moving higher. With additional positives now coming in such as CEO transition and the clarity around the next-generation consoles, the risk reward ratio on EA shares has become rather attractive.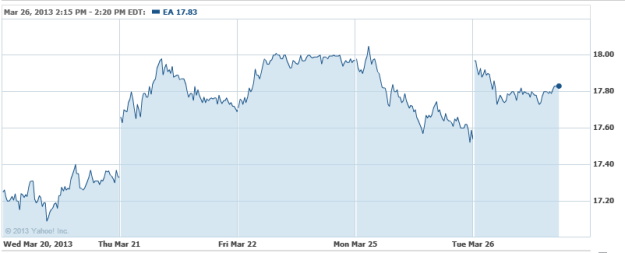 Research firm Susquehanna lowers Caterpillar's (NYSE:CAT) 2013 EPS estimate from $8.00 to $7.45, and the 2014 EPS estimate from $9.05 to $8.40. The analyst, Ted Grace cut estimates following his conversations with clients and after meetings with the company, as well as Joy Global and Komatsu. Separately, Caterpillar CEO Doug Oberhelman said the company was rather concerned about Europe though "we're doing OK." Last week Caterpillar revealed that global retail sales of its machines were down 13 percent in the three-month rolling period to February compared to the same period last year. Oberhelman said on the CNBC interview that the company is confident it is "sizing it right and at some point the sun is going to rise and we'll do well again."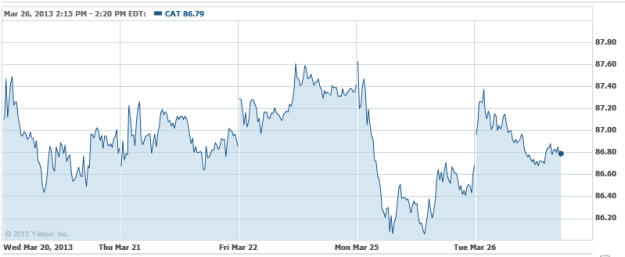 Royal Dutch Shell plc (NYSE:RDSA) announced it had received government approval for a production sharing contract with Chinese oil and gas company, China National Petroleum Corp. Accordingly, the company plans to spend about $1 billion towards the development of Chinese shale gas reserves. The two companies agreed to jointly explore and produce shale gas in the Fushun-Yongchuan block in the Sichuan basin, an area covering about 3,500 square kilometers. China is seeking overseas partners to utilise fracking, a technology that releases natural gas by breaking open underground shale rocks.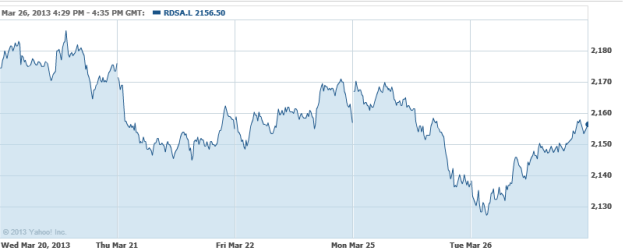 Investing Insights: Will Adobe Make New All-Time Highs?