Here's your Cheat Sheet to this week's top mergers and acquisition news:
The Blackstone Group (NYSE:BX): Current price $20.21
Knowledgeable sources say that Blackstone is considering an offer for Dell (NASDAQ:DELL) as it seeks bids to compete with the proposed $24.4 billion buyout by Michael Dell and Silver Lake Management. The sources also related that Blackstone might bid as part of a group including other investor, but the private-equity firm has not made a decision. Through the go-shop provision of the Silver Lake merger agreement, Dell's board has through March 22 to seek superior proposals, and can negotiate even past that date if it receives an offer it thinks serious. An offer from Blackstone would intensify the pressure on Michael Dell and Silver Lake to hike their $13.65-per-share bid after Dell's two largest outside shareholders already opposed what would be the largest leveraged buyout of a technology company since the financial crisis.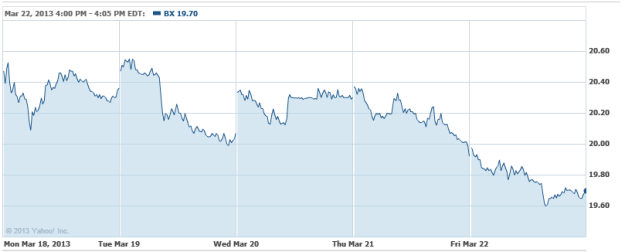 Advent Software (NASDAQ:ADVS): Current price $27.12
Advent has reported that its board decided that the company should remain independent. On Monday, the board said that it has finished a review of its strategic alternatives along with the help of its financial advisor, Qatalyst Partners, and its legal counsel, Wilson Sonsini Goodrich & Rosati. At the end of this process, the members determined that it is in the best interests of Advent and its shareholders to continue to execute on its strategic plan as an independent entity. Advent is a provider of software and services for the global investment management industry.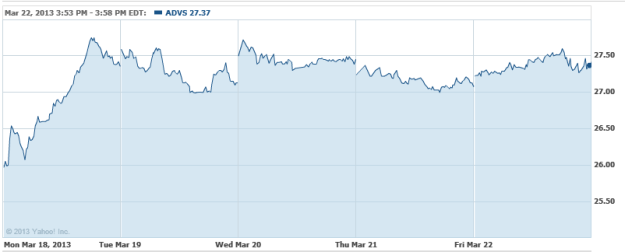 Fusion-io (NYSE: FIO): Current price $16.92
The company has purchased ID7, which was a pioneer in software defined storage and an open-source leader in shared storage systems, along with being the developers and key contributors of SCST, a Linux storage software subsystem used by many storage providers around the world. ID7 has been working jointly with Fusion-io on software development for the ION Data Accelerator software that transforms industry standard servers into shared storage appliances. No mention of financial arrangements accompanied the press release by the buyer.
Are these stocks a buy or sell? Let us help you decide. Check out our Stock Picker Newsletter now.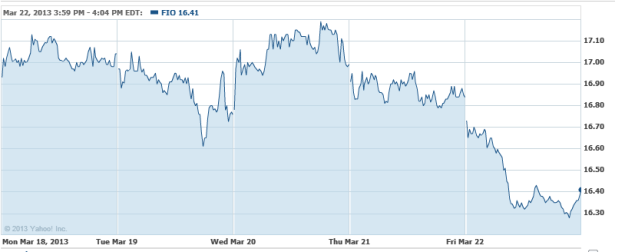 Rackspace Hosting (NYSE:RAX): Current price $49.84
Shares of the cloud computing firm Rackspace moved up Monday then settled back after tech blog GigaOM reported late Friday that IBM had explored a purchase of the company. The former IBM executive Barb Darrow said that IBM was looking at Rackspace "as of a month or so ago," in addition to being "very interested" in buying the privately-held cloud company SoftLayer. Darrow also said that EMC (NYSE:EMC), which had also been reportedly interested in SoftLayer, was unlikely to acquire it, citing sources close to the matter.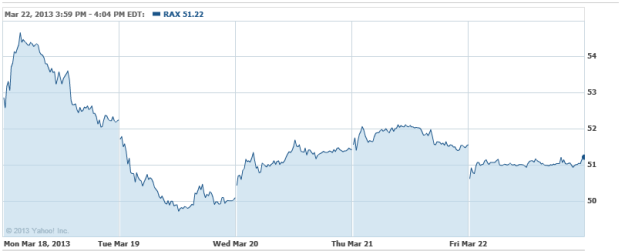 Lloyds Banking Group (NYSE:LYG): Current price $2.97
Lloyds will divest its interest in the United Kingdom home builder CALA Group to Legal & General Group. The purchase values CALA at 210 million pounds; Legal & General will buy a 46.5 percent equity stake in CALA, as an equal partner with Patron Capital Partners, along with management who will take a 7 percent share. The acquisition will be funded by 140 million pounds of equity and 70 million pounds of debt. Legal & General and Patron will both have a representative on CALA's Board.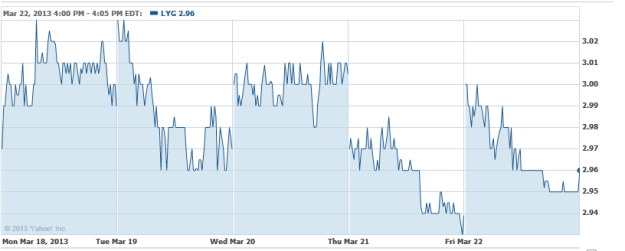 Demand Media (NYSE: DMD): Current price $8.66
On Tuesday, Demand Media reported its acquisition of Creativebug, which is "the go-to source for high-quality, online video art and craft instruction." Creativebug's network of designers and library of educational videos complements the crafts-related content of Demand Media's eHow web property, and the purchase should accelerate Demand Medias expansion into e-Learning. No financial or closing details were mentioned in the release.
Are these stocks a buy or sell? Let us help you decide. Check out our Stock Picker Newsletter now.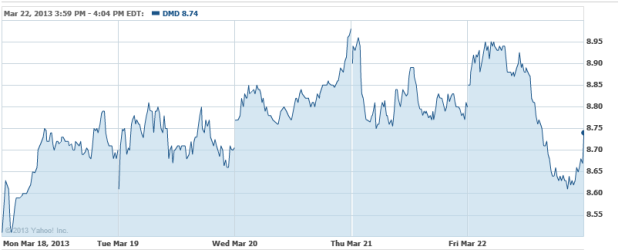 Investing Insights: Is CVS Primed for Success?

Liberty Media Corp. (NASDAQ:LMCA): Current price $110.58
Charter Communications and Liberty Media Corp. announced Tuesday that Liberty Media will acquire about 26.9 million shares and roughly 1.1 million warrants in Charter for around $2.617 billion, marking an approximate 27.3 percent beneficial ownership in Charter and a price per share of $95.50. Liberty will fund the purchase with a combination of cash on hand and new loan arrangements.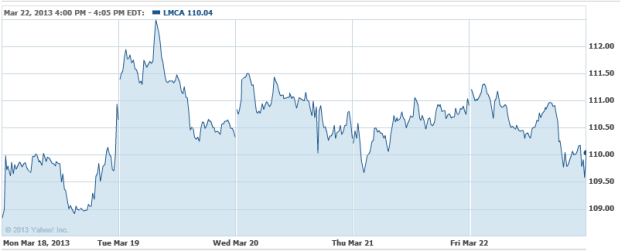 Life Technologies Corporation (NASDAQ:LIFE): Current price $63.84
Roche Holding is now in the bidding for Life Technologies, and recruited bankers to advise on a potential acquisition, while buyout firms Kohlberg Kravis Roberts & Co. and Hellman & Friedman have partnered to explore a joint bid, according to inside sources. Roche's interest in the biomedical laboratory equipment maker with a $10.7 billion market value, indicates the Swiss company's continued goal of enhanced gene sequencing a year after its $6.8 billion hostile offer for Illumina collapsing over price.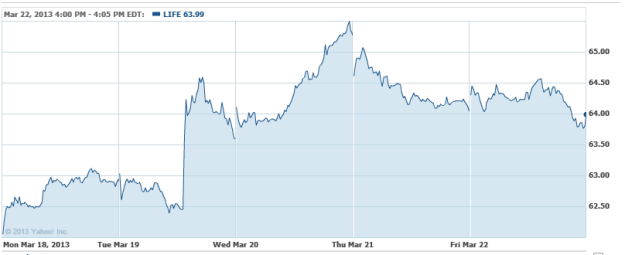 Yahoo! (NASDAQ:YHOO): Current price $22.06
Yahoo is in discussions to buy a controlling interest in the globally popular online video website Dailymotion, in what would become Yahoo Chief Executive Marissa Mayer's biggest deal since taking over in July, according to The Wall Street Journal on Tuesday. Dailymotion is owned by the French telecommunications firm France Telecom-Orange; the WSJ said that Yahoo might purchase as much as 75 percent, citing anonymous sources. The report also related that Dailymotion might be valued at about $300 million, but that a deal is not imminent and could still collapse. None of the parties involved had commented by late Tuesday.
Are these stocks a buy or sell? Let us help you decide. Check out our Stock Picker Newsletter now.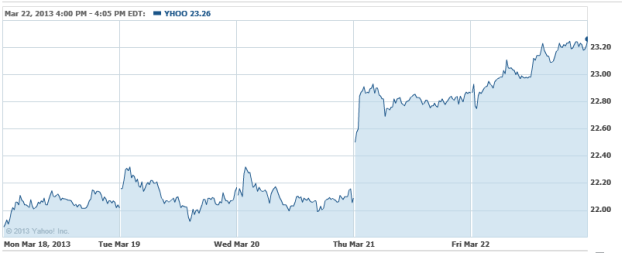 Don't Miss: March Madness: The Latest Economic Timeout?

IntercontinentalExchange (NYSE:ICE): Current price $161.58
The company has modified the structure of its proposed purchase of NYSE Euronext to help get the deal approved by regulators. IntercontinentalExchange, based in Atlanta, will acquire NYSE Euronext for $8.2 billion under a newly-created holding company, ICE Group, according to a regulatory filing on Tuesday. Under the new structure, both ICE and NYSE Euronext will become divisions of ICE Group. Each share of ICE common stock will be converted into the option to receive one share of the new holding company. The deal is presently being vetted by European and United States regulators.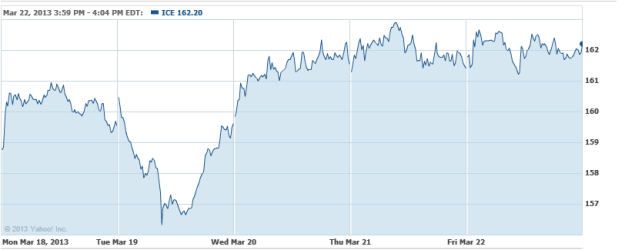 Erickson Air-Crane Incorporated (NASDAQ: EAC): Current price $15
The operator and the maker of the powerful Erickson S-64 Aircrane heavy-lift helicopter, has executed a stock purchase agreement for the purchase of Evergreen Helicopters from Evergreen International Aviation. Through the terms of the agreement, EHI is being acquired for $250 million, consisting of $185 million in cash, $17.5 million in unsecured promissory notes issued by Erickson Air-Crane, and roughly 4 million mandatorily convertible preferred shares of Erickson Air-Crane valued at $47.5 million, based upon an agreed value of $11.85 per share. The transaction should close in the second quarter.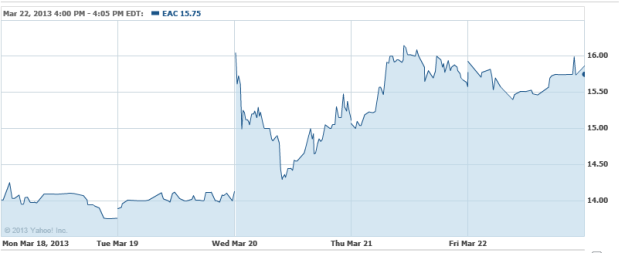 Johnson & Johnson (NYSE:JNJ): Current price $79.29
The company's subsidiary Cordis Corporation has finalized its purchase of Flexible Stenting Solutions, which develops innovative flexible peripheral arterial, venous, and biliary stents. Burrill & Company's Burrill Capital Fund IV is presently an investor in Flexible Stenting Solutions. Financials of the transaction were not disclosed.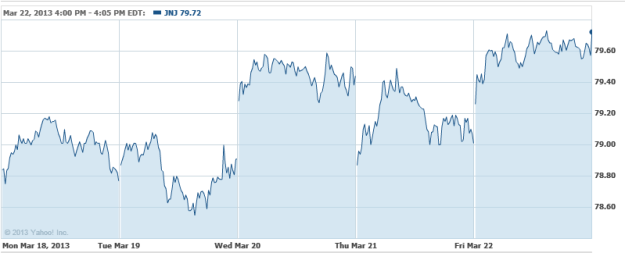 Transocean (NYSE:RIG): Current price $52.97
The offshore oil driller is being pressed by the 'activist investor' Carl Icahn to boost its dividend, but certin analysts believe that Transocean would be better off using some of its extra cash for purchases to counter lagging growth. As it is, the firm is projected to increase revenue more slowly through 2016 than 87 percent of its similar-sized peers, says data compiled by Bloomberg. Iberia Capital Partners has said that Transocean should use its $5.1 billion in cash to search out a deal that would upgrade its fleet and improve sales growth, instead of giving in to Icahn's demand for a larger dividend. The analyst Brad Hunter at Jefferies commented that "if you're trying to do things for your shareholders, growth is an important part of that story." An acquisition, along with Transocean's planned dividend, is "a better long-term solution."
Are these stocks a buy or sell? Let us help you decide. Check out our Stock Picker Newsletter now.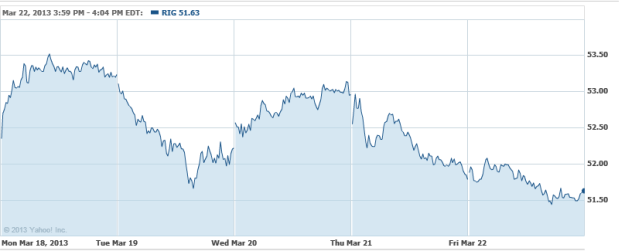 Don't Miss: Is Retirement Nothing But a Pipe Dream for Americans?

Valeant Pharmaceuticals International (NYSE:VRX): Current price $73.33
Valeant will purchase all of the outstanding common stock of Obagi Medical Products for $19.75 per share, in a cash transaction that values the latter at roughly $360 million. The $19.75 per share price marks a 42 premium to Obagi's Thursday, March 14 close, which was the last trading day prior to the disclosure of its fourth quarter and full year 2012 earnings, and also a 40 percent premium to the thirty day prior stock price. The transaction should close in the second quarter.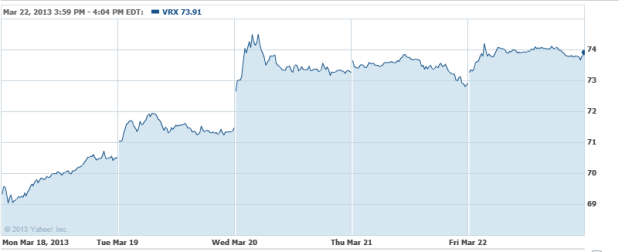 American Realty Capital Properties (NASDAQ:ARCP): Current price $14.66
The real estate investment trust has made an offer to purchase Cole Credit Property Trust III at a price of $5.7 billion in cash and stock to form the biggest publicly traded REIT in the net lease sector. In a Wednesday statement, American Realty Capital said that the offer is valued in excess of $9 billion including debt. In a letter to the Cole Credit board, the company asked the trust to call off its planned purchase of its external adviser, Cole Holdings Corp, saying its offer would provide immediate liquidity to the shareholders of the trust.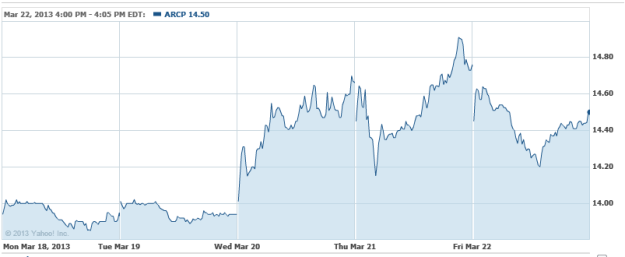 Rockwood Holdings (NYSE:ROC): Current price $64.62
The specialty chemicals producer is prepping to initiate a sale of two divisions that could bring more than $2 billion, as it hopes to prosper from an uptick in the United States construction sector, according to inside sources, who added that Rockwood is now offering to divest its performance additives along with its German titanium dioxide business. First bids for the combined businesses are due at the end of April and,it is said that they could come in at more than $2 billion, or 6.7 times earnings before interest, taxes, depreciation, and amortization.
Are these stocks a buy or sell? Let us help you decide. Check out our Stock Picker Newsletter now.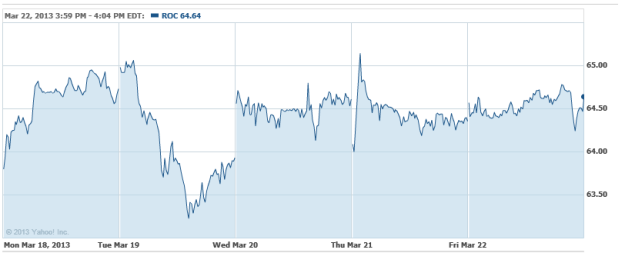 Don't Miss: How Much Will March Madness Cost Businesses?

Vodafone Group (NASDAQ:VOD): Current price $27.89
Chief Financial Officer Andy Halford said that Vodafone would be willing to take a reduced debt rating if a satisfactory merger or acquisition opportunity were to come along. Analysts responded that the statement signals that the operator is under no pressure to divest its 45-per cent interest in Verizon Wireless. Halford's remarks supports prior comments made by Chief Executive Vittorio Colao, who stated in February that it was not necessary for Vodafone to sell its stake in its American joint venture so as to fund any investments in Europe, even with falling revenues in the region, according to FierceWireless.

Cliffs Natural Resources (AMEX:CNR) Current price $1.16
Shares were among the top gainers in the S&P 500 on Wednesday on chatter that the iron ore producer might be a tempting takeover target. Cliffs stocks were up by 2.5 percent recently to $21.24, and had risen over 3 percent at one point on the buyout rumor, which seemed to be all generated by buzz on sites like StockTwits.com. Company officials were not available for immediate comment.

Sprint Nextel Corporation (NYSE:S): Current price $6.07
The Clearwire Corporation shareholder Crest Financial has recruited a proxy firm to help it oppose Sprint's acquisition of the company, said AllThingsD, which added that Crest holds 3.9 percent position in the broadband network operator.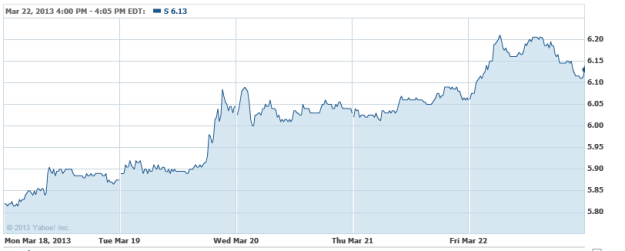 StemCells (NASDAQ:STEM): Current price $1.78
The firm has acquired a patent family from the privately-held NsGene, a Danish biotech firm. The patent group claims GFAP+ Nestin+ cells, including United States Patent Nos. 6,878,543 and 7,303,912 and European patent application 00973148. GFAP and Nestin are proteins that are co-expressed by certain key cells located in the human central nervous system. Each patent claims a cell culture of undifferentiated GFAP+ Nestin+ cells in which one or more cells have the capacity to differentiate into neurons and glia as do many neural stem and progenitor cells described by researchers. The invention claimed by the patents emerged from research conducted at NsGene while in pursuit of cell-based treatments for Parkinson's disease.  The patent terms extend into 2020 and 2021.
Are these stocks a buy or sell? Let us help you decide. Check out our Stock Picker Newsletter now.

Don't Miss: Is Retirement Nothing But a Pipe Dream for Americans?

Amazon.com (NASDAQ:AMZN): Current price $253.06
Amazon is being pressed by Samsung Electronics (SSNLF.PK) to buy its Dutch subsidiary Liquavista BV, according to a knowledgeable source, who also said that the Netherlands-based maker of electronic-reader display tech might go for less than $100 million. Samsung acquired Liquavista in 2011.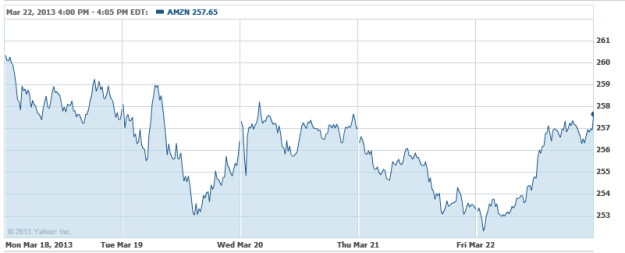 Obagi Medical Products (NASDAQ: OMPI): Current price $19.78
Obagi shares were downgraded Thursday at Cantor Fitzgerald from Buy to Hold with a price target of $19.75, following the company's acquisition by Valeant. The analysts commented that "the offer values the company at approximately 3.75x discounted 2013E sales, which is generally in line with other historical deals in the dermatology space such as Medicis and Fougera (but is lower than what Allergan paid for SkinMedica, in our view). After speaking with management we believe that the deal has been shopped around and we are not expecting any competing bids."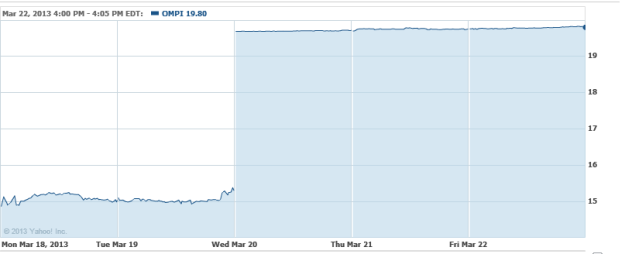 SUPERVALU (NYSE:SVU): Current price $4.93
The company has completed the sale of its Albertsons, Acme, Jewel-Osco, Shaws and Star Market stores and the related Osco and Sav-on in-store pharmacies to AB Acquisition, which is an affiliate of a Cerberus Capital Management-led investor consortium, in a stock tranaction valued at $3.3 billion, including $100 million in cash and $3.2 billion in debt assumption. Operations for these banners will transfer overnight, and the new SUPERVALU is opening on Friday as a more efficient wholesale and retail entity with annual sales of approximately $17 billion.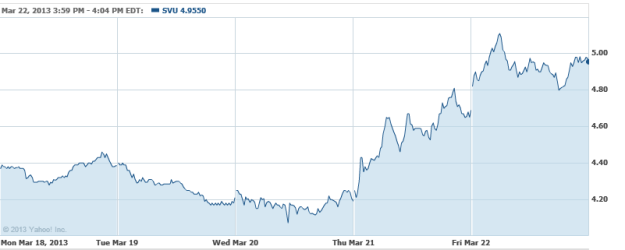 American Realty Capital Properties (NASDAQ: ARCP): Current price $14.31
On Friday, American Capital said that its offer for Cole Credit Property Trust  III is superior, and that CCPT III stockholders should not be deprived of an opportunity to evaluate its proposal. The prospective buyer noted in its response to its offer being rejected that there has been no contact between it and any representatives of the company it wants to acquire.
Are these stocks a buy or sell? Let us help you decide. Check out our Stock Picker Newsletter now.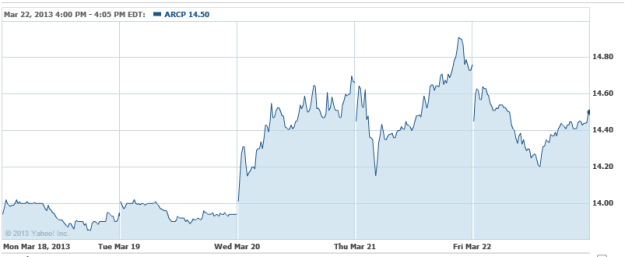 Don't Miss: Is Home Depot Screaming Buy?

Life Technologies Corp. (NASDAQ:LIFE): Closing price $63.99
Inside sources now believe that the firm's sale has changed in favor of strategic buyers for the maker of DNA-sequencing equipment, as other buyout firms withdraw, adding that chances are increasing that either Danaher Corp. or Thermo Fisher Scientific could acquire Life. One-time suitors who have dropped out of the race include Kohlberg Kravis Roberts & Co., The Blackstone Group, and Temasek Holdings, according to two sources.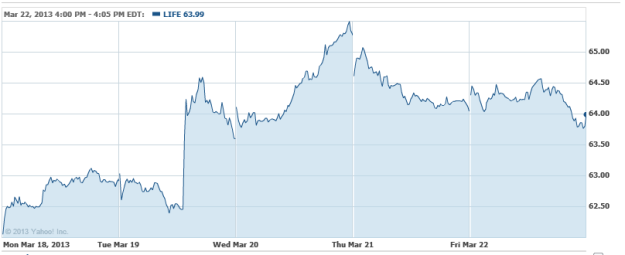 The McGraw-Hill Companies (NYSE: MHP): Closing price $48.37
On Friday, McGraw-Hill concluded the the divestiture of its McGraw-Hill Education division to investment funds connected with Apollo Global Management. As previously reported, the purchase price was $2.4 billion in a cash transaction. Looking forward, the new entity will be renamed McGraw Hill Financial, subject to shareholder approval, in the second quarter.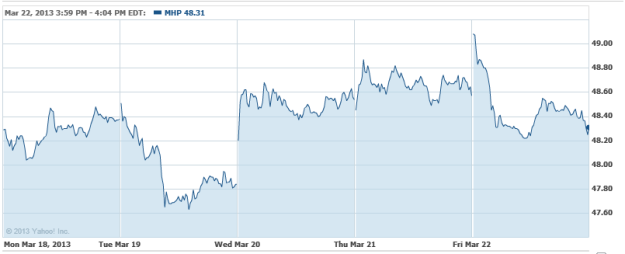 TripAdvisor (NASDAQ:TRIP): Closing price $52.50
In an acquisition for which the terms will not be divulged, TripAdvisor on Friday said that  it has bought Tiny Post, the highly acclaimed application that permits users to write over photos and turn them into stories. The Tiny Post team will be based in the buyer's Palo Alto office.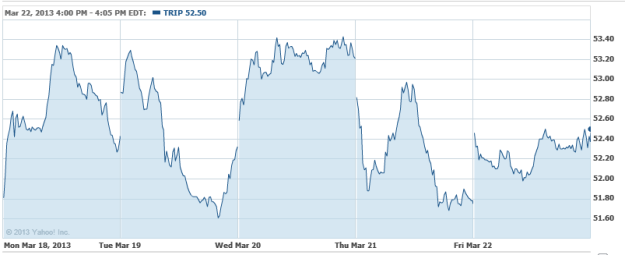 PepsiCo (NYSE:PEP): Closing price $78.64
In a Friday statement, PepsiCo said that it is not interested in any large purchases following a report in the Telegraph of London suggesting that a mega-snack food merger could bring Doritos under the same roof as Oreos. The report also said that the activist investor Nelson Peltz could pressure it to merge with Mondelez International, which makes Cadbury and other Nabisco brands, in addition to the iconic cream-filled cookies.
Are these stocks a buy or sell? Let us help you decide. Check out our Stock Picker Newsletter now.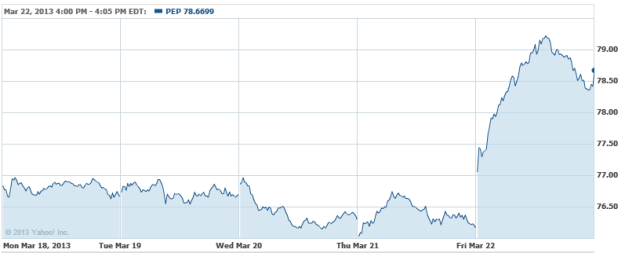 Don't Miss: Is Cyprus Playing With Fire?