The Boeing Company (NYSE:BA): Current Price $86.43
Officials in the Obama Administration will explore possible cuts in Lockheed Martin Corporation's F-35 airplane along with other new warplanes and try to spend more money on cyberweapons and drones, according to The New York Times.
Ryanair's (NASDAQ:RYAAY) $15 billion order for around 170 passenger jets from Boeing will soon be announced, said sources to Reuters.
Deutsche Lufthansa will give its short-haul fleet a remake with 100 mostly fuel-efficient jets from Airbus SAS, as the carrier endeavors to decrease its kerosene costs, which represents its single largest expense, according to Bloomberg. The airline will also order six Boeing 777-300ER for the long-haul fleet of its Swiss division and two additional A380 for its namesake brand, totaling a list price for the planes to $11.7 billion.
Certain industry officials say that Boeing will probably ask its board as soon as next week to approve changes to its 777 passenger jet, according to The New York Times, which specified that the likely alterations will include the addition of lightweight carbon-composite wings and new engines, along with a possible 20 percent reduction in fuel usage.
Boeing has put up a strong defense of its grounded 787 Dreamliner, outlining details of proposed battery fixes and forecast that the jets might rejoin commercial service in a matter of weeks, according to the Wall Street Journal.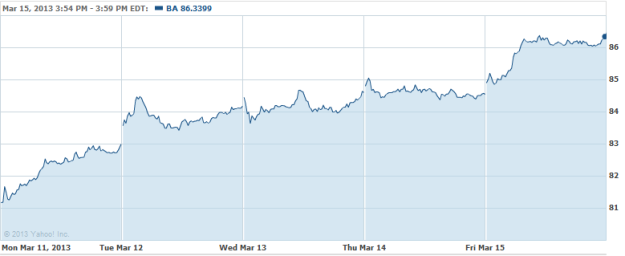 United Technologies Corporation (NYSE:UTX): Current price $93.28
Obama Administration officials will look into seeking cuts in Lockheed Martin Corporation's (NYSE:LMT) F-35 airplane and other new warplanes, and attempt to spend more money on cyberweapons and drones, says The New York Times.
Singapore is in the "final stages of evaluating" the F-35 through which to upgrade its air force, and sources predict that should rapidly result in orders for several dozen of the warplanes, says Reuters.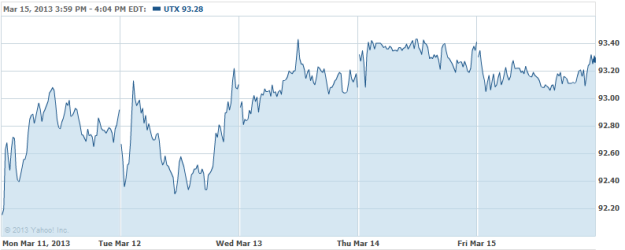 Caterpillar Inc. (NYSE:CAT): Current price $88.83
For a number of years, multinationals have been increasing their presence in Asia as they not only sell there but now are investing as well. The transformation appears to be gaining critical mass as Western companies' market-share leads in that continent over cash-flush local competitors are narrowing, forcing the Western firms to invest more, better adapt their products, and transfer top executives to Asia, says The Wall Street Journal.

General Electric Company (NYSE:GE): Current price $23.44
General Electric Company's GE Healthcare division recently reached an agreement with HealthTrust through which to provide infant care solutions to hospitals that are members of the latter. The accord leverages GE Healthcare's expertise in the healthcare segment so as to offer products like incubators, warmers, and phototherapy tech for advanced patient safety and infant care.
GE Capital's Commercial Distribution Finance business has put in place a $40 million inventory and working capital financing credit facility for ASI System Integration, which is based in New York.
Unexpectedly, Malaysian state investor Khazanah Nasional Bhd has offered to acquire GE's $1.8-billion interest in Thailand's Bank of Ayudhya, putting it up against Japan's Mitsubishi UFJ Financial Group (NYSE:MTU), sources told Reuters.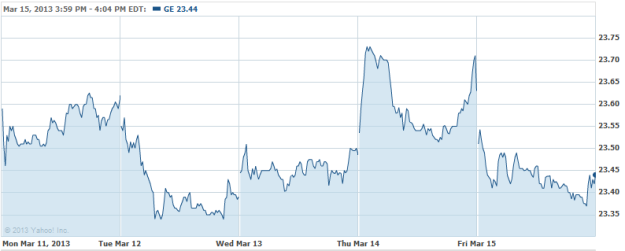 Don't Miss: Apple's Next Battle: Repairing Its Record of Social Responsibility.