Exxon Mobil Corporation (NYSE:XOM): Current price $88.97
Exxon Mobil would benefit from a lower oil price. While this would cut into profits, it would reduce the price of acquisition targets, as the firm might soon need a big deal. Exxon's cash flow is still enviable, but its lead has slipped, according to the Wall Street Journal.
A report on Monday explained that the Russian state oil company, Rosneft, has awarded access to the Arctic Laptev Sea fields to Exxon Mobil, rather than BP (NYSE:BP). However, three industry sources say that BP is in discussions with Rosneft to explore blocks in the sea fields, according to Reuters.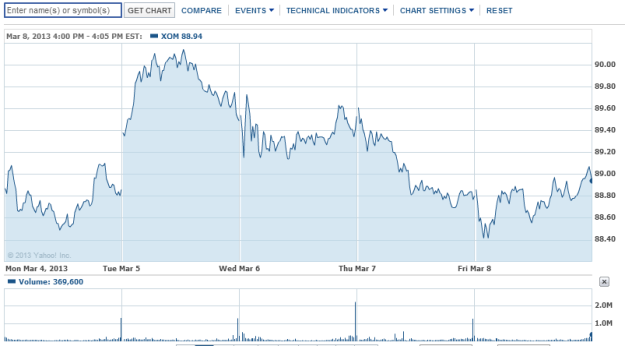 In a presentation to investment analysts, Exxon Mobil Corporation said that it expects that major project start-ups will deliver one million oil-equivalent barrels over the next five years. Output of crude oil and other liquids is should increase by an average of four percent per year between 2013 and 2017, while the firm starts production at 28 major oil and gas projects, 24 of which are liquids or liquids-linked projects. Also reported is that 22 major projects will begin production over the next three years, including an expansion of the Kearl oil sands project in Alberta, and a liquefied natural gas export project in Papua New Guinea. As to continue to explore for and develop new resource opportunities, ExxonMobil will invest around $190 billion over the next five years to meet increasing energy demand.
Exxon Mobil has initiated an auction through which to sell as much as $2 billion worth of shares in a Hong Kong power venture, after a year-long endeavor to offload its holding to its partner came to nothing, say sources to Reuters.
Investing Insights: Will Arch Coal Inflict Unbearable Pain on Investors?
Chevron Corp. (NYSE:CVX): Current price $118.57
Companies in the United States have sent in their offers to partner with InterOil Corporation (NYSE:IOC) to develop the Elk/Antelope project, says EMTV.com. Presently, advisors for InterOil are examining the bids.
Since the financial crisis, Five blue-chip stocks have accounted for around one-third of the rally in the Dow Jones Industrial Average: Chevron, International Business Machines Corporation (NYSE:IBM), Caterpillar (NYSE:CAT), 3M Company (NYSE:MMM), and United Technologies Corp. (NYSE:UTX) were the biggest movers among the average's 30 components, according to the Wall Street Journal.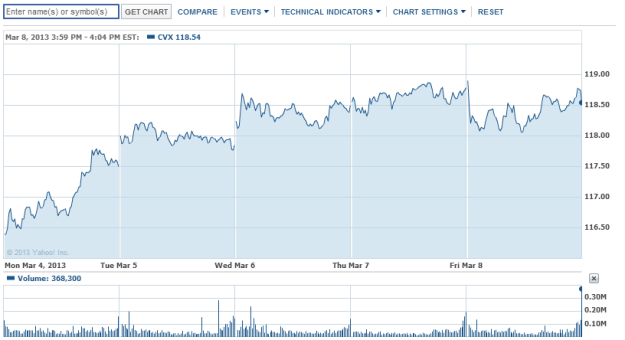 Investing Insights: Where Will Chesapeake Go Next?