Bank of America Corporation (NYSE:BAC): Current Price $12.57
A number of banks are helping to fund TPG's purchase of Inghams Enterprises. Bank of America Merrill Lynch, Nomura Holdings (NYSE:NMR), Westpac Banking Corp. (NYSE:WBK), HSBC Holdings (NYSE:HBC), Macquarie Group, ANZ Banking Group, and National Australia Bank have formed a debt syndicate that will support the $900 million transaction, say sources to The Wall Street Journal.
This week, JPMorgan Chase & Co. raised its forecast considerably for domestic home price gains this year to 7 percent, and projects more than a 14-percent jump through 2015. BofA has said that property values will increase 8 percent in 2013, a figure that is revised upwards from a prior estimate of 4.7 percent, says Bloomberg.
The Securities and Exchange Commission agreed with four of the biggest Wall Street banks – Bank of America, JPMorgan Chase & Co. (NYSE:JPM), Citigroup (NYSE:C), and Morgan Stanley (NYSE:MS) — that they will not required to hold shareholder votes at upcoming annual meetings over whether they are too big and should be broken up, says Reuters.

JPMorgan Chase & Co. (NYSE:JPM): Current price $49.99
United States Attorney General Eric Holder has said that it is difficult to prosecute the country's biggest banks, because doing that would have negative implications on the economy, The New York Times reported late Monday.
A proposal by the Federal Reserve Bank of Dallas to limit government support for banks could require JPMorgan and Bank of America Corporation (NYSE:BAC) to cut back their domestic consumer and commercial-lending divisions by over half, according to Bloomberg.
It now comes out that in 2012, JPMorgan ignored internal warnings and misled regulators and investors about the magnitude of losses on its "London whale" trades, says a highly critical 301-page report by the U.S. Senate's Permanent Subcommittee on Investigations, according to The Wall Street Journal. One risk metric at the company projected in February 2012 that it could lose $6.3 billion on the trades, but the report indicates that the warning was dismissed by a key risk manager as "garbage."

The Travelers Companies (NYSE:TRV): Current price $82.27
The United States government's attempts to punish directors and executives of the big banks that failed during the financial crisis, are impacting thousands of small banks, says The Wall Street Journal. Insurance premiums covering directors and officers are jumping sharply as the FDIC, endeavoring to replenish funds paid out to depositors of collapsed banks, steps up its legal pursuit of officials ranging from failed community lenders to insurance executives and banking-industry lawyers. Estimates for premiums for small banks have risen at least 15 percent since the crisis. Some insurers are also increasing deductibles and writing policies that leave policyholders uncovered if regulators take future action.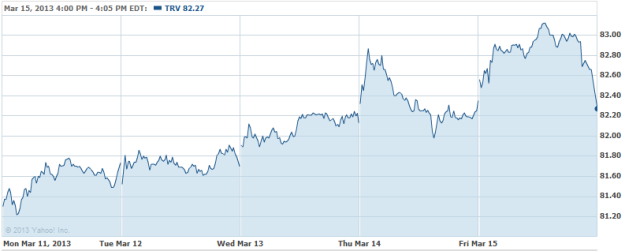 Don't Miss: Here's Why Credit Suisse is Curbing Hedge Investments.