Johnson & Johnson (NYSE:JNJ): Current price $81.52
Mallinckrodt, the pharmaceuticals division of Covidien, reported that it introduced the 36 and 54 milligram dosage strengths of Methylphenidate HCl Extended-Release Tablets USP, generic version of Concerta. The two dosage strengths will be available, in addition to the 27 mg dosage strength. The 27 mg dosage strength was launched in December 2012, when Mallinckrodt won approval from the FDA to manufacture and market the tablets in 27, 36, and 54 mg dosage strengths.
More than one Supreme Court justice appeared to be skeptical concerning the practice of brand name pharmaceutical firms paying generic companies to keep their less expensive drugs off the market for a longer time, according to The New York Times, which also said that some of the justices seemed to be interested in issuing a narrow ruling that would not form a precedent.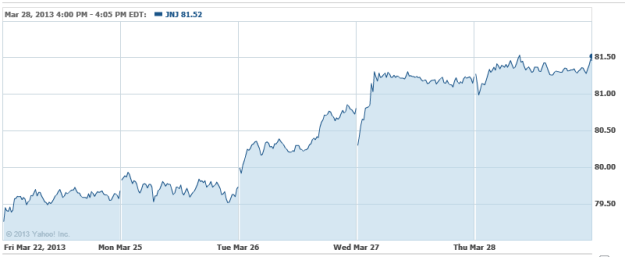 Don't Miss: Which President is the King of the Fiscal Squeeze?