Chevron Corporation (NYSE:CVX): Current Price $119.56
Beach Energy predicts that the Cooper Basin region in the outback of Australia, where it is searching for natural gas with Chevron, will become a major onshore petroleum province, says Bloomberg. Reginald Nelson, the managing director of Beach, says the region could have sufficient gas to permit exports.
In conjunction with Chevron's annual security analyst meeting, executives noted that "Our key development projects remain on track, and we are well positioned to deliver our 2017 target of 3.3 million barrels of oil-equivalent production first announced three years ago. In addition, our project queue is gaining momentum to deliver growth beyond 2017. Construction on our Australian LNG projects, Gorgon and Wheatstone, is progressing very well, with first LNG for Gorgon targeted for early 2015. Construction continues on the Jack/St. Malo and Big Foot deepwater projects in the U.S. Gulf of Mexico, both of which are scheduled for start-up in 2014. We've sold under-performing or non-strategic assets, simplified our operations and reduced costs. Returns have increased 10 percent as a direct function of the improvements we've captured. We will maintain a focused and competitive portfolio, and selectively pursue growth in petrochemicals and lubricants."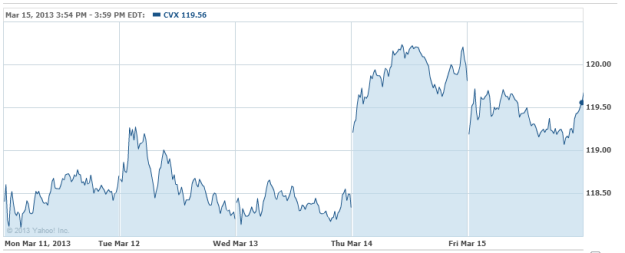 Exxon Mobil Corporation (NYSE:XOM):  Current Price $89.26
Exxon Mobil has begun output from the Telok natural gas field, which is offshore of Malaysia in the South China Sea. The development concept of design one — build many — was used to efficiently develop the project and shorten construction and installation timelines, allowing the completion of Telok on schedule and within budget. The Telok A platform is the first step of the Telok natural gas project, which when completed will comprise two four-legged, unmanned gas satellite platforms. A total of 14 development wells are intended for the Telok A and B platforms.
Aker Solutions has won a contract from ExxonMobil for the provision of subsea umbilicals for the Erha North phase 2 development in Nigeria. The Erha North Phase 2 development is an extension of the ongoing Erha subsea system and infrastructure located about 97 kilometers off the shore of Nigeria in water depths between 1,000 and 1,200 meters. Aker Solutions' scope of work includes the supply of 2 dynamic and 2 static steel tube umbilicals, at a total length of 16.5 kilometers. The umbilicals will be delivered next year.

Don't Miss: What Does This New Technology Mean for PC Makers?

Don't Miss: AT&T Officially Announces These Details About the Z10.