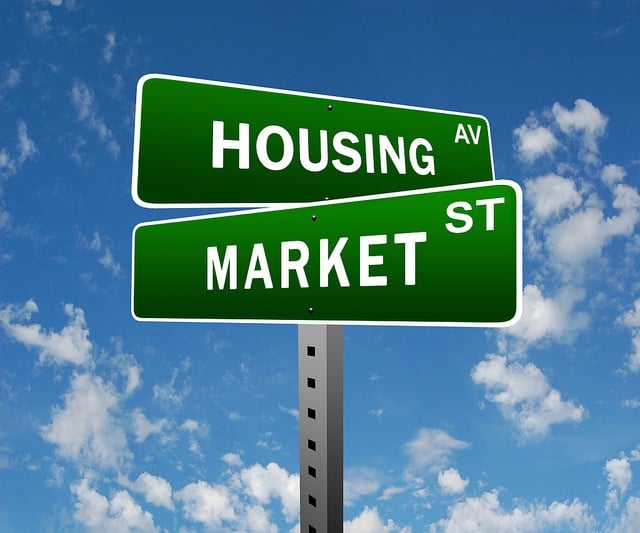 Here's your Cheat Sheet to the only housing econ release from the week, and how the biggest stocks reacted…
Home Mortgage Applications
Applications for home mortgages in the United States declined, as the housing market received a reminder on how dependent it is on low interest rates.
According to the Mortgage Bankers Association's latest report for the week ending March 8, loan application volume dropped 4.7 percent on a seasonally adjusted basis from one week earlier. On an unadjusted basis, the index fell 4.0 percent. These figures include both refinancing and home purchase demand, and covers over 75 percent of all domestic retail residential mortgage applications.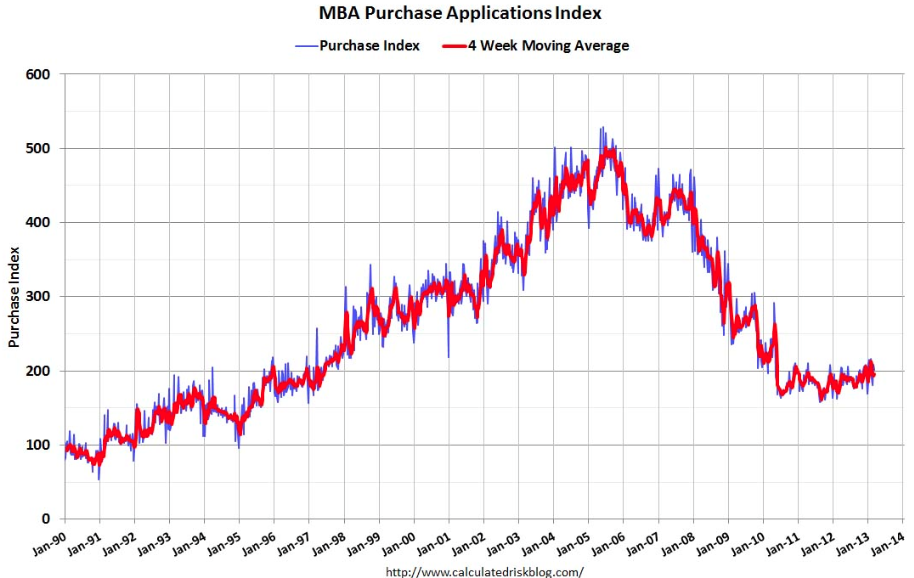 The industry group's Refinance Index decreased 5.0 percent from the previous week, while the Purchase Index slipped 3.0 percent. On an unadjusted basis, the Purchase Index fell 1.0 percent, but was still 9.0 percent higher from a year earlier.
Overall, the refinance share of mortgage activity edged slightly lower to 76 percent of total applications, compared to 77 percent in the prior week. This is the lowest level since May 2012.
The average interest rate for a 30-year fixed-rate mortgage came in at 3.81 percent, up from 3.70 percent in the prior week. This was the highest contract rate since August 2012. Points on the average mortgage remained unchanged at 0.39 (including the origination fee). The average rate for a 15-year fixed-rate mortgage increased from 2.96 percent to 3.01 percent.
"The announcement of stronger than anticipated job growth last week led to an increase in interest rates, with the 30 year fixed mortgage rate in our survey reaching the highest level in more than six months," said Mike Fratantoni, Mortgage Bankers Association's Vice President of Research and Economics. "Refinance applications declined as a result, but remain high given the steady flow of HARP applications."
The report gives the housing-recovery story a brief reality check, and housing-related stocks a reason to take a breathe.
Here's how home related stocks closed the week…
Lennar (NYSE:LEN): Current price $41.77

D.R. Horton (NYSE:DHI): Current price $24.34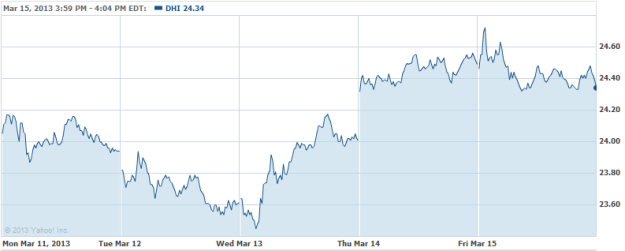 Lowe's (NYSE:LOW): Current price $38.81

Home Depot (NYSE:HD): Current price $69.05

KB Homes (NYSE:KBH): Current price $20.29

Toll Brothers (NYSE:TOL): Current price $34.13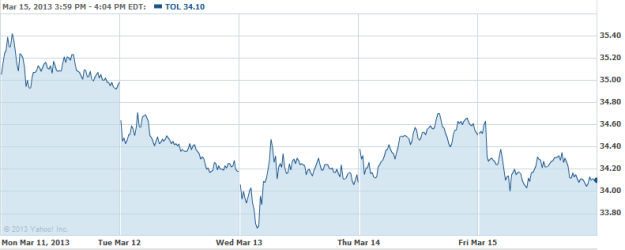 PulteGroup (NYSE:PHM): Current price $20.75

Don't Miss: Here's Some Positive Inflation Data For the Fed to Consider.