Here's your Cheat Sheet to this week's top financial industry business headlines:
Goldman Sachs Group (NYSE:GS): Current price $151.84
An appeal by the firm has been rejected by the United States Supreme Court concerning an investor lawsuit over mortgage-backed securities whose value fell sharply during the 2008 financial crisis, leaving intact an appeals court ruling that partially supported the NECA-IBEW Health and Welfare Fund, which is pushing the case. The question is whether NECA, which bought certificates from two of 17 disputed Goldman Sachs trusts, had legal standing to bring a suit on behalf of investors in the other 15 offerings.
Score another one for Goldman: The firm has poached the institutional foreign exchange sales Director Catherine Rich from Deutsche Bank, according to knowledgeable sources on Tuesday. Rich, who is based in Singapore, is presently on gardening leave, and will join Goldman's Sydney office in the capacity of executive director, with a focus upon institutional sales to clients such as fund managers.

Annaly Capital Management (NYSE:NLY): Current price $15.65
Annaly announced Monday that, through a newly formed subsidiary, CXS Acquisition Corporation, it has begun an offer  to acquire all the shares of CreXus Investment Corp. that it does not already own for a price of $13  per share, plus a sum approximating a prorated portion of the dividend the tendering stockholder would have received for to the quarter in which the offer expires, in cash net to the seller, but subject to any required withholding tax. The Offer will expire at 5:00 p.m. Eastern time on April 16th, unless it is extended.
The real-estate investment trust is proposing that it be managed by a separate company that would employ its current executives. Annaly's board is currently requesting that shareholders approve at its annual meeting on May 23 a shift through which investing would be overseen by a new entity named Annaly Management Co. owned by its management, said a Tuesday regulatory filing with the Securities and Exchange Commission. If the board approves the change, Annaly would then have a management structure similar to it competitors such as American Capital Agency Corp., Invesco Mortgage Capital, and Two Harbors Investment Corp.
Are these stocks a buy or sell? Let us help you decide. Check out our Stock Picker Newsletter now.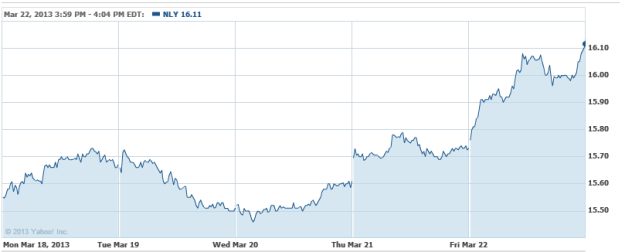 HSBC Holdings (NYSE:HBC): Current price $54.39
The firm is reportedly poised for thousands more job cuts,  and is set to outline the next phase in its strategic overhaul at an investor day two months from now. One knowledgeable source said that "There is no fantastical new strategy out there, but there's still huge potential to be more efficient." HSBC Chief Executive Stuart Gulliver said when he reported the annual results last week that he would "fixate on costs" during the coming year and promised to find a further $1 billion of annual savings in 2013.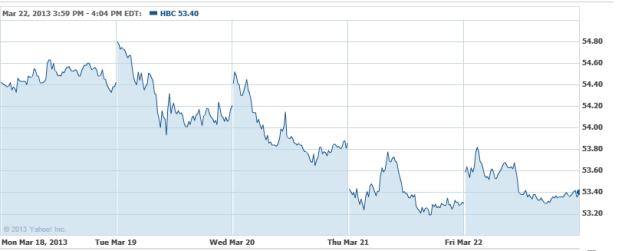 The Charles Schwab Corporation (NYSE:SCHW): Current price $17.68
In its monthly activity report for February, Schwab posted its daily average revenue trades at 506,100, marking a 0.3 percent rise from 504,700 in January and 1 percent from 500,100 year-over-year. beyond that, Schwab's net new assets, which are purchased by the new and existing clients, amounted to $18.3 billion, soaring by 51 percent from January, but plunging by 14 percent from February 2012. Further, total client assets stood at $2.04 trillion, rising by 1 percent from January and 13 percent year-over-year.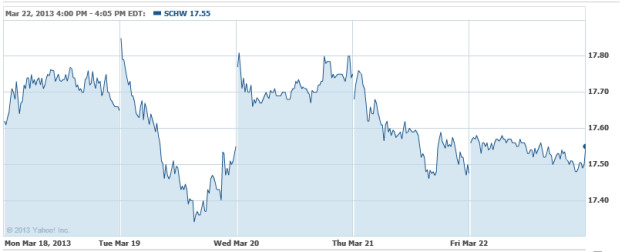 Citigroup (NYSE:C): Current price $45.98
Citi reported Monday that it has agreed, subject to court approval, to resolve a class action lawsuit brought on behalf of investors who bought the firm's debt and preferred stock during the period May 11, 2006, through November 28, 2008. Through the terms, Citigroup would pay a total of $730 million. Plaintiffs had claimed, along with other things, that they were misled by misstatements and omissions in the firm's disclosures during this period. However, Citigroup denies the allegations and is entering into this resolution only to eliminate the uncertainties, burden and expense of extended protracted litigation, and the monies to be paid is covered by its existing litigation reserves.
Are these stocks a buy or sell? Let us help you decide. Check out our Stock Picker Newsletter now.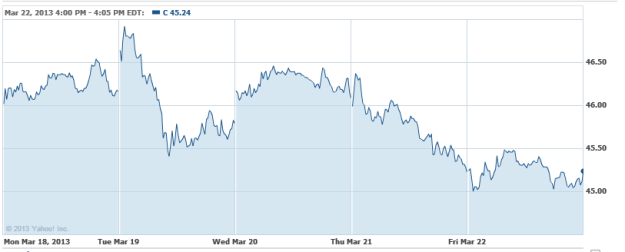 Investing Insights: Is Citigroup Headed in the Right Direction?

JPMorgan Chase & Co. (NYSE:JPM): Current price $49.23
Following a Friday hearing into the "London Whale" losses incurred by JPMorgan, Senate aides are searching out inconsistencies in statements made by Chief Executive Jamie Dimon and former Chief Financial Officer Doug Braunstein, particularly concentrating on statements in regards to modifications to models and reporting of positions to regulators, says Financial Times. Beyond that, the report said that referrals may be made to securities regulators and the justice department and that the Securities and Exchange Commission is already looking at disclosures from Dimon and Braunstein on an earnings call made in April 2012.
J.P.Morgan has issued its first private-label residential mortgage-backed securities deal of 2013, signaling its return to this segment of the market. The platform J.P. Morgan Mortgage Trust, Series 2013-1 reported an aggregate balance of $616.3 million. The firm was supposed to issue this deal in February, but structural issues delayed the process. Meanwhile the securities were pre-rated by Fitch, with the expected outlook described as 'stable' with all the tranches also receiving AAA ratings.
Freddie Mac is suing JP Morgan, Bank of America Corp., UBS, and a dozen other banks concerning alleged manipulation of the Libor, claiming that it suffered substantial losses resulting from the firms' conduct. The banks are being accused of acting collectively to depress the United States dollar Libor to "hide their institutions' financial problems and boost their profits," according to a complaint filed in federal court in Alexandria, Virginia. In the document, Freddie Mac attorney Richard Leveridge alleges that "Defendants' fraudulent and collusive conduct caused USD LIBOR to be published at rates that were false, dishonest, and artificially low." The complaint was made public on Tuesday.
Are these stocks a buy or sell? Let us help you decide. Check out our Stock Picker Newsletter now.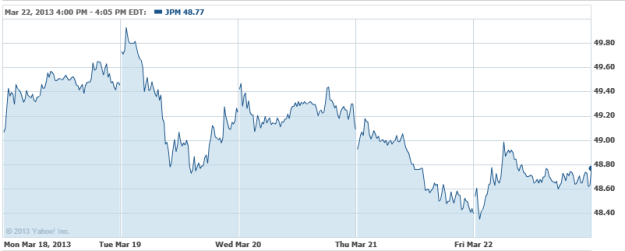 BlackRock (NYSE:BLK): Current price $253.95
The world's number one money manager is slashing around 300 jobs, moving foward with a reorganization that included the remake of its investment units in 2012. President Robert S. Kapito said in a memo Monday to employees that BlackRock will shrink its workforce by less than 3 percent, with some employees exiting immediately and others over the coming weeks. However, Kapito also said that his firm will continue to hire and will probably end 2013 with more employees than at the end of 2012, commenting that "We are reshaping the organization by shifting certain responsibilities and moving some roles to different locations or areas of the business. The mix of employees will change as our business is constantly evolving."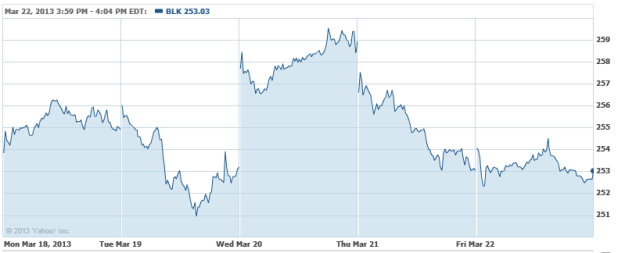 Apollo Residential Mortgage (NYSE: AMTG): Current price $22.27
Apollo's board has declared a cash dividend on the company's 8 percent Series A Cumulative Redeemable Perpetual Preferred Stock of 50 cents per share for the period that ends on April 30. The dividend is payable on April 30 to preferred stockholders of record as of March 28. Additionally, the firm's board declared a quarterly dividend of 70 cents per share of common stock for the first quarter, payable on April 30, to common stockholders of record on March 28.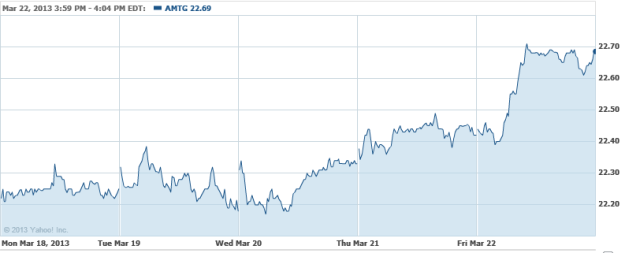 Morgan Stanley (NYSE:MS): Current price $22.25
The owner of the world's biggest brokerage is shutting its office in Princeton, New Jersey, and will move its 95 employees elsewhere, according to an inside source. In March, Morgan Stanley advised the New Jersey labor department of the decision. Chief Executive James Gorman has pledged to reduce $1.6 billion in costs during the next two years, looking to double return on equity even if no improvement in the markets occurs.
Are these stocks a buy or sell? Let us help you decide. Check out our Stock Picker Newsletter now.

Investing Insights: Is AIG a Risky Bet?

RAIT Financial Trust (NYSE:RAS): Current price $7.82
The company has declared a first quarter cash dividend on its common shares of 12 cents per share, marking a 20 percent rise from the prior quarter's dividend of 10 cents and an increase of 50 percent year-over-year from the 2012 dividend of 8 cents. This dividend will be paid on April 30 to holders of record on April 3, with an ex-dividend date of April 1.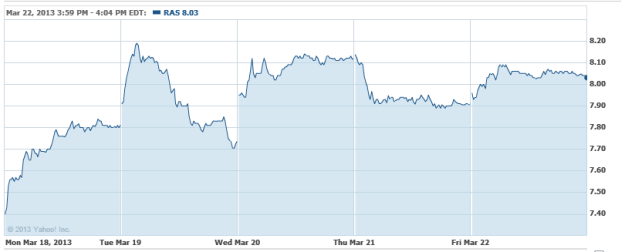 Two Harbors Investment Corp. (AMEX:TWO): Current price $13.56
On Tuesday, the firm said that it has priced a public offering of 50 million shares of its common stock at an offering price of $13.46 per share, for aggregate gross proceeds of roughly $673 million. Two Harbors  will also allow the underwriters an option for 30 days to buy up to an additional 7.5 million shares to cover any over-allotments. The offering should close on or about March 22.
Deutsche Bank (NYSE:DB): Current price $42.06
Chief Executive Richard Byrne of Deutsche Bank Securities is going to work for Providence Equity Partners at its credit business, which has over $4.5 billion invested in bonds, secured loans and other debt instruments. Byrne will follow the lead of Thomas Gahan, who left Deutsche Bank in 2008 to help launch the credit unit at Providence Equity, and will now report to him.
Are these stocks a buy or sell? Let us help you decide. Check out our Stock Picker Newsletter now.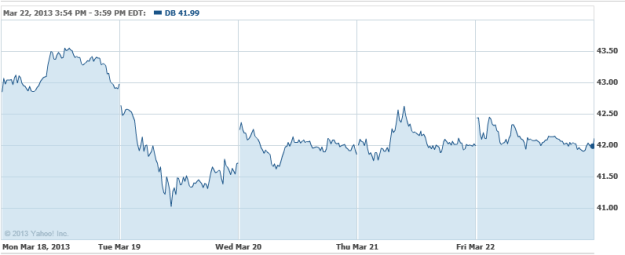 Investing Insights: Is AIG a Risky Bet?

Regions Financial Corporation (NYSE:RF): Current price $8.40
Regions' board has okayed an equity buyback program for as much as $350 million of the bank's common stock. This move is a component of the firm's capital plan to which the Federal Reserve did not object as part of its 2013 Comprehensive Capital Analysis and Review. The authority granted through the repurchase program expires on March 31, 2014. The schedule and exact amount of stock repurchases will depend on a number of factors that include market conditions, Regions' capital position and internal capital generation.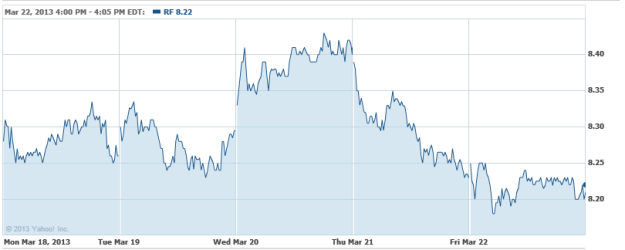 Bank of America Corporation (NYSE:BAC): Current price $12.86
Matthew Unsworth, the firm's head of Australian equities in Sydney, has exited and will not be replaced, according to Bloomberg, as Australian-based staff in equities trading, sales and risk will henceforth report to Hong Kong. In 2012, trading volume on the Australian stock market slid by 6.9 percent, following a 54-percent reduction in the previous 12 months. Also last year, the bank placed eighth for Australian and New Zealand equity and rights offerings, down two places from 2011, said data compiled by Bloomberg. BofA C hief Executive Brian T. Moynihan has divested in excess of $60 billion in assets so as to boost capital, and targeted $8 billion in yearly expense savings by 2015 at the firm.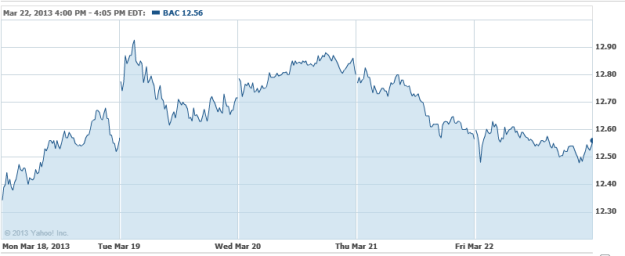 Och-Ziff Capital Management Group (NYSE: OZM): Current price $9.71
Head of European Investing Michael L. Cohen has submitted his resignation, effective Monday. Cohen will remain with Och-Ziff  through the end of the month so as to help with an orderly transition of his responsibilities.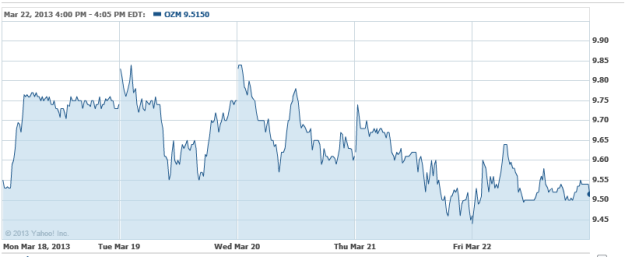 Chimera Investment Corporation (NYSE:CIM): Current price $3.16
On Wednesday, Chimera said that its filing of Form 10-K for the year ended December 31, 2012 will be delayed beyond the Form 12b-25 extended due date, as it continues to work diligently to complete the ongoing work on becoming current on all of its filings mandated under applicable securities laws. The firm expects to file its quarterly report on Form 10-Q for the period ending March 31, 2012 by May 7, 2013, and all subsequent unfiled Quarterly Reports and the 2012 Form 10-K will be filed as soon as is practicable.
Are these stocks a buy or sell? Let us help you decide. Check out our Stock Picker Newsletter now.

Don't Miss: Did Big Banks Con Fannie & Freddie?

First Niagara Financial Group (NASDAQ:FNFG): Current price $8.76
The Group announced that its board, at its regularly scheduled March 19 meeting, has named its Executive Vice President and Chief Administrative and Operations Officer Gary M. Crosby to serve as interim president and chief executive. Crosby's appointment follows the mutually agreed upon exit of John R. Koelmel, as First Niagara's president, chief executive and board member, effective immediately.
MBIA (NYSE:MBI): Current price $11.34
It is thought that MBIA could run out of cash in about four months, and if its cash flow difficulties are not resolved soon, state regulators will likely seize the division that insures mortgage securities, according to The New York Post. MBIA, which is involved in lawsuits with Bank of America, Credit Suisse and Ally Financial's ResCap business, has a set a target of collecting $3.6 billion from claims against the banks. To reach that figure, MBIA would have to collect $3 billion from BofA, but that bank intends to settle for closer to $1 billion, according to a source.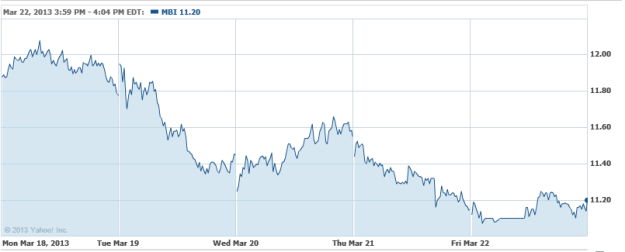 Deutsche Bank (NYSE:DB): Current price $42.17
Co-Chief Executive Anshu Jain remarked Thursday to a banking conference in London that Deutsche Bank expects a "robust" performance in all business segments in the first quarter, explaining that the firm made progress in reducing costs and in lowering risks on its balance sheet in the first three months. Jain also reported that in the first quarter, the company's business benefited from robust market volumes, reduced market volatility, higher equity markets and a rise in corporate activity. Deutsche should report its first-quarter earnings at the end of April.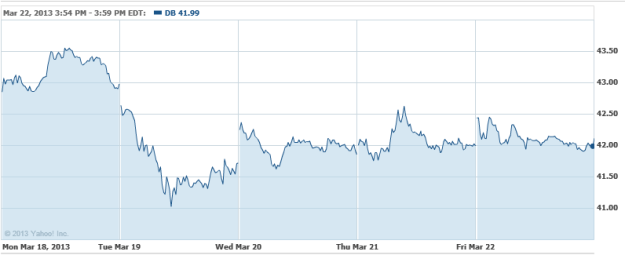 Visa (NYSE:V): Current price $159.25
Chief Executive Charlie Scharf suggested on Wednesday that Visa might impose a fee on digital wallet operators such as PayPal, following the lead of its rival MasterCard Incorporated, which intends to start that step in June.
Are these stocks a buy or sell? Let us help you decide. Check out our Stock Picker Newsletter now.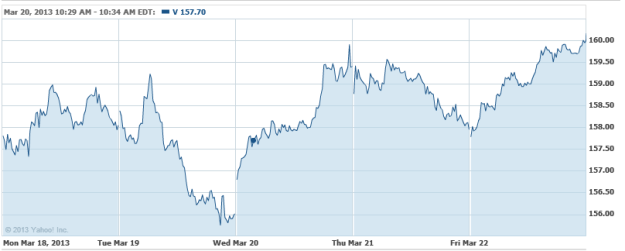 Don't Miss: Dr. Ben Kicks Cyprus in the Nose.