Stock upgrades and downgrades are a controversial part of Wall Street. Despite regulations, many banks and firms still have a positive bias toward current clients and companies desired as future clients. In addition, Wall Street analysts are straight-up biased to the buy side. The percentage of sell recommendations is normally below 15 percent!
Regardless, upgrades and downgrades move stocks in the short-term. They fall into our CHEAT SHEET framework category 'C = Catalyst for a Stock?s Movement'. Here are catalysts you must know today:
Jetblue Airways (NASDAQ:JBLU): Deutsche Bank downgraded its rating on this company from Buy to Hold and changed its price target from $8 to $7. Current Price $5.89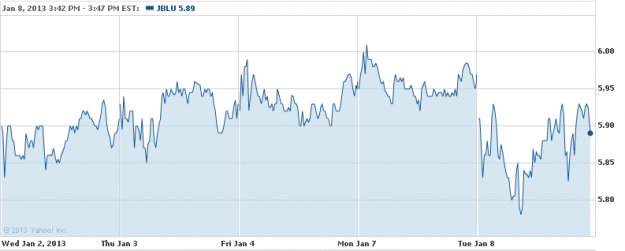 Save time and make money with our LOWEST ADVERTISED PRICE EVER to help you achieve your financial goals in 2013. This is a LIMITED TIME OFFER, so get your Stock Picker Newsletter now!