Here's your Cheat Sheet to this week's top tech industry business headlines:
Google (NASDAQ:GOOG): Current price $807.34
Some rumors have it that Google's Nexus 5 handset will fall short of the latest speculation for an LG "Megalodon" handset, according to phoneArena.com. Difficulties in the production of 1080p mobile OLEDs could be one reason, considering that even Samsung hit a number of problems making the one on the Galaxy S 4, and also because modern mobile chip-sets use dual channel memory, and to have 3 gigabytes of RAM, two 1.5 gigabytes modules must be placed and addressed.
The Financial Times reports that Google might now be into smart watches. The watch is said to be under development by the Android division, perhaps indicating that Google views it as a more immediately viable product, and according to FT's source, the Google watch is separate from Samsung's newly-announced effort.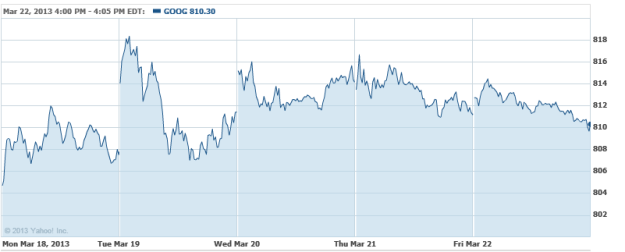 Advanced Micro Devices (NYSE:AMD) Current price $2.63
AMD will work jointly with Aviary to bring an optimized version of its photo editing tool to Windows 8 PCs and tablets powered by AMD accelerated processing units. Backed by an investment through AMD Ventures, Aviary has optimized its new software development kit for Windows 8 to exploit unique AMD APU architectural advantages. Aviary also has launched its first Windows 8 app through the Windows Store, to highlight the features and functionality of the Aviary SDK for Windows 8.
Are these stocks a buy or sell? Let us help you decide. Check out our Stock Picker Newsletter now.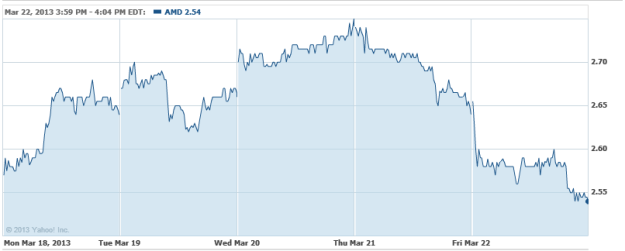 Don't Miss: Google Drive Mishap Pumps the Brake on Productivity.

BlackBerry (NASDAQ:BBRY): Current price $14.97
Chief Executive Thorsten Heins has told the Australian Financial Review that the rapidly advancing world smartphone market has left Apple's iPhone behind, and forecast that his firm would have 100,000 native applications available for its Z10 products in time for the United States debut later this week. In an exclusive interview, Heins remarked that last week's launch of the Samsung S4, with a series of recent smartphone releases had confounded the lead Apple once held in the market, and that BlackBerry was making early progress in encouraging users to transfer from other mobile platforms to its own.
Senior BlackBerry officials have confirmed to Emirates 24|7 during the BlackBerry User's Forum in Dubai, that they will soon debut an all-new BlackBerry PlayBook, running BB10. Director of product management Mike Al Mefleh at BlackBerry, said that the PlayBook was "very much part of the core focus of the company." However, sources attending the forum said that the product might be available as early as the end of second quarter, although BlackBerry officials could not confirm the specific date.
A spokesperson for the United States Department of Defense on Thursday said that a report in Electronista implying that the defense agency is dumping BlackBerry devices was inaccurate, and that BlackBerry remains a part of current Department mobile device deployment plans. Beyond that, the person refuted the report that cited "well-placed sources" as saying the Department had created a pending purchase order for 650,000 Apple iOS devices, among which included iPhones and iPads. Electronista had said that purchase would replace existing BlackBerry devices that are incompatible with BlackBerry OS 10.
Are these stocks a buy or sell? Let us help you decide. Check out our Stock Picker Newsletter now.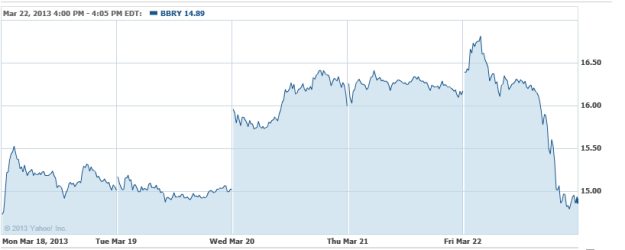 Don't Miss: Gartner: BlackBerry Is Going Nowhere

Qualcomm (NASDAQ:QCOM): Current price $64.12
Sharp Corp. has reported it will miss a March 29 deadline to receive the second half of a $120 million investment from Qualcomm, following its failure to finish a plan to start fabricating power-saving screens the two firms are jointly developing, according to Reuters. Qualcomm, which paid half the $120 million in December, placed conditions for the remainder that included completion of the specifications for the smartphone and tablet PC screens, and preparations for their output. Qualcomm also said that Sharp would be required to make an operating profit in the second half of its business year and have at least $1.05 billion of net assets. Sharp spokeswoman Miyuki Nakayama said that "the financial targets are not the reason for the delay."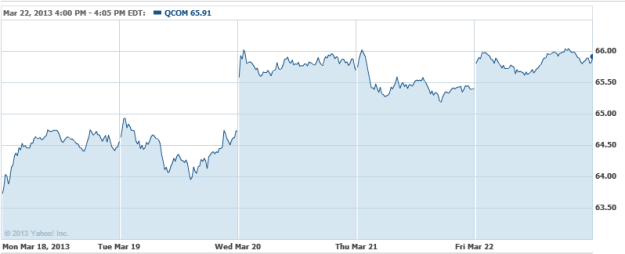 Facebook (NASDAQ:FB): Current price $25.97
Late Tuesday, Facebook announced the world release of "lookalike audiences," which is a new targeting option that allows advertisers to reach persons who share similar traits to current customers. This specialized audience targeting tool, which the social network powerhouse has been testing with selected advertisers for a few weeks, ventures a step beyond Facebook's custom audiences targeting option that debuted last fall, to aid marketers in intelligently going after new business. Lookalike audiences enlarges the targeting option so that advertisers can aim their ads, based on demographic qualities or geographic region, to current Facebook users who resemble those already on their customer lists.
Are these stocks a buy or sell? Let us help you decide. Check out our Stock Picker Newsletter now.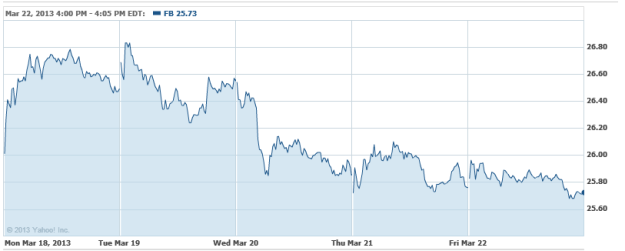 Apple (NASDAQ:AAPL): Current price $451.98
Apple picks up the Adobe Chief Technical Officer Kevin Lynch, effective March 22, to be its vice president of technologies. Adobe says that his position will not be replaced, as responsibility for tech belongs to its business division heads under the leadership of Adobe Chief Executive Shantanu Narayen. As for Lynch's cross company research and tech initiatives and Corporate Development, the newly returned Bryan Lamkin will be in charge.
Analyst Ken Hui at Jefferies, who maintains a Hold on the shares along with a $420 price target, in a note late Thursday said that Foxconn will be providing the plastic case for a less expensive iPhone model that he expects to start production in June. The comment came after results from Apple manufacturing partner Foxconn Thursday morning. Hui also remarked that Jabil Circuit, which Wednesday night posted disappointing quarterly results, will be another casing provider, and that the Foxconn parent Hon Hai is "ramping multiple new iPhone models."
Are these stocks a buy or sell? Let us help you decide. Check out our Stock Picker Newsletter now.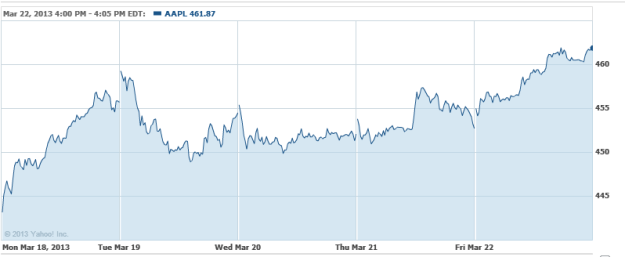 Amazon.com (NASDAQ:AMZN): Current price $256.81
Acccording to FCW, the Central Intelligence Agency has reached a cloud computing contract with Amazon, that could be worth up to $600 million over 10 years. Through the terms, Amazon Web Services will aid the agency in building a private cloud infrastructure that helps it keep up with emerging technologies such as big data, in a cost-effective manner that is impossible under the CIA's previous cloud efforts, sources said to FCW. Unsurprisingly, officials at Amazon would not confirm the existence of the contract, nor would a CIA spokesperson.
Kindle e-book reader panel shipments were around 750,000 units in January, followed by 420,000 in February. Presently, it is anticipated that the shipments could drop even further to 20,000 units in March and April, which if realized, is expected to impact E Ink Holding's revenues for the two months, say industry sources. In January, EIH's revenues were down by 33 percent on the month and down 44 percent  in February. Chairman Scott Liu called the decreases not unexpected, because the first quarter of the year is the slow season for the  shipments, adding that  shipments should rebound in the second and third quarters.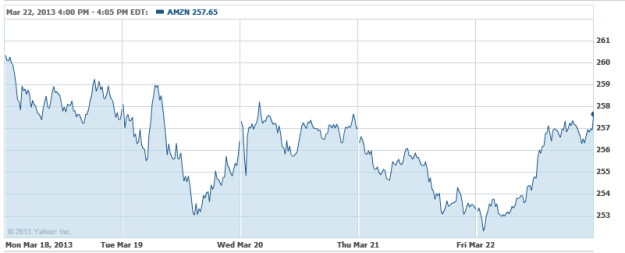 AT&T (NYSE:T): Current price $36.07
AT&T will debut a new, prepaid option for AT&T Wireless Home Phone, starting on March 22nd. Wireless Home Phone customers will be able to  add their home phone line to an existing FamilyTalk plan for $9.99 per month or select unlimited nationwide calling for $19.99 per month, and the Wireless Home Phone device is free with a two-year commitment.
Susman Godfrey has won a $27.5 million verdict on behalf of its client, Two-Way Media, in a patent infringement lawsuit in San Antonio against AT&T, connected to the streaming of audio and video content over the Internet. Two-Way Media owns patents covering live streaming and record keeping tech that is used for broadcasting audio and video over the Internet.
Are these stocks a buy or sell? Let us help you decide. Check out our Stock Picker Newsletter now.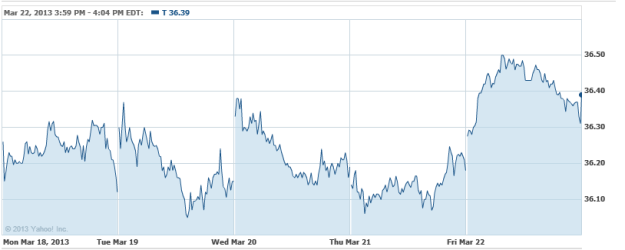 Don't Miss: Is Amazon Slipping in the Tablet Market?

Cisco Systems (NASDAQ:CSCO): Current price $20.88
Shares were downgraded Thursday at FBR Capital from Market Perform to Underperform, along with a price target reduction from $22 to $17, as the analysts said that routers and switches have hit a dead end. A portion of the FBR rationale is as follows: "We believe Cisco will become increasingly more challenged to offset weaker-than-expected routing and switching demand as it works to transition to a more software- and service-centric business model. Looking ahead, we see the potential for additional negative technological trends that could significantly blur the lines between routers, switches AND servers."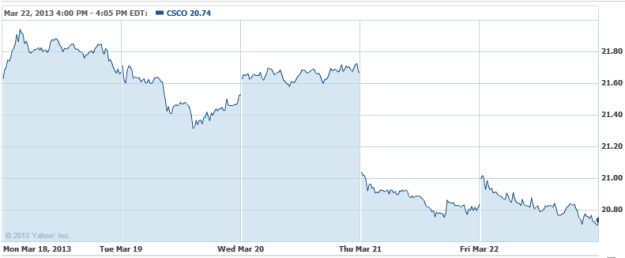 Tech Data Corporation (NASDAQ:TECD): Current price $45.97
The firm announced on Thursday that it will restate some or all of its previously issued quarterly and audited annual financial statements for the fiscal years 2011 and 2012, and some or all of the quarters of fiscal year 2013, including the fourth quarter and fiscal year 2013 earnings release dated March 4, 2013. Therefore, investors should no longer rely upon the previously released financial statements and other financial data relating to these periods.
Are these stocks a buy or sell? Let us help you decide. Check out our Stock Picker Newsletter now.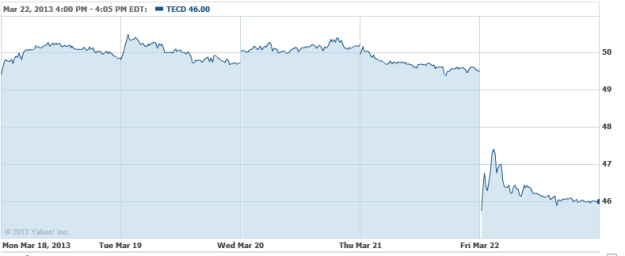 Don't Miss: Is Google Joining the Smart Watch Race?