The Home Depot (NYSE:HD): Current price $69.76
The former Home Depot division HD Supply, taken private for $8.5 billion in 2007, has chosen Bank of America Merrill Lynch (NYSE:BAC), Barclays (NYSE:BCS), Credit Suisse Group (NYSE:CS), and JPMorgan Chase & Co. (NYSE:JPM) to conduct a proposed IPO, say sources to Reuters.
Domestic home building and repair companies such as Home Depot Growing are being affected by soaring demand and tight supplies driving up plywood prices by 45 percent in the past year, and are rushing to replenish after having slashed output during the housing bust, according to The Wall Street Journal.


Wal-Mart Stores (NYSE:WMT): Current price $72.32
The giant retailer denied recent rumors that it would cease its operations in China, and added that it would launch three new stores there by the end of May, according to Xinhua.
India might have opened its retail industry to overseas participation in September, but the biggest global "multi-brand" retailers such as Walmart, Tesco , and Carrefour have been leery of entering its market due to the prevailing unfavorable regulations, according to Financial Times.
Wal-Mart is one retailer that sees an opportunity to claim victory in a lobbying battle against online firms that do not collect sales tax from their customers. They are pressing United States Senators to conduct a non-binding vote this week to show support for allowing states to impose sales taxes on out-of-state online sellers, according to Bloomberg.
Through notes to investors on Friday, two research firms gave different opinions on Family Dollar Stores (NYSE:FDO). Shares were upgraded at Deutsche Bank from Hold to Buy, while Citigroup lowered the shares to Neutral from Buy. The analyst Paul Trussel at Deutsche said that fears regarding future declines in the discount retailer's margins have probably peaked, and that the company's selling, general and administrative expenses disappointed investors in the first quarter of the its fiscal year, but investors should now aware of the headwinds that caused the situation and the problems should ease going forward. Meanwhile, worries about a price war among dollar store firms is overblown, and Family Dollar is taking market share from Wal-Mart, according to Trussel, who added that Family Dollar has now begun to benefit from tax refunds. Also, he expects the firm's same-store sales to rise 4.3 percent in the second half and he placed a $71 price target on the shares. on the other hand, analyst Deborah Weinswig at Citigroup thinks Family Dollar will have more difficulty beating earnings expectations going forward, and that the retailer's margins are likely to be impacted by stronger sales of less profitable items. Moreover, Family Dollar's "single store format" is hindering its ability to compete against Dollar General Corporation (NYSE:DG), which has two expanded store formats. She trimmed her price target on Family Dollar from $69 to $65.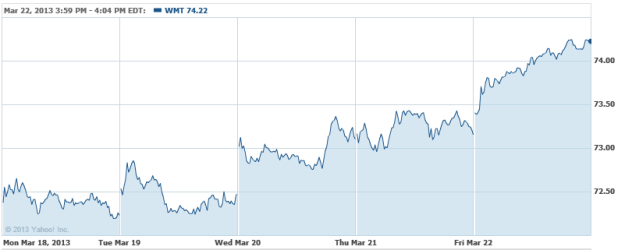 Don't Miss: Here's Why Amazon's Third-Party Sellers Are Up In Arms.

Procter & Gamble Co. (NYSE:PG): Current price $76.44
Natura Pet Products is voluntarily recalling certain lots of dry pet food which have the potential of being contaminated with Salmonella, although no related illnesses have been reported thus far. The bacteria can affect animals eating the products and there is risk to humans from handling contaminated pet products, if they have not thoroughly washed their hands after having contact with the products or any surfaces exposed. Routine testing by the Michigan Department of Agriculture collected from a single retail location has tested positive for the presence of Salmonella, so as a precautionary move, Natura is voluntarily recalling all products from this production window.
To have a go at Procter & Gambles lead in China, the cosmetics maker L'Oreal is debuting new products there to cut into Procter & Gamble's share for beauty and personal care products, which was estimated by Euromonitor to reach $34 billion in 2013, says Bloomberg. One key target is Chinese men, which is among the fastest growing sections of the market.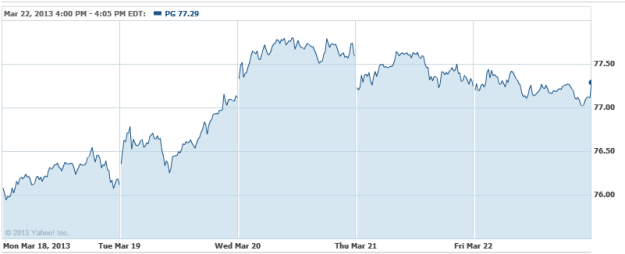 Don't Miss: How Much Does the Federal Reserve Juice Stock Prices?

The Walt Disney Company (NYSE:DIS): Current price $56.69
Universal Music Group and the Disney Music Group, which includes Hollywood Records, Walt Disney Records and Disney Music Publishing, have broadened their continuing relationship through a new long-term global commercial and creative accord. The agreement covers both physical and digital rights almost globally and, for the first time, allows for close creative collaboration between the two firms.
A number of the top pay-TV providers have publicly protested programming costs that are increasing faster than they are able raise their own prices. However, to the extent that their content is thought to be essential, distributors have few options but to pay what networks demand, according to The Wall Street Journal's Heard on the Street.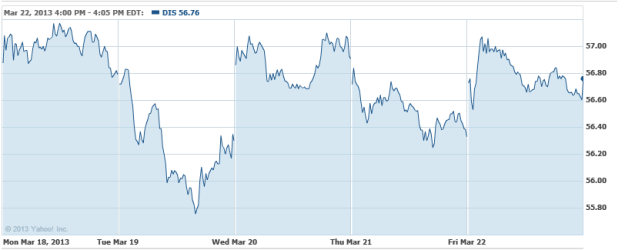 Don't Miss: David Einhorn's Vodafone Call is Picking Up Reception.

The Coca-Cola Company (NYSE:KO): Current price $40.37
Coke intends to lay off about 750 employees in the United States over the coming months as part of an attempt to streamline its operations, according to the Atlanta Journal-Constitution. The cuts will affect 1 percent of the firm's 75,000 employees in North America.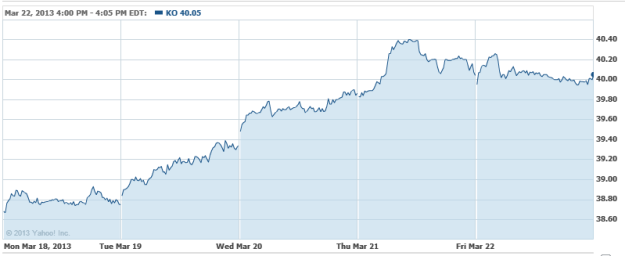 Investing Insights: Is Nokia Still in Danger?