10 Election Oddities You Must Know Ahead of Midterms
Weeks remain before Americans take to the polls in November's midterm elections, when they will decide who fills the 36 seats in the Senate (21 of those now held by Democrats and 15 by Republicans) and all the 435 seats in the House of Representatives that are up for grabs on ballots across the United States. The stakes are high; if Republican candidates win six seats held by Democrats without giving up any seats, the party will gain control of the upper house of Congress, and therefore the ability decide what does and does not come to the floor for consideration.
All major election result models give the GOP the edge — although some predict more dramatic victories than others; The Washington Post's "Election Lab" gives Republicans a 95% chance, while FiveThirtyEight has lowered its estimate in stages over the past several months to 57.1%. The narrower odds predicted by that model is a testament to the fact that election math both oversimplifies and overcomplicates the Senate landscape. "It oversimplifies it because the contingency in the sentence above — "without losing any seats of their own" — is a huge assumption. Republicans are more likely than not to lose at least one of their seats," as FiveThirtyEight's Nate Silver noted last week. And registered voters in a number of states, from North Carolina to Louisiana, are fairly evenly divided between Republicans and Democrats, meaning races in those states will likely be close.Thirty-six states will also holding gubernatorial elections, of which a dozen are rated "tossups" by the independent Cook Political Report.
With election day approaching, here's what is happening in races across the country.
1. Political spending has ballooned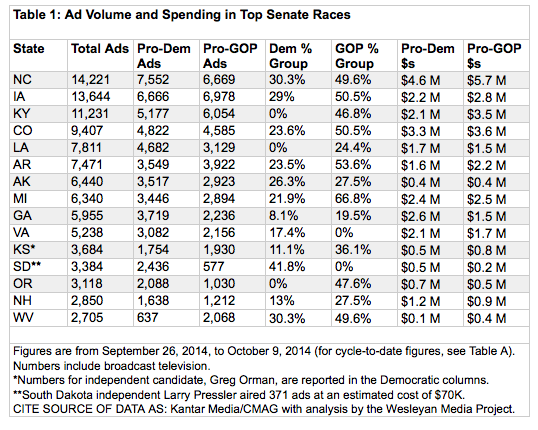 Democrat and Republicans running for reelection, for open seats, or to topple incumbents in Congress and campaigning in gubernatorial races across the country have spent close to $1 billion this year. According to calculations made by the Wesleyan Media Project, candidates and political action groups of every persuasion have spent nearly $918 million to air almost 1.8 million ads through October 9. By election day, that figure will be even higher. "Ad spending this election cycle will easily break the $1 billion mark in the next week or two," Travis Ridout, co-director of the Wesleyan Media Project, noted in the October 14 analysis. "We also expect to see at least 2 million ad airings in House, Senate and gubernatorial races by Election Day."
The study also reaffirmed a well-established trend. Of the total spending, special interest groups — like American Crossroads and NextGen Climate Action — have contributed 40%, which is an all-time high and an increase from 32% at this same point in the 2012 elections. For Republican candidates this money is essential. The GOP relies much more heavily on outside group advertising than Democrats; in 13 of the 15 narrowest Senate races, South Dakota and Virginia being the exceptions, special interest groups sponsored a greater percentage of pro-Republican ads than pro-Democrat ads. In fact, in Iowa, Colorado, Arkansas, and Michigan, more than 50% of pro-Republican ads were paid for by such organizations.
But, "because Republicans are relying on outside groups to pay for their ads, they are not getting as much bang for the buck as Democrats," according to Michael Franz, co-director of the Wesleyan Media Project. "Sixty days before an election, candidates are entitled to the lowest unit rate from television stations, but that does not apply to the various groups who are funding ads. Still, because political science research suggests outside spending can be more persuasive than ads from candidates, this strategy may pay off for Republicans."

2. A new Koch-backed super PAC is on the offensive

Freedom Partners Action Fund, a super political action committee launched by the billionaire industrialists Charles and David Koch, was created this past summer with the intention of serving as a key channel for funneling political spending into issue-based campaigns that often criticize Democrats. In keeping with the typical Koch brothers ethos, the group will support candidates who believe in free market economics and the libertarian conception of a "free society" and oppose candidates who support intrusive government policies. With the 2014 election season drawing to an end, the Super PAC has designed a series of ads (like the one above) meant to highlight how Democratic candidates in Arkansas, Colorado, West Virginia, Kentucky, and Florida have supported President Obama and his "harmful" policies. The group reportedly has plans to spend a total of more than $15 million on the midterm elections, and its last-minute spending surge is practical evidence of the Wesleyan Media Project's data.
3. Democrats have surrendered Kentucky
In fact, Alison Lundergan Grimes may lose. For a time, the race between the Republican incumbent, Senate Minority Leader Mitch McConnell, and his Democratic challenger, Grimes, was expected to be one of the closest races of 2014, instrumental in determining which party controls the Senate come 2015. "Mitch McConnell is there for millionaires and billionaires. He is not there for people who are working hard playing by the rules and trying to build a future for themselves," claimed populist Democratic Senator Elizabeth Warren of Mass, while campaigning for Grimes in Kentucky weeks ago, and that accusation rang true for many voters. The battle between Grimes and McConnell even became almost symbolic of the Republican-Democratic divide engulfing United States politics, leading to an influx of spending on advertisements in that state. More than $100 million has already been spent campaigning, making the Kentucky race the most expensive Senate race in history.
However, Grimes's refusal to say whether she voted for Obama has cost her, as has her use of the term "illegal immigrants," instead of undocumented workers, in advertisements. As Bloomberg reported, the Democratic Senatorial Campaign Committee confirmed that all its ads have been pulled from television in Kentucky, although the party has funneled more than $2 million into the state. And Gallup polling data shows that "Kentuckians have shifted and are now more likely to lean toward Republicans than Democrats." In fact, Republicans have a six-point edge.
4. But Grimes is not alone
If political ad spending is any indication, the Democratic Congressional Campaign Committee has acknowledged that a few races may be unwinnable. Since last week, the group has chosen to shift its focus (by redirecting advertising money) away from efforts to unseat Republicans in GOP-held districts to protecting embattled incumbents, reported The New York Times on Tuesday. To win the majority in the House of Representatives — an unlikely event, according to pollsters — Democrats have to unseat 17 Republicans. But the DCCC has shrunk its theater of operations; of the 25 races on the organization's roster, only seven are for seats currently belonging to Republicans. And that means that the party is on the offensive in only seven states and on defense in 18 states.
Campaign aides told the publication that the DCCC never expected win the House majority, largely because of Obama's widespread unpopularity. "I absolutely would not say we're in triage mode," Representative Steve Israel of New York, the chairman of the Democratic campaign organization, told the Times. "There's a difference between triage and making strategic decisions." And shifting focus from unseating Republicans to protection incumbants is one such strategic decision.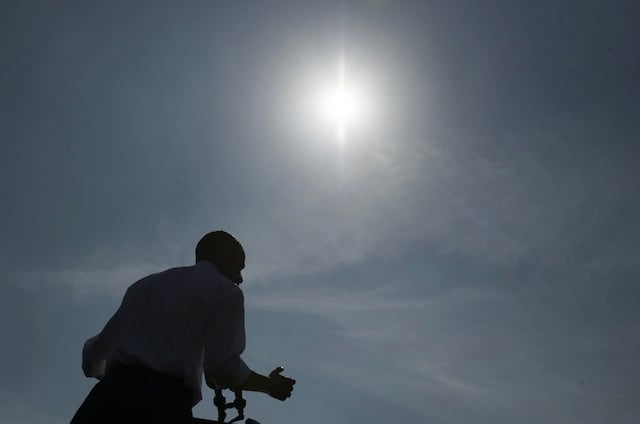 5. Yes, the Congressional midterm elections will be ajJudgement of Barack Obama's presidency
According to a survey, the more voters in blue states liked President Barack Obama in 2012, the less they like him now. When Obama was reelected two years, he became the first Democrat since Franklin Delano Roosevelt to twice win a majority of the vote. But polls conducted by USA Today and Suffolk University in six key battleground states show how public opinion has changed; in five of those states, as many as one in seven people that voted for Obama two years ago say they regret it. In Iowa, Colorado, and Michigan — where Obama took more than 50% of the vote — only 47%, 46%, and 48% of voters, respectively, now say they would cast their ballots for him again.
And, of course,historically, midterms are referenda on the incumbent president. And typically, midterm elections favor the party that doesn't control the White House. It may seem that how Americans judge the president would have very little bearing on congressional elections, even if it does speak to the condition of the American political system. However, data shows that there is in fact a correlation between presidential approval ratings and the success of his party in congressional elections. For example, when Democrats lost control of the House of Representatives in the 1994 election, President Bill Clinton's job approval rating stood at 46% in the final Gallup poll conducted before Americans went to vote. Similarly, a Gallup survey conducted just before the 2006 midterm elections put George W. Bush's approval rating at 38% and Democrats gained 31 seats in the House of Representatives and 6 seats in the Senate.
6. Still, Obama has finally stepped out on the campaign trail
Through 2014, Obama has called the midterm elections his "last campaign." But, given that his low approval rating has the potential to hurt candidates in races across the country, the president has thus far limited his involvement to fundraisers that channel dollars to advertising efforts. Polls show his missteps as president have hurt Democratic candidates, although his low-forties approval rating is by no means unusual for a second-term president. Still Obama has limited his participation in the politics of congressional midterm elections unlike his predecessors. He has presided over fundraisers at the home of actress Gwyneth Paltrow; headlined a rallies for Connecticut Governor Dan Malloy and Illinois Governor Pat Quinn, who is facing a tough race; and, in the next several weeks, he will campaign for four gubernatorial candidates: Mary Burke in Wisconsin, Tom Wolf in Pennsylvania, Mike Michaud in Maine, and Mark Schauer in Michigan. Democratic Senate candidate Gary Peters of Michigan (who is replacing Carl Levin) will also get the president's support.
7. National security matters: Incumbent Democrat Senator Mark Pryor of Arkansas may lose
There is no doubt that this Senate race will test how concerned Arkansas voters are about national security; Pryor's Republican challenger, freshmen Representative Tom Cotton, has not only emphasized his military career, but he has made it clear he believes the United States should pursue a more aggressive foreign policy. He was one of the few lawmakers of either party to back Obama's plan to launch airstrikes in Syria last year. A majority of polls have shown Cotton to have a narrow but lasting lead over the incumbent. And Pryor may have placed himself well out of reach of reelection by stating during a Tuesday night debate that middle class Americans earn $200,000. While "different ways to judge it," he told the moderator, "I think of most of Arkansas — maybe that goes up to $150, $200 thousand" can be considered middle class. For reference, Robert Reich, who served as the Secretary of Labor in the administration of former Arkansas governor Bill Clinton, defined the middle class as those earning 50% above or below the median income of the region in question. And median household income in Arkansas in 2013 was $39,919, so Pryor's huge over-estimation shows him to be out of touch with his electorate.
It should be noted here that Cotton claimed at town hall meeting that the radical Islamic group ISIL is working with Mexican drug cartels to cross the border and kill Arkansas citizens.
8. And so does Ebola: Republican Scott Brown takes lead in New Hampshire
Not many people will argue that the spread of the viral infection to two Dallas health care workers is not worrisome. But not many people will argue the spread of Ebola is part of a larger conspiracy. Scott Brown — previously a Massachusetts Senator, now the Republican Senate nominee in New Hampshire — explained in an interview with WGIR Radio that the dangers of an Ebola pandemic offer all the more reason to ensure the United States' border with Mexico is sealed. When asked whether he favored travel restrictions on some passengers in and out of West Africa, Brown immediately took the opportunity to express his views on immigration and border control. While he did not go so far as Cotton, he did say: "I think it's all connected. For example, we have people coming into our country by legal means bringing in diseases and other potential challenges. Yet we have a border that's so porous that anyone can walk across it. I think it's naive to think that people aren't going to be walking through here who have those types of diseases and/or other types of intent, criminal or terrorist."
9. But indictments do not: Rep. Michael G. Grimm may win
Polls have shown since late September that Grimm — the two-term Republican representative of New York's Staten Island who is under indictment on 20 charges, including underreporting wages and revenue related to a restaurant he once ran — may win re-election. Despite his legal troubles, Grimm has been found success accusing his Democratic opponent Domenic M. Recchia Jr., a former New York City councilman from Brooklyn, of "nickel-and-diming" the middle class. While the Democratic campaign committee has attempted to educate the public on Grimm's indictment, the incumbent has had a lot of financial help from special interest groups, including $100,000 from Defending Main Street, a Republican super PAC that assists moderate Republicans in tight races.
10. Candidates take note: More Americans want combat troops on the ground Iraq and Syria
It is important to remember that there is little public support for putting American boots on the ground. And that reality has been a major factor in President Obama's decision to limit the United States military's involvement in destroying and defeating ISIL to bombing. But voters are becoming more hawkish; a recent poll conducted by NBC News and The Wall Street Journal found that approximately 41% of Americans surveyed think the campaign should include both "air strikes and combat troops." By comparison, 35% say the offensive should be limited to airstrikes and 15% believe no action should be taken against the radical Islamic group. In September, just 34% said both airstrikes and combat troops should be used and 40% backed only airstrikes. This change illustrates that Americans are increasingly concerned about foreign relations instead of domestic issues.
For entries 11 through 20, click here.
More from Politics Cheat Sheet:
Follow Meghan on Twitter @MFoley_WSCS