Obamacare, Racism, and Voter Angst: What Will Decide America's Future?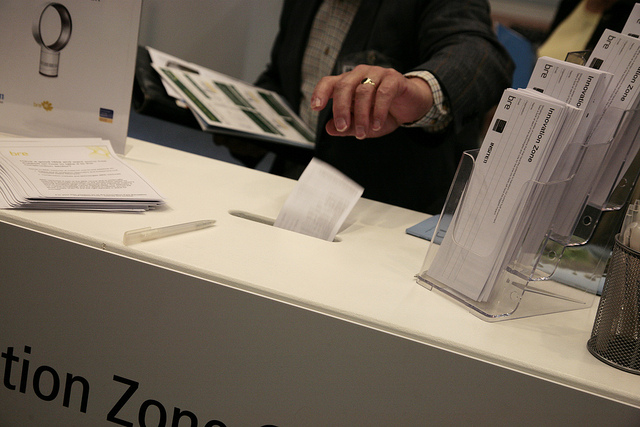 Less than three weeks remain before Americans take to the polls in November's midterm elections, when they will decide who fills the 36 seats in the Senate (21 of those now held by Democrats and 15 by Republicans) and all the 435 seats in the House of Representatives that are up for grabs on ballots across the United States. The stakes are high; if Republican candidates win six seats held by Democrats without giving up any seats, the party will gain control of the upper house of Congress, and therefore the ability decide what does and does not come to the floor for consideration.
All major election result models give the GOP the edge — although some predict more dramatic victories than others; The Washington Post's "Election Lab" gives Republicans a 95% chance, while FiveThirtyEight has lowered its estimate in stages over the past several months to 57.1%. The narrower odds predicted by that model is a testament to the fact that election math both oversimplifies and overcomplicates the Senate landscape. "It oversimplifies it because the contingency in the sentence above — "without losing any seats of their own" — is a huge assumption. Republicans are more likely than not to lose at least one of their seats," as FiveThirtyEight's Nate Silver noted last week. And registered voters in a number of states, from North Carolina to Louisiana, are fairly evenly divided between Republicans and Democrats, meaning races in those states will likely be close.Thirty-six states will also holding gubernatorial elections, of which a dozen are rated "tossups" by the independent Cook Political Report.
With election day approaching, here's what is happening in races across the country.
11. Voters think the United States is heading in the wrong direction
According to an early October study released by The Wall Street Journal and NBC, a great portion of the American public — 65% of the poll's respondents — think the United States is on the wrong track. Only 25% believe the country is headed in the right direction, while 6 hold a mixed opinion and 4% are unsure. And it is not difficult to analyze why such large share of Americans worry about the future. The labor market recovery has left many behind, with wage growth remaining stagnant, the quality of jobs often poorer than the ones lost during the recession, and the prevalence of undesired part-time employment; and the public is unconvinced their leaders can put aside partisan bickering long enough to solve real problems like immigration or pass on the opportunity to turn arguments into standoffs as in last October's partial shutdown of the federal government.
12. Voter rights laws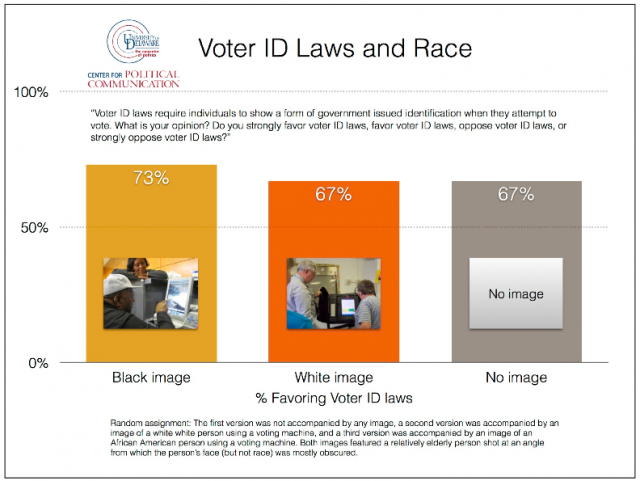 Sixty-seven percent of white Americans support voter ID laws (regulations that require voters to show government-issued ID before voting), according to a survey conducted by the University of Delaware. However, when a second group of respondents were asked to consider the question, it was accompanied by a photograph of black Americans using a voting machine, and the share supporting voter ID laws jumped to 73%. And Pew Research data suggests that a majority of Americans across the country support Voter ID laws as a measure to combat fraud, although younger voters tended to be more opposed. The problem is that voter ID laws do little to nothing to stop a number of the most prevalent types of fraud, including vote buying, coercion, stuffing ballot boxes, voting from the wrong address, or fake registrations. And while such laws do prevent identity fraud, political scientists general agree that type of fraud is rare.
What voter ID laws do accomplish is suppressing voter turnout, especially among demographic groups that tend to vote Democratic — younger people, low-income groups, and minorities. A September 2014 Government Accountability Office report found that voter ID laws in Kansas and Tennessee lowered voter turnout by several percentage points in those states in the last election, which amounted to 120,000 fewer votes cast. And these lost votes were concentrated among the young, blacks, and first-time voters.
Even though a number of studies, including the University of Delaware survey, have provided strong evidence of the discriminatory intent behind Voter ID laws, the federal judiciary branch has been slow to change its opinion. Since 2003, 34 states have enacted Voter ID laws in some form. And in 2013, the Supreme Court gutted the 1965 Voting Rights Act, ruling in Shelby County v. Holder that the provision that required certain states (i.e. states that had Jim Crow laws) to obtain federal clearance before changing voting laws or practices was based on data over 40 years old, and therefore no longer representative of the current situation.
Still, in a number of states where voter ID laws are in dispute, lower courts have blocked the enactment of such requirements. On October 9, a federal trial court struck down Texas's voter ID law as unconstitutional burden on the right to vote. But then on October 14, a federal appeals court ruled that Texas can enforce is strong voter identification requirements in November's election, temporarily blocking the lower court's ruling because a change in rules could confuse voters and poll workers. Last week, the Supreme Court temporarily barred new voter requirements in Wisconsin, also because of a desire to avoid confusion in the few short weeks before the election. By comparison, when the Arkansas Supreme Court struck down the state's voting ID law on October 15, the justices took more into account than time. The court said such a law would set a new requirement for voting beyond what the state's Constitution stipulated.
 13. There is still hope for Democrats
The Democratic party is registering new progressive voters in both Georgia and Texas at unexpectedly high rates.
Still, in Georgia, a huge problem is looming. In an attempt to increase minority turnout in November, The New Georgia Project sought to register Latino, Asian American, and black voters, who could make the difference for Democrats in the increasingly competitive Senate race between Republican David Perdue and Democrat Michelle Nunn and in the narrow gubernatorial contest between sitting Republican Governor Nathan Deal and the challenging Democrat, Jason Carter. The New Georgia Project added more than 81,000 new voters during this election season. However, the state received complaints of possible voter fraud, and even though only 50 applications were deemed fraudulent and 49 classified as "suspicious," numbers representing less than 1% of the total application forms submitted by the group, the issue appears to be headed to the courts, meaning thousands of Georgians may discover at the ballot box on election day their voter registration forms were never processed.
 14. Are polls biased?
Yes, polls can have bias. During the 2004 presidential campaign, some Democrats argued that John Kerry had a much greater chance of winning the presidency because he appealed more to the independent, undecided voters than incumbent George W. Bush. But Bush won by a slightly greater margin than the polls predicted.  For clarity, bias calculations measure "in which direction, Republican or Democratic, a firm's polls tended to miss," according to FiveThirtyEight's Nate Silver.
As Silver wrote in a October 15 post, Democrats may be right to argue polls ahead of the 2014 midterms are biased against the party's candidates, meaning Republicans should not count on victory. However, he believes the polls are just as likely to be biased against Republicans, meaning the GOP could win even more seats than predicted. "Democrats might argue that a Republican bias has been evident in recent years — even if it hasn't been there over the longer term. But the trend is nowhere close to statistically significant. Nor in the past has the direction of the bias in the previous election cycle been a good way to predict what it will look like in the next cycle," Silver wrote. One reason long-term bias trends are lacking is that pollsters are capable of adjusting their surveys. For example, the vast majority of plls in 2014 have included cellphones or have been conducted wholly or partly over the Internet, capturing voters who cannot be reached via landlines.
But what does Silver's analysis mean for Democrats? He concluded that relatively modest polling errors (which occur more often in Senate than presidential races) "would do the trick for Democrats," meaning there is chance that the GOP doesn't quite have the steller position polls suggest.
15. A Republican loss in South Dakota could also "do the trick"
South Dakota's former Republican governor Mike Rounds was heavily favored to win the state's empty Senate seat. In fact, South Dakota has been counted in the "likely Republican" column of midterm analyses for the majority of the election season. But now the South Dakota Senate race could be the one that decides which party controls the Senate. Democrats are making the most of the "citizenship for sale scheme" that has Rounds embroiled in controversy. While the candidate has publicly insisted he has done nothing wrong, his opponents claim the Rounds administration was diverting state funds from a federal program that distributes EB-5 visas.
The basic premise is that any foreign investor who puts between $500,000 and $1 million into any United States business, with the ultimate benefit being the creation of more U.S. jobs, becomes eligible to apply for an EB-5 visa. The problem is that the federal agency overseeing the program is tied to immigration and not financial regulation, meaning investments are not soundly vetted. Furthermore, the federal government allows entities in the United States — usually private companies, but also nonprofits or even state agencies — to serve as "regional centers" for program. These centers pool investments and decide which projects to fund. It is at these centers were the opportunity for corruption arises. Rounds championed this program in South Dakota, while one of his appointments, Richard Benda, allegedly funneled funds from the investment program to himself.
This scandal has drowned out all other issues in the race, and given an opportunity for Democrat Rick Weiland and independent candidate Larry Pressler — a former GOP senator who supported Obama in 2008 and 2012 — to narrow the contest.
16. "Congress is in the doghouse, seriously"
Data from the recent Wall Street Journal and NBC poll shows that Americans have only grown more dissatisfied with Congress as the election draws nearer. The legislative body's job approval rating stands at just 12% — equal to the lowest level ever recorded for the institution. And just one-third of registered voters said their representative deserved to reelected, while 57% responded that now is the "time to give a new person a chance." Blame for Washington's dysfunction was almost equally apportioned to the House and Senate leaders of both parties, with 26% of respondents choosing House Speaker John Boehner (R., Ohio) as the person most responsible for Congress's ineffectiveness, 21% picking Senate Majority Leader Harry Reid (D., Nev.), and 20% choosing House Minority Leader Nancy Pelosi (D., Calif.).
17. But Voter Engagement Is Still Very Low
Pew Research found that only 15% of Americans are "very closely" following the 2014 midterm elections — a share that is less than half the number who claimed to be following Ebola or the advancement of ISIS, issues that interest a 36% share and a 31% share of the public, respectively. At 21%, even more people are following the Secret Service scandal. And voters are far less engaged now than they were before the midterm elections of 2006 and 2010, each of which dramatically reshaped Congress. Even stranger is the fact that interest in the elections has not grown as it typically does in the final weeks before voters go to the polls. The Wall Street Journal and NBC poll asked voters to rate their interest level on a scale of one to 10, and only half rated their interest level as a 9 or 10 — about the same percentage recorded in a June poll.
18.  Will rising insurance premiums impact Senate races?
In the aftermath of the disastrous launch of the cornerstone provision of the Affordable Care Act, the individual insurance exchanges, lawmakers, political scientists, and pundits pondered how Obamacare, and all the health care reform's political and economic ramifications, would influence the elections. Of all the complexities and changes Obamacare brought to the United States health care system, the one most easily felt by the average American and the one most easily exploited by politicians, is the price of health insurance.
Obamacare premiums — those of policies purchased through the insurance exchanges created by the Affordable Care Act — are not rising uniformly across the country, which is to be expected, given each state has a very unique and independent insurance market. However, in Louisiana and Iowa, were very competitive Senate races are underway, rate increases will fall in the double-digits. For Republicans, this data is excellent campaign fodder, and GOP candidates are pushing Democrats to be accountable.
Louisiana Representative Bill Cassidy has described the double-digit increases levied by some insurers, including Blue Cross Blue Shield of Louisiana, as "another hurdle for families and businesses already struggling under the demands of Obamacare." He also blamed Democrats for making "false promises" that premiums would drop. And Iowa Senate candidate Joni Ernst criticized the Democratic candidate, Representative Bruce Braley, for supporting the law, claiming that "thousands of Iowans are paying for it" in the form of sharp premium increases. These accusations seem to indicate that the health care reform is the sole cause of rate hikes, but, in reality, premiums in most states are not increasing any more than they would have before the law was implemented, and in many cases, rate increases are slowing.
19. A record 25.2 million Latinos are eligible to vote in the 2014 midterm elections
The Hispanic electorate is growing relatively fast compared with other groups, and therefore their share among eligible voters nationally is rising, growing from 8.6% in 2006 to 10.1% in 2010 to 11% in 2014. The changing demographics of the American electorate greatly hurt the Republican party in recent elections, and may even haunt the GOP in the coming presidential elections. However, the increasing size of the Hispanic electorate may have little influence on this year's midterms, given that in the eight states with tight Senate races, just 4.7% of voters on average are Latinos, according to data from Pew Research. "As a result, the impact of Latino voters in determining which party controls the U.S. Senate may not be as large as might be expected given their growing electoral and demographic presence nationwide," noted a recent report.
20. Here are the latest odds
For entries 1 through 10, click here.
Follow Meghan on Twitter @MFoley_WSCS
More from Politics Cheat Sheet: