3 Harsh Facts About Women in the American Workforce
Women in the workforce are a highly politicized topic as of late, partly a product of how they've been tied into the minimum wage debate. Without getting too embroiled in partisanship views, let's take a look at the role women play in the U.S. workforce.
1. Education: More for Less

According to the White House, women have progressed far more in educational areas than men in the last forty years. Women are more likely to graduate from college, they're more likely to get a graduate degree, and men are more likely than women to obtain at least a high school education. However, looked at more closely, women are underrepresented in science and technology fields, according to the White House data, fields that ultimately tend to pay better once graduates hit the job market. The highest percent of women workers are found in education and health services, at 36 percent, or 24,087 workers in 2012, according to the according to the Bureau of Labor Statistics report for May of 2014. The lowest percentage?
According to the report, 38 percent of women between the ages of 25 and 64 had obtained a college degree in 2012. Two of the highest paying jobs for women — lawyers at $1,636 a week and pharmacists at $1,871 — require graduate educations, as likely does the third job, chief executive, which pays about $1,730 each week. Women 25 and older with only high school diplomas made averages of $561 a week, while women with associate's made approximately $697, and women with bachelor's or higher made about $1,001.
2. Women of Color: Lower Pay But Better Gender Stats
The Bureau of Labor Statistics report released recently offered an updated look at women's pay, comparable by race and gender, and the Women's Bureau of the Department of Labor also released a report looking specifically at these issues. In general, women make a median weekly income of $691, 81 percent of what males make in a week, compared to the previously listed 77 cents on the dollar. Asian women tended to have higher pays at $770 a week, whites at $710, blacks at $599, and Hispanics making the lowest weekly wages at $599. However, those numbers changed when looked at compared to men the same race. Black women tended to make better comparative wages, 90 percent, according to the report. Hispanic women made about 88 percent of male Hispanics, white women about 81 percent, and Asians about 73 percent.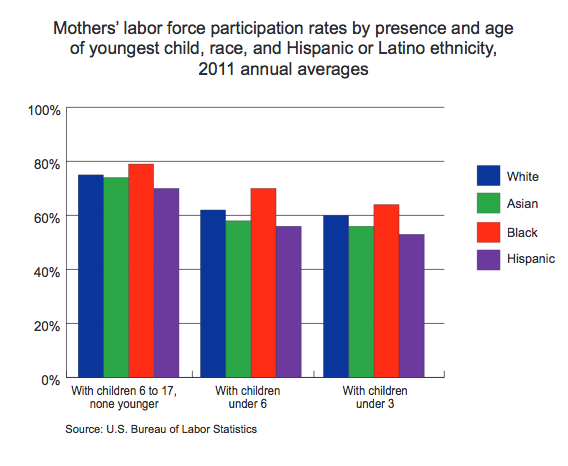 In terms of mothers who are part of the workforce, the Women's Bureau showed that black mothers were considerably more likely to participate in the workforce. It's also worth noting that black women have the second highest single mother birth rate, 62.6 percent, according to a CDC report, which could explain an economic demand that mothers in this demographic work. Interestingly though, Hispanic mothers are shown to be the lowest labor force participants, but according to the same CDC report, have the number one non-marital birth rate at 72.6 percent. A separate report from ACT Rochester shows black women with considerably higher percentages of single parenthood between 2008 and 2012, possibly a reflection of when marriage stats are looked at — at birth for the CDC, or just in terms of single parent prevalence for the other. Women also tend to be slightly more likely than men to hold two jobs, at 5.2 percent, compared to 4.6 percent of men.
3. Number of Poor, Disabled, and Veteran Women in the Workforce
There are 11.0 million veterans from the U.S. Armed Forces, according to the BLS report, and about 10 percent of them are women. About 8.3 percent of that 1o percent are unemployed, so about 9.1 thousand. Rochelle Crump, who runs National Women Veterans United, says that things can be tough for women coming home. "There has been tremendous change. There was a time when there were just a few of us, but more women have come out to identify themselves as veterans and express their needs," she said to The Washington Post. "A lot of them have been silent and not feeling worthy of their services because everything had been so male dominated, particularly in healthcare, that they just didn't feel like they were a part of it. Even in the service organizations, they felt like they didn't have a place because they don't specifically address the needs of women."
In 2012, there were approximately 15.3 million women with disabilities and about 17.1 percent were in the workforce, but that number goes up when those between the ages of 16 and 65 are examined, at 64 percent in the workforce. Finally, women who had been in the workforce for at least 27 weeks in 2011 were shown to be more likely than men to be living below the poverty level, 8 percent of women, and 6.2 percent of men. Black women and Hispanic women were both much more likely to be in the working poor, at 15.6 and 13.7 percent, according to the report. All three are issues that build upon and interconnect with each other.
More From Wall St. Cheat Sheet:
Follow Anthea Mitchell on Twitter @AntheaWSCS