3 Key Issues on Obama's Agenda, From Bowe Bergdahl to Student Loans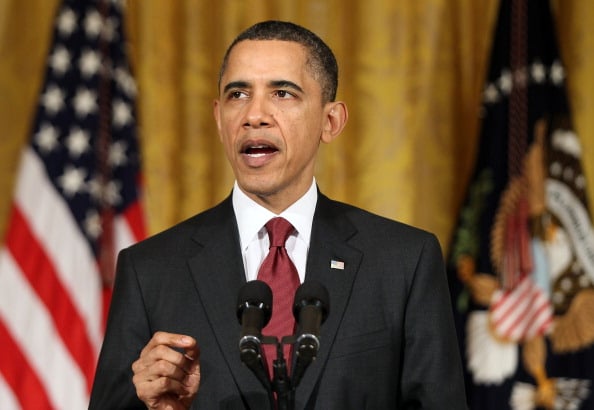 President Barack Obama has had a crowded agenda over the course of last week, particularly dealing with foreign politics but also working on some issues closer to home. His job approval polling has remained relatively flat for early June despite how busy it's been — dropping to 43 percent from the 44 percent it's been at — but by Friday and over the weekend he was back to 45 percent approval rating, average 44 percent for June's first week, according to Gallup. Here's a quick update on his recent political agenda including PR issues stemming from the return of Bowe Bergdahl and efforts to aid students graduating under a weight of debt, not to mention the hefty international assistance focus over the course of the last week.
1. Bowe Bergdahl
Bowe Bergdahl was an American prisoner of war that up until recently had been in imprisoned by the Taliban for five years. The decision from President Obama to trade five high ranking Taliban members from Guantánamo Bay for Bergdahl has become highly controversial for two reasons. Firstly, Bergdahl has been accused of deserting his position, and these unconfirmed suspicions regarding the events leading to his capture have complicated the sentiment from many that he was not deserving of a trade. Some are particularly critical of a trade releasing so many members of a terrorist organization. The President also did not notify Congress of his intentions before following through on the trade, which only added to the controversy. He spoke on the exchange during his trip in Warsaw. "The United States has always had a pretty sacred rule, and that is: we don't leave our men and women in uniform behind. Regardless of circumstances, whatever those circumstances may turn out to be, we still get an American prisoner back. Period. Full stop. We don't condition that," said Obama.
However, for some, the conditions of Bergdahl are of vital importance in whether or not the exchange was an appropriate sacrifice, but based on recent updates on Bergdahl's condition, many things are likely to remain uncertain for a time. Bergdahl has reported that he was caged and tortured, locked in the dark for weeks as punishment for escape attempts. His health is improved from earlier in his captivity when a video of him showed him looking underweight and haggard, and it has been theorized that his captors may have sought to improve his health before sending him home.
According to The New York Times, medical experts with the military who are treating Bergdahl have reported that he is physically sound, but psychologically incapable of travel at this time, meaning he will remain in Germany where he is being treated. He is currently being sheltered from media concerns and is as yet not prepared for a reunion with his family. The New York Times reports that his sister has sent him a letter which he has not responded to. "Physically, he could be put on a plane to the U.S. tomorrow, but there are still a couple of mental criteria to address: the family unification piece and the media exposure piece," an American official told The New York Times.
According to a Fox interview with former Attorney General under the Bush administration, Michael Mukasey, Bergdahl should see a court within sixth months and noted how seriously the U.S. military takes desertion as an offense. "We know what he did. You can't wait to try a case until you know absolutely everything about everything," said Mukasey. However, members of the Obama Administration are asking for patience and caution going forward, allowing time for Bergdahl to recover from the trauma and await a more detailed understanding of events leading to his capture and following his capture.
2. Student Loans
Obama looked closer to home in his recent Weekly Address, once again taking on the subject of student debt and announcing his plan to take executive action to "offer millions of students the opportunity to cap their monthly student loan payments to 10 percent of their income." According to The Project on Student Debt, 62 percent of graduates leave public universities with student loans, and average debts reached just over $29,000 a student last year, according to CNN Money. The effort towards reducing economic pressures from student debt is hardly new. Obama previously capped payments at 10 percent back in 2010 which went into effect in 2012. His newest move will expand those who are advantaged by the order to those who took out loans before October of 2007 or ceased in October of 2011. It also gives students active in the military additional help, cutting off interest rate increases at 6 percent, and working with loan providers in order to reward those who make their payments on time, according to The Washington Post.
As with many executive actions, this one comes with a pre-midterms jab at Congress. "Congress needs to do its part … And while Congress decides what it's going to do, I will keep doing whatever I can without Congress to help responsible to help responsible young people pay off their loans." He names education as one of the major pathways to economic success and job obtainment, but claims that debt is crippling its advantages to struggling students and graduates. The opposition would argue that tax payers are taking on the weight of these students and that bailouts such as this fail to hold individuals accountable for spending and debt, meaning more individuals will take on more debt, and that this will decrease dependable payment as opposed to increase it.
3. Russia, Ukraine, and International Assistance
"You can't force people to like you, as we say in Russia," said President Vladimir Putin at the end of last month, according to NBC News, an excellent summary of Russia's foreign policy stance at present. Putin also spoke heatedly on the President's accusatory stance on Russia's involvement in the conflict between state and pro-Russian forces in Ukraine, asking "Who is he to judge?"
The two briefly met in France at the D-Day Anniversary Lunch. The press has since been labeling their interactions and photos as "awkward," while Obama claims they share a businesslike relationship and Putin wavered between anger with Obama and carefully saying their point of views differed in reports from NBC. Putin also addressed upcoming elections in Ukraine. He stated that they would respect and cooperate with whoever took the election, insisting the statement is genuine and without "irony." Ukraine's election resulted in chocolate billionaire and seasoned politician Petro Poroshenko taking office, a choice President Obama praised, saying Poroshenko's vision for his country "impressed" him after the two met in Brussels following the two day summit of the group of seven. "I think that President-elect Poroshenko recognizes that his mandate is not just to help certain portions of his country succeed, but all portions of his country succeed," said Obama in a later speech in Warsaw, Poland at the end of last week.
Putin spoke on sanctions being placed against Russia, according to NBC, admitting that that they are indeed hurting Russia, but accusing the U.S. of looking to benefit from Russia and European hostility in business. Obama made it clear that sanctions would only build should hostility continue. "Further Russian provocations will only mean more isolation and costs for Russia," he said. On top of sanctions Obama discussed further American efforts in Europe last week.
"Yesterday, I announced a new initiative to bolster the security of our NATO allies and increase America's military presence in Europe," he said. "With the support of Congress, this will mean more pro-positioned equipment to respond quickly in a crisis, and exercises and training to keep our forces ready; additional U.S. forces — in the air, and sea, and on land, including here in Poland. And it will mean increased support to help friends like Ukraine, and Moldova and Georgia provide for their own defense."
All three nations are slated to receive monetary support according to releases from the Office of the Vice President, monetary support which will help ensure contineud loyalty to Western interests despite Russia's influence. Ukraine is to be given over $184 million in assistance in 2014, and Vice President Joe Biden announced additional funds of $48 million over the weekend in order to "help the Ukrainian Government conduct key reforms, build law enforcement capacity, and strengthen national unity."
The U.S. will give Moldova $31 million in assistance this year, and Biden announced an additional $8 million over the weekend — should things pan out in Congress — with the aim of cementing it's loyalty to European interests. Georgia is to be given $5 million "pending consultations with the U.S. Congress," with the U.S. giving near $65 million worth of assistance total for the year. The additional funds would go towards a number of reforms, and will aid "individuals affected by Russia's 'borderization' of the Administrative Boundary Line … of Georgia's occupied territories." This is referring to the erected fences that are separating families and communities in Russian-occupied regions of Georgia. These regions, Abkhazia and South Ossetia, were recognized by the Kremlin as part of Georgia after a war over them in 2008.
More From Wall St. Cheat Sheet:
Follow Anthea Mitchell on Twitter @AntheaWSCS