3 Key Republicans Who Reveal the Party's Climate Change Problems
Al Gore spoke about Republicans and global warming on Tuesday in an interview with The Washington Post. He discussed the positions that Republicans like Rand Paul (R-Ky.) and Marco Rubio (R-Fla.) have taken on global warming, and the pressure the GOP puts on its politicians in general. He did acknowledge that both John McCain (R-Ariz.) and Mitt Romney ran on platforms that recognized and offered solutions to climate change. "And there were a number of Republicans that took that position," noted Gore.
Even so, he claimed that the GOP has "an enforced orthodoxy" regarding climate change. "I don't think it's particularly complicated why they have all been cowed into abandoning that position," said Gore."They will face primary opponents financed by the Koch brothers and others who are part of their group if they even breath the slightest breath of sympathy for the truth about climate science. It's not really that complicated."
But while he gave credit to past presidential hopefuls in the GOP, he also recognized that 2016 candidates aren't as flexible in their views. Three big names who have specifically mentioned an interest in the presidency have also spoken out about climate change — and not in the same vein as McCain and Romney. Let's take a look at three presidential possibilities who fit concerns over the GOP's anti-climate change conformity.
1. Senator Rand Paul
"That alarmist stuff really detracts from the case that we shouldn't pollute … We have to balance the desire for as clean an atmosphere as we can get and as clean of water as we can get, with jobs, and in the last forty years we have gone completely crazy and out of balance with onerous regulations," said Rand Paul (R-Ky.) in an interview with the University of Chicago Institute of Politics.
Of course, Senator Paul is from a coal state where greater economic effects are felt from such regulations, and where voters pay a great deal of attention and exert considerable pressure on politicians views on regulations. So while he does stress a desire to depoliticize global warming, his position inherently places him in the midst of an economic and political knot that's difficult to undo. As president, his constituents would expand from Kentucky alone to the whole of the United States, but his party and it's voters would remain far more environmentally conservative in policy preferences.
That doesn't mean he's against regulation, of course. Paul says cutting back on pollution is the one thing everyone can agree on, regardless of their stance on global warming. He says he believes there needs to be a balance, a word he uses multiple times — but of course everyone in politics believes there needs to be a balance, making the statement somewhat meaningless. Politicians simply disagree on where the fulcrum should be placed — and their political parties tend to advise on that heavily.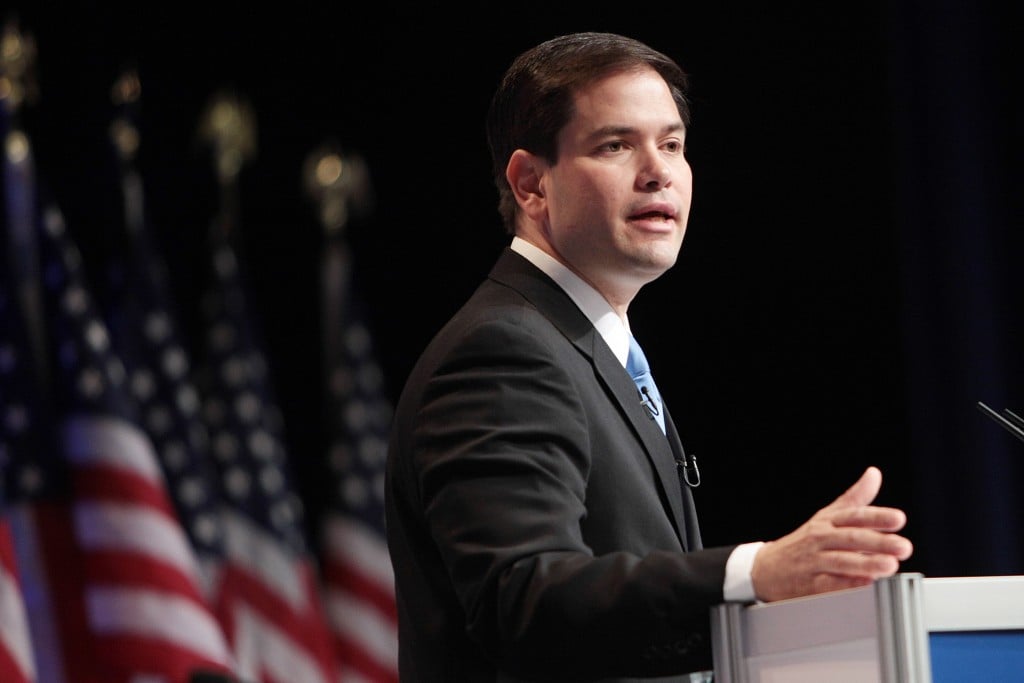 2. Senator Marco Rubio
"I do not believe that human activity is causing these dramatic changes to our environment the way these scientists are portraying it. And I do not believe that the laws that they propose we pass will do anything about it, except it will destroy our economy," said Marco Rubio (R-Fla.) on ABC.
Rubio is hardly alone amongst his party in flat out denying belief of man's influence on climate change, and like much of the rest, he points to the economy as the first priority. The Center for American Progress Action Fund found back in 2010 that almost all Republican candidates running for Congress or governorships were skeptical of the scientific community's stance on global warming — according to The Washington Post. On top of that, it found that none were in favor of mitigating efforts — something Rubio is more careful about.
As Senator of Florida, a state with considerable natural disaster and climate change risk, it's in his best interest and the best interest of the state to recognize that, man-made or not, there are structural and economic issues likely to come up. In the recent ABC interview, he touches on the fact that Florida has disaster prone areas that need consideration, stating that those in charge need to consider what should be done "about the fact that we have built expensive structures, real estate, and population centers near those vulnerable areas."
Rubio doesn't really say anything out of line with his own party's commentary though, as most Republicans likely reject expensive environmental regulations more than safety measures and natural disaster preparations. His timing was particularly litigious though, given the federal National Climate Assessment's release earlier that week, which outlined effects, projections, and a continued certainty regarding emissions' role in climate change.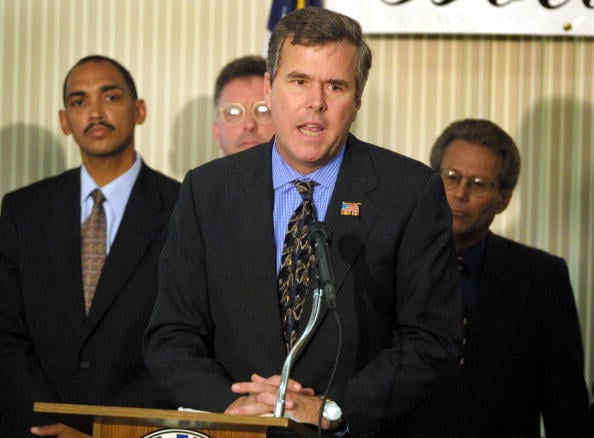 3. Jeb Bush
"I think global warming may be real … It is not unanimous among scientists that it is disproportionately man-made. What I get a little tired of on the left is this idea that somehow science has decided all this so you can't have a view. Science has decided that embryonic stem cell research is the way to go and if you don't agree with that then somehow you're Cro-Magnon Man or something like that. Governor Perry, as it relates to global warming, has every right to suggest that it's not a certainty," said Jeb Bush on Fox News.
At the time, Jeb Bush was defending a different presidential potential — Governor Rick Perry (R-Texas) who voiced his position on global warming back in 2011 to a flood of criticism. Perry was largely criticized on his facts and accusations, saying that, "Scientists … have manipulated data so that they will have dollars rolling into their projects," and that "we're seeing it almost weekly or even daily, scientists who are coming forward and questioning the original idea that man-made global warming is what is causing the climate to change," according to The Washington Post. Bush's support of Perry at the time may have been partially a stance behind his party in the face of an election, but it also reflects his sometimes very conservative position on the topic. He strongly fought against the Supreme Courts' ultimate ruling that the federal government could cap greenhouse emissions.
That said, it's possible that he has the flexibility to find a more middle of the road position than others in the GOP. In more recent news, he's been quoted encouraging reduction in coal and more natural gas, as well as discussing the benefits of reduced consumption. "The simple fact is that conservation is the cheapest energy policy that we can get. The energy we don't use is the best means by which we can create a comprehensive strategy," he said, according to Politico. Environmental advocates would likely argue that based upon emission projections from scientists, which track various scenarios based upon regulation changes, a middle-of-the-road strategy may not be enough.
More From Wall St. Cheat Sheet:
Follow Anthea Mitchell on Twitter @AntheaWSCS