3 Polls on the State of America That Would Have the Grinch Grinning
A modern-day Scrooge might very well make his home in Washington D.C., based on some recent political polls. The Grinch might move off his mountain just north of Whoville, and head for the Hill. There was never a better place for bitterness, penny-pinching, and general holiday gloom than D.C. this year. Just look at Representative Mike Kelly (R-Pa.) who's literally ready to dole out some holiday coal, or President Barack Obama's continued elbow-to-the-ribs rhetoric directed at Congress. Add to that the CIA's torture report and it's not surprising to see so many frowns this Christmas.
I wouldn't go so far as to say the Grinch would find matching hearts in the Capitol, after all, politicians are people, too. But there may be a few tufts of green fur hidden under some of those white collars. Unfortunately, the holidays can't always change political tensions, and polls from Gallup this December have reflected some of the grimmer attitudes of America's citizens as well. Whether those reflect activity in Washington, general frustration with conditions, or the reality of problems they face, let's look at some statistics the Grinch could get behind.
Ferguson and racial prejudice
Unsurprising given protests around the country sparked by events in Ferguson — racism, prejudice, and inequality have gained the national eye this year. Gallup found that "race relations" and "racism" were listed as the top concern for America by 13% of Americans, a number that hasn't been reached since 1992 with Rodney King's death and the Los Angeles riots.
When looked at by race, the numbers are strongly split, with whites listing it as the most important problem 9% of the time, and non-whites giving it precedence 22% of the time. A similar split is seen when one looks at poll results on law enforcement harassment, trust for police officers, and experience of racial prejudice. Perhaps it's not cheerful to face the massive breach still needed to be crossed in American society when it comes to race relations and equality, but better to be Scrooge and face your ghosts than ignore them and be resigned to a poorer future.
The widening racial wealth gap
In related news, Pew Research examined median wealth of American families and found that the racial wealth gap has been rising since 2007, and is at its "highest point since 1989, when whites had 17 times the wealth of black households." Looking at the overall median networth, it dropped 39.4% between 2007 and 2010, and while that drop has leveled out for white households, the same cannot be said for black and Hispanic families, as shown in the graph below.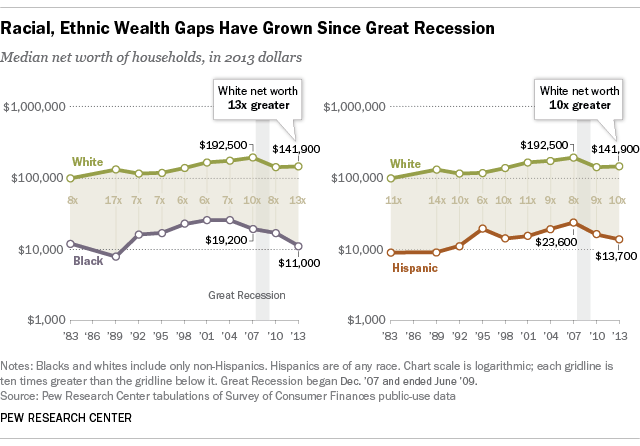 Does America have a broken compass?
When one looks more generally at America as a nation, the numbers aren't much better. A Gallup poll shows that only 23% of Americans think the United States is headed in a satisfactory direction. While it's in keeping with the last eight years or so, it's considerably below the average, and significantly lower than decades prior to 2008. It's thought that this is likely tied to economic conditions, and while 23% is low, it's nowhere near as low as the 15% reached in 2008 during the Great Recession. Comparatively, Pew Research puts satisfaction at 29% but 68% dissatisfaction is still relatively high when looking at the downward trend. Once again this could be related to other numbers from the polling group, which shows that 83% of respondents reported that the economic conditions in America were fair or poor rather than good or excellent.
So what's the good news? (Is there any?)
Ending on a more positive note, Gallup's quality job outlook polls were considerably better, having risen to heights not seen since before the recession, though only just, at 36% saying now is a good time to find a job, compared to 38% just prior to the 2008 downturn. Democrats were far more likely to be positive about the job market in comparison to Republicans, and, predictably, those who are already employed are more likely to think now is a good time to job search than those who are unemployed.
Gallup suggests this upturn in outlook could be a result of the unemployment rate dropping, and may also simply be the reality of the situation give its positive signs in the Gallup Job Creation Index. So even if Bob Cratchit loses his job this year, perhaps it's not the worst time to be in the job market — especially if Scrooge is relocating to Congress.
More Politics Cheat Sheet:
Follow Anthea Mitchell on Twitter @AntheaWSCS
Check out Politics Cheat Sheet on Facebook