3 Republican Responses to Immigration Jeb Bush Would Never Make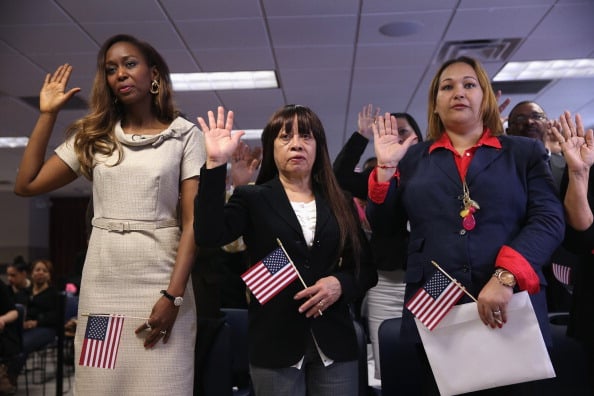 After Jeb Bush's commentary on immigration, he received a lot of criticism and praise alike for his more gentle approach to the issue. "The way I look at this is someone who comes to our country because they couldn't come legally … And they wanted to make sure their family was intact, and they crossed the border because they had no other means to work to be able to provide for their family. Yes, they broke the law, but it's not a felony," said J. Bush, according to The Washington Post. "It's an act of love."
Some, like Sen. Jeff Flake (R-Ariz.) were supportive of his stance, saying, "Truth is, I agree with Jeb, and I applaud him for having the guts to say it." However, there are many more on the right who seek harsher measures against illegal immigrants, and a more hard lined policy when considering reform. Let's balance the scales and look at three of the more far right responses to immigration seen in the GOP as of late.
1. Senate letter to Obama
A prime example of GOP demanding more stringent immigration law came out Thursday in the form of a letter from Republican senators including Mitch McConnell (R-Ky), Chuck Grassley (R-Iowa), and Roy Blunt (R-Mo.). The letter took issue with the Obama administration's policy on immigration enforcement, criticizing it for only removing criminal offenders from the country "to the point that unless individuals in the country illegally are apprehended, tried, and convicted for a felony or other serious offense, they are free to live and work in the country," a self-professed goal of the Obama administration. Others in the past have actually criticized the administration for failing to sort out criminal offenders carefully enough, saying that some were being deported that had not committed any serious crimes.
The letter went on to claim that the executive had made it difficult for Immigration and Customs Enforcement officials to enforce laws passed by Congress, and that as such, it has been misapplying its power in a role that demonstrates "astonishing disregard for the Constitution, the rule of law, and the rights of American citizens and legal residents."
2. Ted Cruz
Sen. Ted Cruz (R-Texas) was predictably one of the signatures on the letter, having long had a clearly conservative policy preference on immigration. However, unlike some in his party, he's strongly against making any moves to reform the system until after elections, concerned a measure might get pushed through that otherwise would not. "Why on earth would the House dive into immigration right now?" asked Cruz, according to Breitbart.
"Republicans are poised for an historic election this fall — a conservative tidal wave much like 2010. The biggest thing we could do to mess that up would be if the House passed an amnesty bill — or any bill perceived as an amnesty bill — that demoralized voters going into November," he said, adding that "Amnesty is wrong in any circumstance, and if we are going to fix our broken immigration system … it makes more sense to do so next year." He went so far as to tell those pushing for an amnesty bill to put a "Harry Reid for Majority Leader" sticker on their vehicle.
3. John Boehner
Speaker of the House John Boehner (R-Ohio) may take a hard line on immigration — opposing a pathway to citizenship for illegal aliens — but he doesn't want to wait for a stronger GOP majority before taking on the topic. "Here's the attitude. Ohhhh. Don't make me do this. Ohhhh. This is too hard," he said of his fellow Republicans in Congress. "We get elected to make choices. We get elected to solve problems, and it's remarkable to me how many of my colleagues just don't want to," he said, according to MSNBC.
Conversely, Boehner does agree with his fellow senators on the Obama administration's policy on immigration enforcement and would be in favor of deportation of the "DREAMers," those illegal immigrants who were taken into the country as children and have since grown up here without documentation.
More From Wall St. Cheat Sheet:
Follow Anthea Mitchell on Twitter @AntheaWSCS