3 Things That May Be Hurting America's Economic Confidence
The Economic Confidence Index dropped last month by two points, according to Gallup, making February the first month in over seven months to see the Index go negative. In particular, the last two weeks of February showed the most significant drop, though never worse than February of 2014.
The ECI is an indicator of economic health, yes, but more than that it shows perception of economic health and concern for the future. The news is not entirely negative of course, and the drop in confidence need not have a marked impact over the long term on items like job creation or the market — but generally it's not good news for growth, and perception of the job market has not improved — with those expecting more jobs in the next few months dropping from 17.3% to 13.4%.
The Dow Jones, for example, went up by 5.6% in February, and the Nasdaq rose 7.1% the same month, so signs are far from dropping across the board. However, Lynn Franco, director of economic indicators at the Conference Board for the Consumer Confidence Index, reports that it marks a departure from positive signs in January, "After a large gain in January, consumer confidence retreated in February, but still remains at pre-recession levels." 
"Consumers' assessment of current conditions remained positive, but short-term expectations declined," and "while the number of consumers expecting conditions to deteriorate was virtually unchanged, fewer consumers expect conditions to improve," Franco reports, stating this will lead to a "less upbeat outlook." Still, Franco notes that economic improvement is expected to continue given time.
But when downturns like this take place, the most obvious question on everyone's mind is, why? The "why" can sometimes dictate just how much time must pass before that index improves once again. There are a number of explanations for the turn for the worse, some of them more temporary than others, but all of them worth considering.
1. Gas prices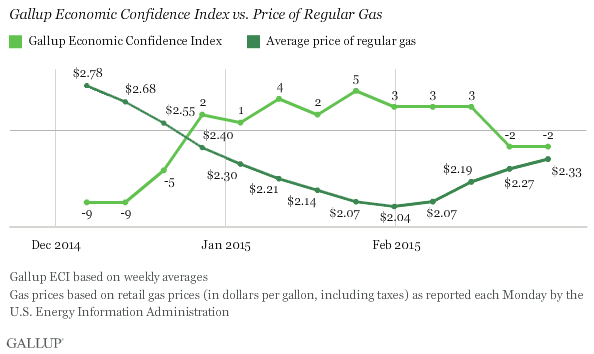 One possible cause of the confidence drop in February is the steady rise in gas prices, which likely have had a negative impact on American's expectations, as shown in Gallup's graph above. Gas prices have been very low so far this year, leading to improvements across economic indicators and an easing of financial demands on the average American.
So why have prices gone up? You need look no further than the chill in the air this winter: Refineries especially in the northern U.S. have been struggling as a result of the temperatures, and so despite having plenty of supply, prices have gone up. Sue Madden of the American Automobile Association (Mid-Atlantic) told NJ.com that "while ample U.S. fuel supplies should act as a ceiling on gas prices, recent refinery issues … have pushed gas prices higher the past few weeks." 
2. Government shutdown
Congress is also dealing with passing another budget, something that always sparks talks of another shutdown and the economic effects that would result. Whether this actually happens, or risk is particularly severe, the fact remains that in the past, risk of default and furloughed workers have had a great impact on economic confidence, and it makes logical sense that this could create a small degree of uncertainty or expectation given the negative signs coming out of Congress.
3. Winter
Hard winters can hurt more than just refineries and ungloved hands. Last year, the polar vortex had a significant dampening effect on the economy. When the weather is bad, consumers go out less often, spend less, and generally are less economically active.
This has an obvious economic impact. There's also a number of industries, from small business to farming to recreational industries that do poorly under certain weather conditions. According to CNBC, there are six industries in particular that have mentioned the winter weather in their reports, many of them in manufacturing. Shipments in metal products and petroleum and coal industries have been affected, as have rubber and plastic producers. Car sales saw a dip, with Ford, General Motors, and Toyota all seeing negative effects on their markets. "Cold and stormy winter weather continued to weigh on the job numbers," Mark Zandi, chief economist at Moody's Analytics told CNBC. "Underlying job growth, abstracting from the weather, remains sturdy."
Ultimately the winter weather is temporary, and the shutdown concerns will dissipate eventually one way or another. Gas prices, too, may see improvement as the weather changes and refinery problems decrease, so the drop last month is far from likely to continue indefinitely, or begin a new long-term negative trend.
More from Politics Cheat Sheet:
Follow Anthea Mitchell on Twitter @AntheaWSCS
Check out Politics Cheat Sheet on Facebook