3 Things We Know About Jeb Bush for 2016
Jeb Bush spoke at the Detroit Economic Club in early February, answering questions on everything from immigration, to vaccination, to Republican's chances in 2016. However there were two interesting things about the way in which he addressed his audience. Well, three interesting things, if you count the times he offered to take an issue "outside."
Bush may have responded to all questions put to him — but that doesn't mean he answered all of them in fullness. For some he gave indications as to where he might stand, but never really outlined a detailed plan or policy stance. He spoke in concepts. Other times he made more definitive statements, but in a way that toed the line between liberal and conservative Republican, causing some to question whether he's red enough to draw the support of members of the GOP.
What did we learn about Bush and immigration?
Arguably, Bush appears to aim for carefully sympathetic rhetoric that appeals to both sides, but a conservative policy preference may lie beneath. A good example of this comes with the issue of immigration.
With immigration, he emphasized improving security at the border — something both Republicans and Democrats agree is vital and is a safe stance to take. But he didn't get into any of the details on how he'd change policy other than to repeat an argument made by another Republican — Sen. Paul Ryan (R-Wis.) — that immigrants will be necessary to offset an aging American population. He then did something rather self-contradictory, arguing that America should "shift away from family reunification being almost the sole driver of legal immigration to narrowing that to what every other country has, spouse and minor children, and dramatically expanding immigrants that are coming to work."
The reason this comes across as opposition to past statements is because of an interview he gave to the Washington Post. In it, he waxed poetic about the love that drives families and parents to cross the border. "It's an act of commitment to your family. I honestly think that that is a different kind of crime that there should be a price paid, but it shouldn't rile people up that people are actually coming to this country to provide for their families."
Bush didn't necessarily take a stand on amnesty or Obama's current policy, he simply gave a personal opinion that so many can identify with — but not a personal opinion that necessarily determines or indicates his policy preference. And judging on this latest interview, that will emphasize "a guest worker program to deal in the areas where there are shortages" and "the high skills agenda that is desperately important for us."
It seems he hopes to steer Republicans and Americans away from anti-immigrant sentiment by making immigration economically viable and restore a positive historical concept of immigration. This is laudable, but like his WP interview, it doesn't indicate his plans for immigrants like Dreamers, other than to say that if Dreamers "embrace our values," we should tell them they "can pursue your dreams in this great country and by doing so, you're creating opportunities for more people."
But what does that mean for those individuals in the more immediate and practical sense? If Republicans can make a pro-immigration message work, it will go over more smoothly with Democratic critics, however if policy is more conservative than rhetoric leads to be expected, the response will be entirely different.
He knows how to dodge a question and still give an answer
Bush also knows how to avoid a sticky subject that has yanked other Republicans down in the dirt this last week; specifically he gave a simple but easy answer on immunization.
Both New Jersey Gov. Chris Christie and Sen. Rand Paul (R-Ky.) made remarks to the effect that forcing parents to vaccinate their children would be overstepping the role of government. But there's a fine line between that argument — which, while contrary to what CDC experts might consider correct, is still reasonable — and fueling unscientific fears about vaccines causing autism. "I've heard of many tragic cases of walking, talking, normal children who wound up with profound disorders after vaccines," said Paul, according to Bloomberg. In particular, Republicans who had responded so strongly to Ebola were critiqued for being inconsistent.
Bush had something of a head start, having watched his fellow Republican contenders crash and burn. "Parent's ought to make sure their … children are vaccinated. Do we need to get into any detail of that? Just seems — Look it's easy — I've done this — I've said things that are misinterpreted or partially interpreted and then heads explode and all sorts of media — you know just create all this controversy — I think it's better just to say parents have a responsibility to make sure their children are protected." His answer is similar to that of many other Republicans, but he avoids some key mistakes. Bush believes Republicans are ripe to take the White House, but is he the right Republican?
FiveThirtyEight posed the all-important question "How conservative are GOP Presidential Candidates?"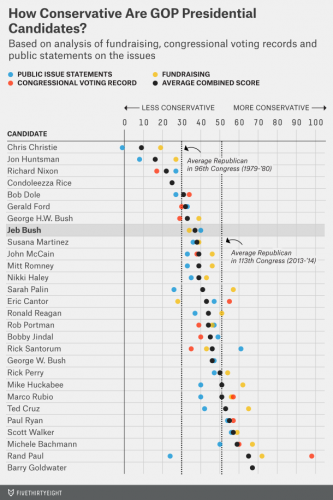 So if Jeb Bush isn't too liberal in the practical sense, it will be a matter of whether or not his party can rally around him as a candidate. His discussion of 2016 and the Republican National Convention seemed to suggest that he's hoping for a friendlier playing field than the past has offered. "There's a lot riding on this, and so my guess is there will be a lot of people running," he said, adding that he hopes candidates will concentrate on "what they're for, why them?" rather than fighting back and forth.
"Those are huge questions to answer … not to tear down the other people all the time. I just don't see how that's productive, people are tired of it, and the disunity that exists is because people are being preyed upon, their anxieties are being preyed upon … I don't think you can govern effectively and solve problems."
He says that for his part, if he runs, he hopes he'll successfully stay out of that sort of back and forth. "Tearing down somebody is not going to work … I hope I have the discipline not to turn back and get in the food fights that seem to have been prevalent — on both parties by the way, this is not just uniquely Republican."
More Politics Cheat Sheet:
Follow Anthea Mitchell on Twitter @AntheaWSCS
Check out Politics Cheat Sheet on Facebook