4 Reasons Why Gas Prices Could Go Up This Summer
"U.S. gasoline prices will indeed see huge swings and regional volatility in 2014," reported GasBuddy on December 27, "but GasBuddy analysis suggests that when all the final figures are calculated, the average price next year will fall by about 10cts gal from 2013 numbers." GasBuddy, an organization devoted to the study of gasoline prices, estimates that gasoline prices in the United States could hit an average of $3.399 per gallon in 2014.
If the forecast turns out to be true, the falling prices could be a much-needed tailwind for American consumers. Prices vary by time and place, but H&R Block estimated that the average American spent about $2,100 on gasoline in 2012. That estimate was calculated using a $3.80 per gallon price tag at a use rate of 558 gallons per year. (Fun fact: The average national gas tax is 48 cents per gallon.)
But other market watchers are not as optimistic. The U.S. Energy Information Administration is forecasting average gas prices of $3.57 per gallon between April and September, while auto group AAA is estimating prices in a range between $3.55 and $3.75 per gallon.
Moreover, gas prices have been jumping across the country — and the world, particularly in Iran — as headwinds begin to pick up. Here are a couple of reasons why gas prices in the U.S. could increase over the coming months.
1. Increased exports
After spending more than a decade trapped under 1 million barrels per day, U.S. exports of crude oil and petroleum products have spent the past seven years climbing. Daily exports clocked in at 3.6 million barrels per day in the middle of April, down slightly from 3.8 million barrels per day in February but still close to record highs. Exports are up about 25 percent over the past year alone.
Gasoline exports in particular have been on the rise. In January 2014, according to the EIA, the U.S. exported 529,000 barrels of finished gasoline per day. Compare this against the 100,000 to 200,000 barrels exported per day exported between 1995 and 2009. Moreover, Energy Security Analysis, Inc., estimates that the U.S. will become a net exporter of gasoline as early as next year.
"We think there's definitely an impact on gasoline prices, especially coming from the exports to Latin America," John Galante, an analyst with Energy Security Analysis Inc., told NPR. "If there were no pull coming from Latin America, then prices would be really favorable" in the U.S.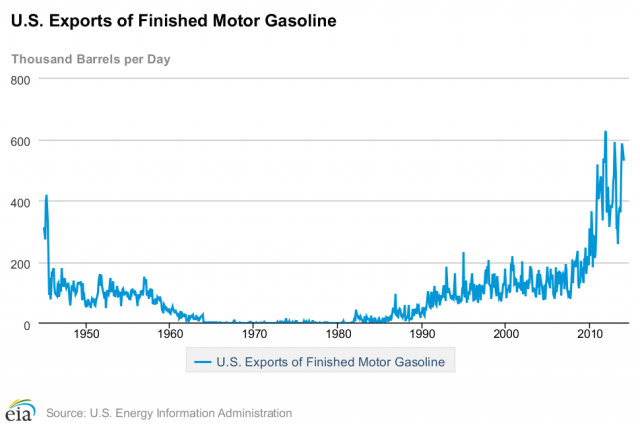 2. Low stockpiles
This winter, as much of the United States suffered prolonged cold snaps and snow storms, high demand was met with production declines as facilities literally froze to a halt. Not only was a record volume of natural gas withdrawn from storage in the lower forty-eight states, but gasoline stockpiles fell to their lowest level since 2011 for this time of year.
As production declines and operational challenges began eating into the top and bottom lines of their financial statements, energy companies everywhere began citing "weather challenges"  in calls with investors and analysts in defense of their performance.
The effects of this have already made their way to consumers. In the middle of April, the EIA said that the average price for a gallon of gasoline in the U.S. was $3.68, up about 4 percent and its highest level since March 2013.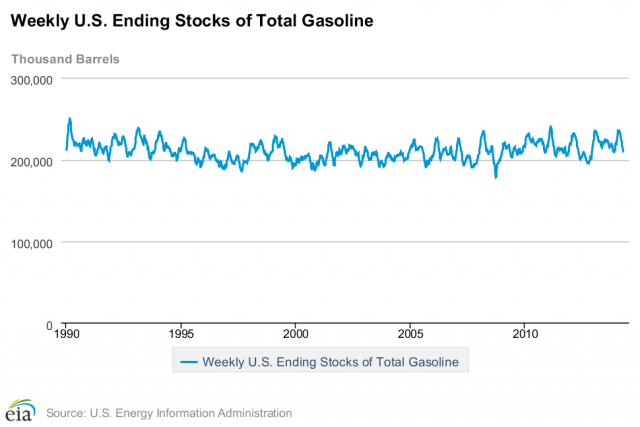 3. Oil rally
Hedge funds and commodities traders appear to be betting on an oil rally. According to the U.S. Commodities Futures Trading Commission, money managers held a total of $9.3 billion worth of bullish bets on gasoline prices. Data compiled by The Wall Street Journal show that aggregate bullish positions in Nymex oil futures are about as high as they have been at any point in the past twelve months, and are nearly double where they were this time last year. Moreover, money managers held a near-record $34.4 billion worth of bullish Nymex crude futures bets in the middle of April.
4. Ukraine 
The geopolitical situation in Ukraine and Russia is anything but certain, and that means tension and ambiguity for the global energy market. Perhaps most exposed to the turmoil is the European market for fossil fuels, especially natural gas and gasoline, which it relies heavily on Russia to supply. As the U.S. and European Union pile sanctions on to Russia, the country could retaliate by raising fuel prices.
If prices for Russian fuel were to go up, Europe could look to America to fill demand. This could push prices up here at home as energy companies export even more fuel overseas.
More From Wall St. Cheat Sheet: