4 Times John Boehner Enraged His Own Party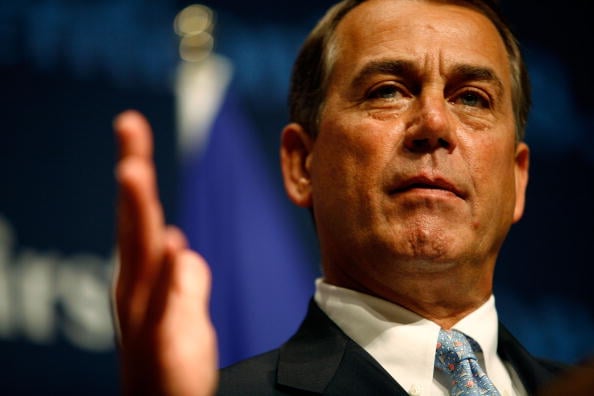 Speaker of the House John Boehner (R-Ohio) sought to smooth things over between himself and some of his fellow Republicans on Wednesday after some of his comments created more than a little tension. Perhaps it's the nature of Boehner himself, or perhaps it's the political environment within the GOP recently, but this is far from the first time Boehner has lost his temper with factions of his own party — or they've lost their tempers with him.
Admittedly, disagreement and passionate disagreement is the name of the game when it comes to politics. However, Boehner appears to have a way of bringing out the angry in his fellow members — perhaps because he has often taken on the role of motivator and scapegoat in the past, as leadership positions are wont to do. Let's take a quick look at some of his more notable disagreements starting with the most recent — after all, Boehner has his own election concerns to face come May 6, with three Republicans set to run against him.
1. Immigration Stall
"Here's the attitude. Ohhh. Don't make me do this. Ohhh. This is too hard," said Boehner of his Republican colleagues' reluctance to deal with immigration reform last Thursday. "We get elected to make choices. We get elected to solve problems, and it's remarkable to me how many of my colleagues just don't want to … They'll take the path of least resistance," he complained, as reported by USA Today. It's clear that the somewhat antagonistic rhetoric was coming from a place of frustration, with many hesitant to take on this issue with elections so close. "I've had every brick and bat and arrow shot at me over this issue just because I wanted to deal with it. I didn't say it was going to be easy," said Boehner.
Following the comments, he's had to go back and do some damage control, as a number of his fellows responded poorly to his mock whining. He may have been attempting to take a strong stance on the issue and scold those standing in the way of reform, but what he ultimately ended up doing was mere "teasing" it seems. "You tease the ones you love," he said according to Reuters. "But some people misunderstood what I had to say ad some members misunderstood."
Misunderstood indeed. "His remarks were inappropriate. We were offended. Absolutely," said Representative Paul Gosar (R-Ariz.) after Boehner met with the party privately to discuss the matter. But that wasn't the only misunderstanding that concerned them, as his comments had many in the GOP concerned that there would be another legislative push for immigration reform, one they were not prepared to face yet. Apparently, they are all on the same page now, though, saying that this is not the case. "He actually came out and made some really very strong statements that go against what his comments suggested. Just to reiterate: Number one, we're not going to conference on a Senate immigration bill," said Representative John Fleming (R-La.), reports Reuters.
2. Budget Proposal and the Shutdown
After the shutdown and budget standoff over Obamacare finally ended with the passage of a clean budget, a great many members of the far right in Congress — specifically, Tea Party representatives — were highly critical of Boehner, and of the budget in general. In fact, to this day he still has to contend with a small section of his party who'd like to see him removed.
He criticized those who were quick to attack the new budget, saying they'd hated it before even looking at it. He also claimed that they were set on an Obamacare shutdown strategy that even they admitted they didn't expect to work. He addressed conservative groups that backed such members, saying, according to CBS, "They're using our members and they're using the American people for their own goals. This is ridiculous." Perhaps feeling the heavily public dissatisfaction with Congress after such an extended shutdown, Boehner blamed these conservative groups and conservative members of Congress acting on their desires as the ones who "pushed us into this fight to defund Obamacare and to shut down the government."
Unlike our first example where Boehner did some back-peddling, he stood his ground when asked about the his comments later. "I think they're pushing our members in places where they don't want to be. And frankly, I just think they've lost all credibility," said Boehner, according to Yahoo. This, in large part, was in reference to the Tea Party, whose relationship with Boehner became somewhat rocky during that time. There were also groups like the Senate Conservatives Fund, a PAC that called for Boehner's replacement as Speaker of the House, according to Salon. "Instead of fighting for conservative principles, Speaker Boehner has completely surrendered to the Democrats," they said.
3. Governor Chris Christie and Sandy Relief
In an example of Boehner getting hit but not hitting back, Chris Christie had a good rant at Boehner's expense in January of 2013, criticizing him for canceling a vote on an aid bill for Hurricane Sandy. "They are so consumed with their internal politics, they've forgotten they have a job to do," said Christie, according to Politico. "Everything is the subject of one-upmanship. It is why the American people hate Congress," he said.
He said that the blame for the bill getting pulled was specifically on Boehner, that the decision had been made last minute, and had been done without explanation. "I'm not going to get into specifics of what I discussed with John Boehner today but what I will tell you is there is no reason at the moment for me to believe anything they tell me," he said, saying that "redemption" is possible for anyone, and that Boehner could still do the right thing. Ultimately, this is exactly what happened, at least as per Christie's standards — not surprising given the critique on disaster aid in such a public manner.
4. Removing Members From Committees
Looking back to 2012, Boehner once again saw internal GOP conflict stemming form his actions, specifically when he chose to have two conservative Republicans taken from important committee positions, a decision most agreed was made to combat disloyalty they had shown by voting against him.
The move had some shrugging, admitting that a degree of party unity is demanded, while others were highly critical, including Rick Santorum. "You saw just a conservative purge in the House," he said, according to Politico. "You've seen the Washington insiders all saying, 'Well we have to back off of our principles, and get away from certain issues and compromise on others,'" he said. The move led to a number of conservative groups, such as the Leadership Institute, and American Majority Action to begin using the hashtag "#FireBoehner."
More From Wall St. Cheat Sheet:
Follow Anthea Mitchell on Twitter @AntheaWSCS