5 Signs the Tides Have Changed for Same-Sex Marriage
More and more as of late, it is becoming clear that anti-gay sentiment and policy efforts against LGBTQ rights are on their way down. The trend is one supported by polls and state politics, by generational changes in Republicans and the political right, and by legal developments occurring across the U.S. So join us in monitoring the political weather and spot these five changes in the conservative atmosphere of America.
1. Marriage ban challenges in states
Many states presently have couples facing down state marriage bans in court, while others are dealing with appeals following rulings to end their ban on same-sex marriage. Four gay and lesbian couples are filing suit against Oregon this week, and according to NPR, there won't be a defense. The state attorney general, Ellen Rosenblum (D), has chosen not to defend the ban. In the case of Oregon, it is possible that a stand in defense from the National Organization for Marriage will be allowed, but at least in the case of Wednesday's trial, it will go undefended.
Oregon is not the only state facing a suit over its same-sex marriage ban; Georgia will go to court with a gay rights group against the marriage ban, having filed the lawsuit on Tuesday. Georgia's attorney general, unlike Oregon's, will be defending the ban, according to ABC. The response reflects differing, often partisan-related, views on the role the attorney general need take. However, U.S. Attorney General Eric H. Holder Jr. told state counterparts that he considers the refusal acceptable back in February — an unusual interjection into state affairs for him.
"If I were attorney general in Kansas in 1953," he said to The New York Times. "I would not have defended a Kansas statute that put in place separate-but-equal facilities."
2. Influence of Young Republicans
Facing a changing political environment, and voters for whom same-sex marriage and LGBTQ acceptance is increasingly important, the younger generation of Republicans are working to change the GOP's image. The Young Conservatives for the Freedom to Marry organization — born out of the Freedom to Marry group — is one such attempt. The movement is working to end federal discrimination by amassing public support, state marriage majorities, and aiming at an end goal of changes in the U.S. Supreme Court.
The RNC 2012 post-election Growth and Opportunity Project report reiterated a growing understanding in the Republican party that as the new generation replaces the old it is becoming increasingly important not to alienate voters on this topic.
"We do need to make sure young people do not see the Party as totally intolerant of alternative points of view," it read. "Already, there is a generational difference within the conservative movement and issues involving the treatment and the rights of gays — and for many younger voters, these issues are a gateway into whether the Party is a place they want to be."
3. Same-sex marriage support in the polls
According to Fivethirtyeight's report on polling trends in 2013, averaging all eight national polls conducted that year, the ultimate result shows that on average 51 percent approving of same-sex marriage, compared to 43 percent who oppose it — a clear majority. When looked at separately, the individual polls tend to cast doubt on that clarity though, with Fox News showing as little as 49 percent in favor and 46 percent opposed in March 2013, while ABC News and The Washington Post showed 58 percent in favor and 36 percent opposed in the same month.
Perhaps more vital for the overall changing sentiment in America is a long term comparison of opinions on same-sex marriage, with it offers based on national polls collected since 1996 up through 2013, compiled in the graph below.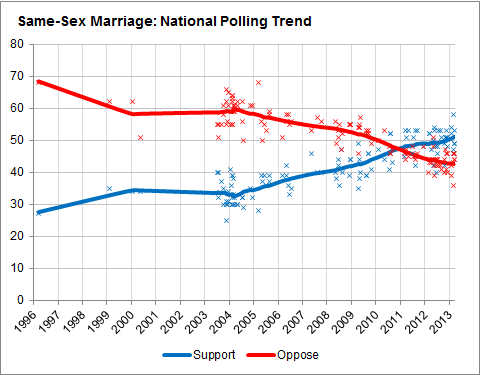 4. Senate support of same-sex marriage
Do politicians support same-sex marriage? In the Senate — which is admittedly a skewed sample being largely Democrats — they certainly do. As of April 2013, Sen. Bill Nelson (D-Fla.) became the fifty-first senator to announce his support of same-sex marriage, with Tim Kaine and Dean Barkley confirming the same stance not long before, according to The Washington Post.
And it's not just liberal democrats who have always supported it making their positions known lately, this change also includes reversals of positions — with nine Senators including Mark Kirk and Tom Carper doing a 180 on their positions last year. And they certainly aren't the first to make their positions clear – that would be Ron Wyden (D-Ore.) back in 1996. He spoke Tuesday at a rally held just before the upcoming trial seeking to overthrow the ban. "Every adult — every single adult — ought to be able to marry that person they love," he said, according to OregonLive. "It is time. If you don't share our view, if you don't approve of gay marriage: Don't get one."
Not every politician has been as quick to take that view, but the stance is increasing rather rapidly, as Washington Post's graph demonstrates with its four year shoot up between 2008 and 2012: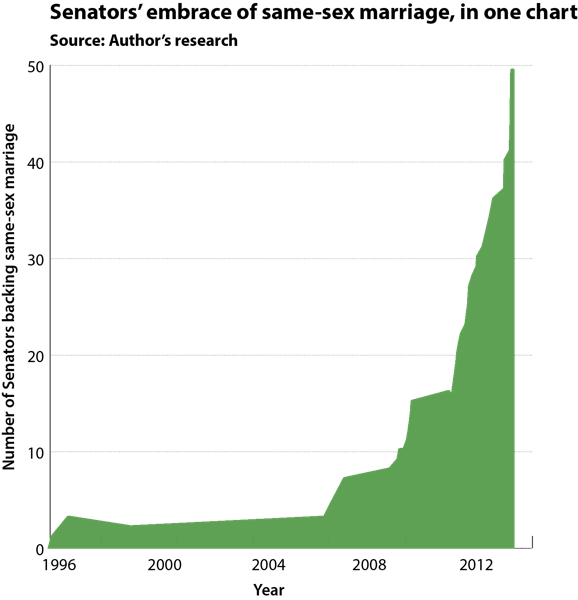 5. Anti-anti-gay statements
Yes, senators seem to be increasingly open about pro-gay marriage positions, but not all politicians share in that sentiment — a fact that has led to some interesting responses worth note. For example, when Illinois GOP chairman Pat Brady gave a statement in support of equal rights to marry, his fellow party members sought to have him replaced. Brady stated that he believed his party as being on the "wrong side of history," according to SFGate. Illinois Republicans appear to have agreed. Seven officials signed a letter asking for a vote on his eviction. The result? Six of the seven officials were voted out of office, and all eighteen committeemen did poorly in the elections, with only seven being re-elected.
Being anti-gay is less and less publicly acceptable for the far right, and even for those religious groups in politics. Another example is Franklin Graham from ABC's This Week, who said that Russian President Vladimir Putin is doing the right thing for the Russian people by limiting "gay propaganda" and that those gay and lesbian couples who adopt are seeking to "recruit."
Ralph Reed, a highly evangelical Republican activist participated in an interview alongside him, offering a much more tame response to Graham's, saying instead that he believes "that the social science is simply not in yet on same sex couples, and I think the law has every right to set an ideal." Even with the very conservative right there is some hesitancy toward going as far as Graham has, which has an alienating effect — just ask the Pope.
More From Wall St. Cheat Sheet:
Follow Anthea Mitchell on Twitter @AntheaWSCS