5 States With the Worst Public Schools
Terms like immigration and health care have really stolen the reform spotlight in the United States; they've taken the critical wind right out of classroom sails. But that doesn't mean that education isn't equally important. If anything, it's arguably more important. It's a constant systematic issue, it's time sensitive, and it's entirely unfixable on an individual level once young people have passed through the system. Plus, it's the system that shapes the individuals who will deal with issues like immigration and health care two decades from now. As such, it's worth considering where we have most badly failed in the U.S., as well as highlighting some successes.
These are the five states with the worst public education systems, ranked in no particular order.
1. West Virginia

2. Mississippi

3. Louisiana

4. New Mexico

5. District of Columbia
Justification for the list comes next. The five above were compiled based on the states with the most negative mentions for policy, budget, testing scores, teacher pay, school violence, student drop out, and student-to-teacher ratios, drawn from various education data sources, as shown in the table below.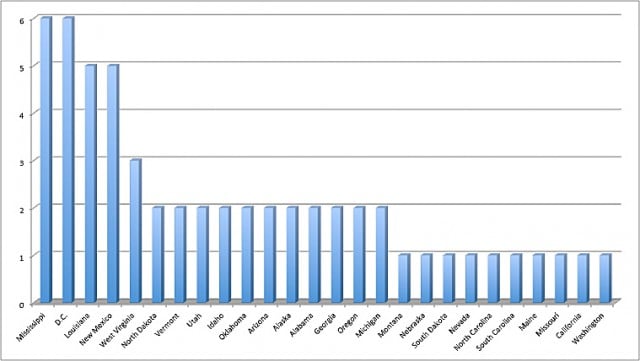 State policy report card
StudentsFirst, a grassroots organization working on the policy side of education, is led by Michelle Rhee, former Chancellor of Washington, D.C. Public Schools . It gives grades to each state based on education policy objectives. The lowest graded states, earning an F on the "report card," included North Dakota, Montana, Vermont, Nebraska, and West Virginia. High marks are earned for those that "elevate the teaching profession" and "empower parents," while also making sure to "spend wisely and govern well." Given that Florida earns a B- on the ranking, policy is clearly not synonymous with strong public schools, but the policy side of things is worth taking into account as it's suggestive of future educational rankings.
Education spending
The Census Bureau's 2012 Fiscal Year report shows the lowest per pupil spending in Utah at $6,206, Idaho at $6,659, Oklahoma at $7,466, Arizona at $7,550, and Mississippi at $8,164. The highest spending per pupil was seen in New York at $19,552, then D.C. with $17,468, Alaska at $17,390, followed by New Jersey at $17,266, and Connecticut with $16,274. Based on past years data, these numbers have remained fairly constant, with a few switches and rearrangements.
The highest Salaries and Wages per pupil for 2012 were in D.C., New York, New Jersey, Wyoming, and Vermont — though a lot of that may have to do with cost of living expenses for staff. Testing scores (reading and math)
Based on numbers from the National Center for Education Statistics, Louisiana, Alaska, Mississippi, New Mexico, and D.C. show the lowest fourth grade reading scores for 2013. The lowest mathematics scores for the fourth grade were shown in Alabama, New Mexico, Louisiana, Mississippi, and D.C. The lowest eighth grade reading scores for that same year were in West Virginia, Louisiana, New Mexico, Mississippi, and D.C.; the lowest math scores in eighth grade were in New Mexico, Louisiana, Mississippi, Alabama, and D.C.
Teacher pay
Teacher Portal has a collection of data put together from the National Education Association, job surveys, and "private data analyses" which places South Dakota, Mississippi, West Virginia, Oklahoma, and North Dakota as the states with the lowest average salary, between $39,850 and $44,807 a year.
While teacher pay may not necessarily be proof of good education, let's be real, test scores aren't always a fair judge of that either, even if they are an important one. But what teacher pay does tell us is at least something about the job satisfaction a state's teaching staff might have. Happy teachers are better teachers.School violence and bullying
According a study from the National Center for Education Statistics, the School Survey On Crime & Society, and the U.S. Department of Education Institute of Education Sciences, "7 percent of public schools accounted for 5 percent of the total violent incidents" between 1999 and 2000. The study doesn't get specific about states, but does put the highest rates of violence in urban fringe and city, compared to town and rural schools. The most violence occurred in the Western U.S., followed by the Central U.S., and then Southeast and Northeast.
WalletHub, on the other hands, gives D.C., Louisiana, North Carolina, South Carolina, Arizona, and Georgia as the least safe schools, and Vermont, Maine, Missouri, Michigan, and Idaho as the states with the most bullying.
Student drop-out rate
The state with the highest drop out rates, according to WalletHub, were Alaska, Georgia, New Mexico, Oregon, Nevada, and D.C., while interestingly enough, Iowa, Nebraska, Texas, Vermont, and Wisconsin had the lowest. Student-to-teacher ratios
Student-to-teacher ratios are incredibly important for a number of reasons, the most obvious being that more one-on-one time with a teacher results in a more personal, effective, and individually tailored education. Teachers are less flustered and stressed, and each student is given the attention needed. More time to answer individual questions becomes possible with better ratios.
And finally, based on the earlier NCES report, there's a significant increase in likelihood of school violence when the student-to-teacher ratio is over 16 to 1. That said, it's likely schools with higher ratios are more likely to suffer from other administrative issues and budgetary problems, and all of that is likely linked to location and crime in the area of the schools.
According to The National Education Association's Rankings of the States 2012 and Estimates of School Statistics 2013, the states with the highest student-to-teacher ratios (for 2011) were California, Utah, Oregon, Washington, and Michigan, with 25.6, 21.9, 20.2, 19.7, and 18.4 students per teacher averages respectively.
More from Politics Cheat Sheet:
Follow Anthea Mitchell on Twitter @AntheaWSCS