7 Moves Michelle Obama Is Making for a Healthier America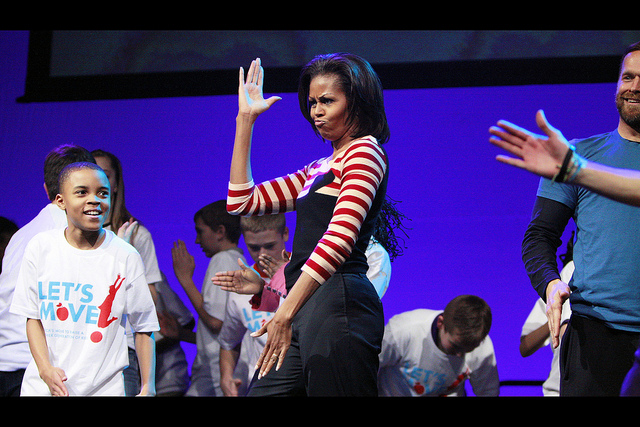 If Michelle Obama has proven anything during her husband's almost five-year presidential reign, it's that she is not one to sit on the sidelines. While many first ladies in the past may have focused on alternate entrepreneurial routes, Obama has used her clout as the president's wife to help spread awareness for her own causes, and create and promote a program that she believes will help the country take a step in the right direction for controlling the childhood obesity epidemic.
The program, "Let's Move!" was spearheaded by Obama in 2010, and encourages a healthier diet in and out of school, better food labeling, and increased physical activity. Enlisting the help of pop stars, large corporations, schools, and health care providers, Let's Move! has grown significantly from its introduction more than three years ago, and Obama continues to increase its impact by rolling out more initiatives, securing more high-profile partnerships, and passing significant regulations.
Here are seven healthy living initiatives Obama has launched under the Let's Move! umbrella, helping encourage America's younger generations to pursue a healthy and active lifestyle:
1. Active schools
One area that Obama especially focuses her program's attention on is school, because that is where kids spend a majority of their time and where they learn the foundations that they carry with them throughout the rest of their lives. Many schools have physical activity requirements or gym classes, but the president's wife has recognized that their importance has largely fallen by the wayside, and that's why she launched her "Let's Move! Active Schools" initiative that gives incentives for schools, teachers, and students to get involved, and move.
According to the program's website, its goal is to get kids to do a total of 60 minutes a day of physical activity before, during, or after school. The initiative scored a number of commitments and partnerships from high-profile organizations and companies such as Nike (NYSE:NKE), Alliance for a Healthier Generation, U.S. Department of Education, and Partnership for a Healthier America, and it also was awarded a $70 million kickstart upon its launch.
The program is still going strong, and Obama continues to make routine visits to participating schools as she keeps her promise of publicly recognizing and celebrating those organizations that get involved and help their kids meet their goals.
2. Drink up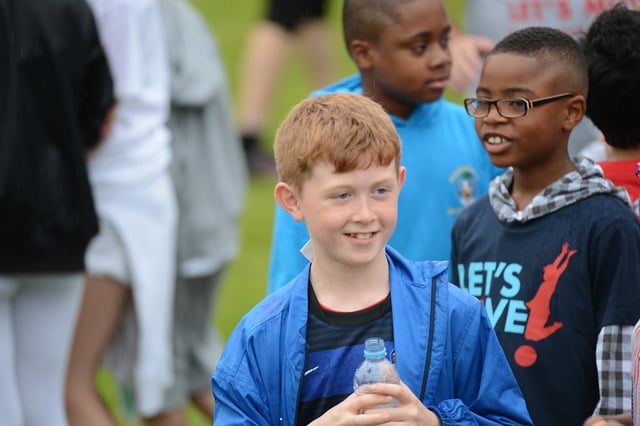 Another campaign Obama has launched? "Drink Up." The program was kicked off in Wisconsin in early September, and it encourages children and adults to drink more water and understand that "we are what we drink."
Obama announced the new initiative and her alliance with Partnership for a Healthier America alongside actress Eva Longoria Sept 13, as she explained, "I've come to realize that if we were going to take just one step to make ourselves and our families healthier, probably the single best thing we could do is to simply drink more water. That's it — it's really that simple. Drink just one more glass of water a day and you can make a real difference for your health, your energy, and the way you feel."
The Drink Up website also explains that its logo will soon be featured on nearly 300 million packs of bottle water and 200,000 packages of reusable bottles so that citizens can remember to drink more water. Hosts on a dozen TV shows have also signed on to help remind their audiences to keep the H20 flowing.
3. Healthier school lunches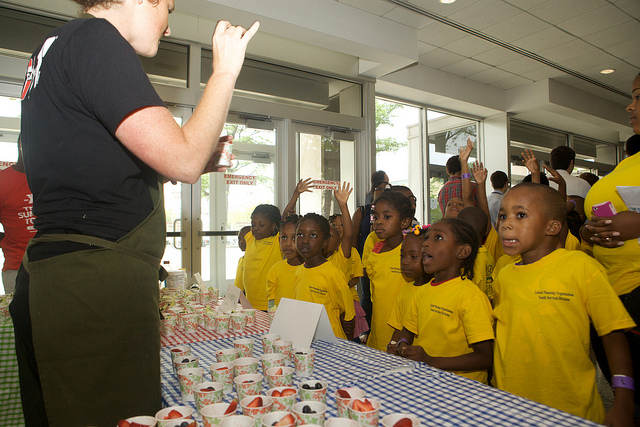 Obama also recognizes the importance of serving students healthy food at school, and she helped campaign for this necessity by passing the Healthy, Hunger-Free Kids Act in 2010, and new school lunch requirements from the U.S. Department of Agriculture in 2011.
Though her initiatives have received criticism from kids and naysayers who complain about the taste of the new foods students are served at lunch, efforts to improve nutrition in schools seem to be helping, and many schools continue to sign up for Obama's lunch program to show their continued support. The nationwide award program, created by the USDA, recognizes schools that create healthier school environments via their promotion of good nutrition and physical activity, and Obama has recognized many of those schools by visiting them and congratulating them on their commitments.
4. PALA+ challenge

To help encourage students to jump on the healthy eating and exercise bandwagon, Obama even launched the Presidential Active Lifestyle Award challenge that awards kids and adults for meeting their daily activity and healthy eating goals. Once members earn their PALA, they can choose from a selection of Presidential Active Lifestyle Awards and gear, and they can even order a personalized digital badge which can tout members' accomplishments on social media.
In order to meet the requirements, adults have to commit to 30 minutes of physical activity a day, at least five days a week, for six out of eight weeks. They also have to focus on a healthy eating goal and add a new goal each week while continuing with previous goals. Kids and teens, on the other hand, have to meet a daily activity goal of 60 minutes a day, at least five days a week, for six out of eight weeks, and they also have to focus on a healthy eating goal similar to their elders'.
5. Food marketing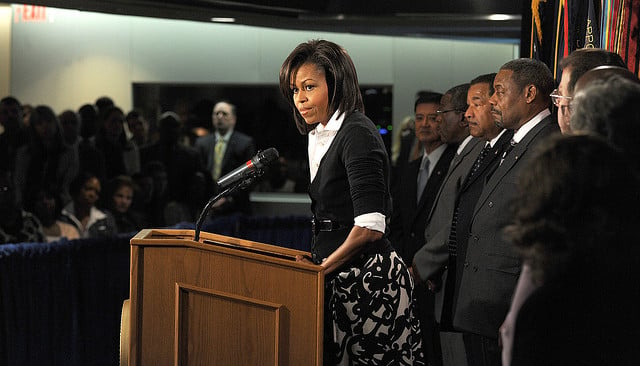 The president's wife is also working on food marketing, and how companies advertise their products to children. According to Time, Obama wants marketers to spend less time advertising sweet and salty foods, and more time promoting healthier options.
The first lady met with representatives from food and media industries, advocacy and parent groups, government agencies, and research institutions at the first White House summit on food marketing to children on September 18, and she asked them to help her, help consumers make healthier food choices.
Consumer advocates have long argued that food marketing is a leading cause of childhood obesity because ads and promotions target kids who then can pester their parents to buy what they see on TV. Obama recognizes the vulnerability of children audiences and is thus now asking marketers to be cognizant of the power they hold over young consumers. She explained to those present at the summit that there is now a "cultural shift" taking place in America's eating habits, and she encouraged them to join in, producing and advertising healthier food products, and help her "empower parents instead of undermining them."
6. Appearance on NBC's The Biggest Loser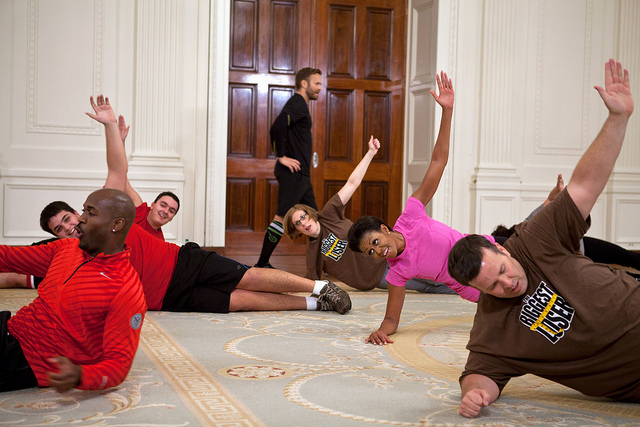 Michelle Obama also has now made two appearances on the popular weight-loss reality show, The Biggest Loser.
The exercise advocate first appeared on the program in April 2012 in order to promote her Let's Move! exercise initiative, and she appeared again in November 2013 as part of her collaboration with Partnership for a Healthier America. In November, she celebrated the new season's contestants, promoted her new aforementioned "Drink Up" campaign, and even participated in a workout session that supported her Let's Move! fitness initiative.
The Biggest Loser has also already teamed up with a number of brands and charities to promote healthy lifestyles.
7. Teaming up with the Miami Heat
Getting the word out about healthy eating with @KingJames, @DwyaneWade, @ChrisBosh and Ray Allen. #LetsMove, pic.twitter.com/7r7w7jxXQS

— FLOTUS (@FLOTUS) January 15, 2014
And Bob Harper isn't the only athlete that Obama has teamed up with to further her health and fitness agenda — the first lady recently teamed up with Miami Heat basketball players, too, to get them in on the healthy eating action.
ABC News reported Tuesday that Obama partnered with Lebron James and his teammates from the Miami Heat last week to film a new ad that promotes healthy eating via the "Let's Move" campaign. The ad premiered on "Good Morning America" on Tuesday, and features Dwayne Wade, Ray Allen and Miami Heat Head Coach Erick Spoelstra talking about the importance of eating healthy. The ad has a serious message, but also incorporates humor as Obama, James, and Chris Bosh, photobomb the players who sing the praises of healthy eating.
The ad was filmed last week at the White House when President Obama honored the Miami Heat for winning their second NBA championship in a row.
More from Wall St. Cheat Sheet: