Obamacare Poll: Uninsured and Unenthusiastic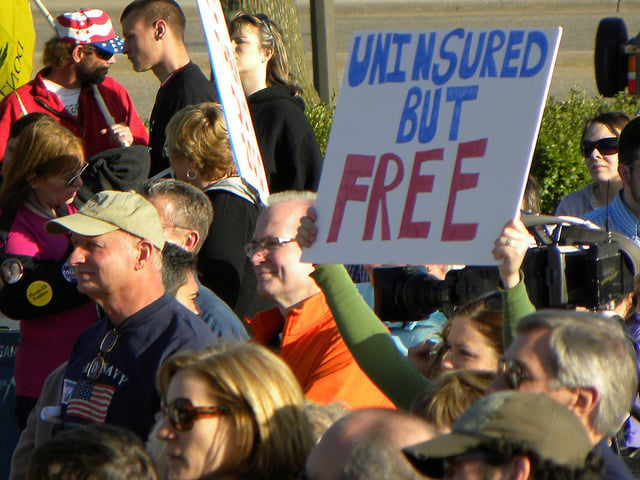 The Affordable Care Act set out to insure millions of Americans by mandating coverage, but do the uninsured even agree with the system the law has spawned? A New York Times/CBS poll says probably not. The poll asked a sample of Americans, as well as a separate sampling of the uninsured.
Among the uninsured, when asked if the new healthcare law was going to create a better healthcare system in the United States, opinions divided fairly evenly, with "better," "worse," and "no change" each receiving one-third of respondents' answers.
In 2010, Nancy-Ann DeParle, a former assistant to the President and Deputy Chief of Staff for Policy, wrote a White House blog post touting the benefits of the new legislation. "The Affordable Care Act marks a crucial turning point for our healthcare system and will help make affordable, high-quality care accessible to millions of Americans." DeParle further said that, "Under the Affordable Care Act, millions of Americans will be able to purchase better coverage in the new competitive private health insurance exchanges where individuals and small businesses will be able to choose coverage from a range of insurance options."
Although it is a law meant to reach out to the uninsured and provide affordable care, in the uninsured sample, a higher proportion — 54 percent — said they were confused about the law, compared to 45 percent from the general sample. Only 23 percent of those sampled who do not have insurance believe that the quality of their care will increase under the law.
Over half, 54 percent, say they will obtain insurance, but affordability was not a top reason as to why. Most had avoided health insurance previously because the cost was too high, and 59 percent still think that being insured will hurt them financially. Leading the way in reasons for purchasing healthcare was that it is "good to have," and because the "law requires it." Only 10 percent are planning on seeking coverage because they think it is now more affordable.
For people who are not going to buy insurance, 50 percent said it was because under the law, coverage will still be too expensive. Another 29 percent objected to the government's coverage requirement. The individual mandate was the most unpopular, single provision the poll asked about; 77 percent of those uninsured and 68 percent with insurance oppose the mandate.
Tammy Lebarron spoke to CBS about the mandate. Lebarron identified herself as an uninsured Democrat who does not plan on purchasing healthcare. "My biggest issue is that I don't believe people should be told what to do," Lebarron said. "I don't believe that you should be told whether you have to have insurance or not or have to wear your seat belt, or have to do this or that."
Provisions of the law, such as giving tax credits so small businesses could offer coverage, were popular overall. However, 60 percent of the uninsured think that the law has good aspects, but changes are needed. Four percent said that it should be kept in place, as is. For people who already have healthcare, this number is slightly higher, 6 percent want the law to stay, absent any revisions.
The changes lawmakers propose will likely affect their constituents' support in the 2014 midterms. A Congressperson's position on health care is something that the uninsured, and insured said will matter either a lot, or somewhat, 69 percent of the time. Fewer than a third in each group said it didn't matter much, or at all.
More From Wall St. Cheat Sheet: