ACA Rule Burdens Insurance Companies With Requests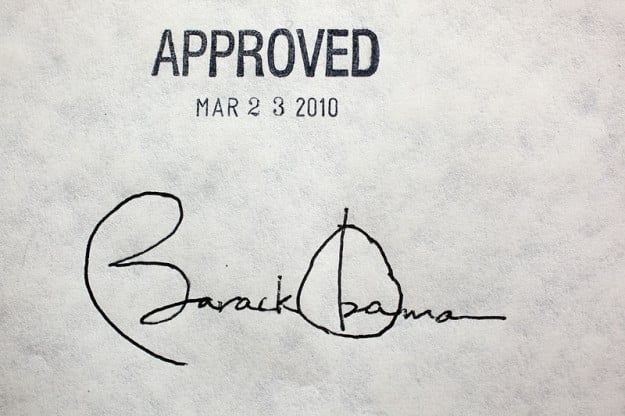 The latest round of changes to Obamacare "urges" insurance companies to follow a number of policies that, in effect, place the law in a state of limbo for the first month. "Patient Protection and Affordable Care Act; Maximizing January 1, 2014 Coverage Opportunities," the rule drafted by the Department of Health and Human Services (or, HHS), addresses the "unforeseen barriers to enrollment in the Exchanges." The insurance companies are not explicitly forced to comply with everything set out in the new rule. Instead, the companies are asked to consider policies that could ease the transition.
First, the rule officially extended the deadline for signing up for coverage through the exchange to December 23 for coverage beginning January 1. It also left the door open for the possibility of changing the date again. "While we do not expect to do so, we will consider moving this deadline to a later date should exceptional circumstances pose barriers to consumers enrolling on or before December 23, 2013." Also, if an enrollee is prevented "due to an error" from signing up for coverage, "it would warrant a special enrollment period."
An individual seeking coverage through the federal exchange "must make a premium payment in order to effectuate coverage by the applicable coverage effective date, provided that payment dates are  no earlier than the last day before the coverage effective date and are consistently applied to all applicants in a non-discriminatory manner." That is, of course, unless the insurer wants to follow the guidelines for flexibility. The rule states that for coverage effective January 1, a person can sign up throughout all of January if their insurer agrees to the policy. Insurers don't have to force individuals to pay the entire premium either.
"We note that this interim final rule also does not require the full premium to be paid to effectuate coverage." In the federal exchanges, " a premium payment threshold policy" is acceptable according to HHS. If an insurer's directory of in-network providers is out of date, HHS wants it to be updated to avoid people signing up for plans, only to later find out their doctor, or medical care professional is considered out-of-network. If having updated information is unavailable, HHS says "that it would be reasonable for issuers to consider services received out-of-network as having been received in-network for the beginning months of coverage. We strongly encourage issuers to adopt this approach."
Finally, it asks that prescriptions of "non-formulary drugs" be considered "formulary" for the first 30 days, so people can continue accessing medication "while allowing the issuer and/or the enrollee sufficient time to go through the prior authorization and/or drug exception processes." Insurance companies are concerned about what would happen if they put this into practice. Take, for instance, the provision granting retroactive coverage. "It creates a situation where someone might be able to apply for insurance when they have already had services" Mary Beth Chambers, spokesperson for Blue Cross Blue Shield of Kansas explained to Reuters. She likened it to trying to get homeowners insurance for your burning house.
Aetna spokesperson Cynthia Michener stated Aetna too was worried about the impact. "We are concerned that changing the rules at this late date and allowing for this degree of variability will lead to significant consumer confusion about the marketplace." Karen Ignagni, President and CEO of America's Health Insurance Plans, raised the same issue in a statement on the changes, saying "continued changes to the rules and guidance could exacerbate the challenges associated with helping consumers through the enrollment process."
Don't Miss: Wall Street's Poster Boy Named Bank of the Year.