American Consumer to Labor Market: More Gains Please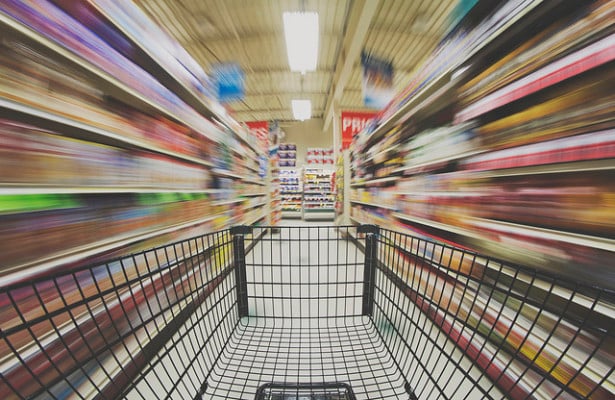 In the fourth-quarter, the American consumer managed to spend more money without earning more money — or, at least, they spent money faster than they earned it. According to the U.S. Bureau of Economic Analysis, real disposable personal income — what people have left to spend after taxes and inflation, chained 2009 dollars — declined by 0.2 percent in December. Meanwhile, personal consumption expenditures increased 0.2 percent on the same basis. Using current dollars, real disposable personal income was flat, and personal consumption expenditures increased 0.4 percent. At the the individual level, the net effect of this spending pattern was higher debt and smaller savings accounts.
But still, while the American consumer may find himself or herself with higher debt and a slimmers savings account, the greater spending was a boon for the economy. Everyday private-sector activity drove the economy forward despite the macro-level problems currently facing the nation. A 3.3 percent increase in real personal consumption expenditures in the fourth-quarter drove overall gross domestic product growth for the period. Consumer spending — uninspired by any meaningful increase in income — offset a 12.6 percent decrease in government spending in the fourth-quarter to push annual GDP growth to 3.2 percent for the period.
Strong consumer spending is essential for the recovery of the American economy. Consumer spending accounts for approximately 70 percent of gross domestic product in the United States, and because government and business spending largely remained weak in 2013, the economy depended even more on household spending to fuel growth. For economists, the all-important question is where the consumer spending trajectory is headed this year.
Retail sales — an important gauge of consumer spending — ended the year with a 0.2 percent gain that may seem small, but it did beat the expectations of analysts who had predict sales would be flat with November. The results did not immediately suggest that the U.S. economy ended the year on a strong note. However, more importantly, the core measure — which excludes volatile spending on autos, gas, and building supplies — increased a solid 0.7 percent, according the U.S. Department of Commerce. Economists believe that figure is a better proxy for Americans' confidence in the economy because it does not include those volatile categories.
Americans spent $431.9 billion on retail purchases and food services in December, an increase of 4.1 percent from the same month of 2012. For all of 2013, retail sales increased 4.2 percent from the previous year, a pace significantly lower than the 5.2 percent rate of growth recorded in 2012 and the 7.7 percent rate of growth posted in 2011, according to the Commerce Department. Still, the pace of spending was greater in the final six months of last year than in the previous six months.
Consumer spending is expected to strengthen in 2014 and drive greater economic growth. But for economists, the question is from where the source of strength will originate. Last year, consumer spending patterns strengthened, and the overall picture of consumer spending is one of improvement — improvement that is gaining momentum. However, a closer look reveals that more conflicting indicators about the health of the American consumer, especially when inspected along socioeconomic lines.
Plus, a significant slowdown in U.S. incomes could impeded any contributions to GDP growth from real personal consumption expenditures. But provided 2014 begins with strong job creation trends, economists believe consumer spending will remain strong. The relationship between business spending, job creation, and consumer spending is a close one. U.S. businesses do not want to increase labor costs unless they are confident consumers will spend money on the goods and services produced. Consumers must then spend money before businesses boost hiring. However, the American public needs employers to increase job creation in order to feel more financially secure.
"Job growth will likely spur wage growth and allow consumers to keep spending," Bill Hampel, chief economist at the Credit Union National Association, told the Wall Street Journal. "There are enough other tailwinds behind the economy."
The Commerce Department's January retail numbers will not be available until February 13. However, the weekly snapshot of retail sales compiled by the industry trade groups — the International Council of Shopping Centers and Johnson Redbook — provide a glimpse of the January's consumer spending trajectory. For weeks, both measures have exhibited weakness. Both the ICSC-Goldman Sachs index and the Johnson Redbook index ended December with slowing or negative growth, and slow growth has stuck. But it is important to remember than January is typically a transitional month in which business volume is low and sales are driven by price markdowns employed to clear inventories. In general, recent numbers suggest that consumer spending habits are shifting away from their holiday pattern and back toward basic commodities and food.
In general, spending patterns in 2013 showed the American consumer was more confident purchasing longer-term "big ticket" items — like automobiles — than they were increasing everyday expenditures, with spending generally sluggish in retail stores and restaurants. That trend has been evident in both ICSC and Redbook numbers. Both indices are correlated with the general merchandise portion of retail sales, which account for approximately 10 percent of the whole sector and exclude automobile sales.
Throughout January, the ICSC-Goldman Sachs index — one of the most timely indicators of consumer spending — was slightly volatile. For the past several weeks, it appeared that same-store sales were rebounding from the weak results recorded earlier in the month, although sales were far from strong. But the results for the week ending February 1 were extremely weak. The index rose 0.3 percent on a weekly basis, a noticeably better result than the 0.2 percent gain recorded in the previous week and the steep 1.9 percent decline posted in the week ended January 18. On a year-over-year basis, same-store sales growth hit a recovery low. Returning a 0.0 percent reading, the index neither recorded an increases or a decrease, which compared to the previous week's 2.2 percent rate of expansion. Given the disappointing first month of the year and the poor weather, ICSC Research expects same-store sales to rise at a 3.0 percent rate in January, down from the earlier estimate of between 3.0 percent and 3.5 percent. For reference, December's same-store sales grew 3.4 percent.
"On the heels of the third snowiest final week of the fiscal month and year in more than 23 years, sales posted a sequential weekly gain, but were flat on a year-over-year basis," ICSC Chief Economist Michael Niemira explained in the release detailing the week's results. "According to Weather Trends International, last week saw a 'rare Deep South snowstorm' that spread snow and ice from Texas through New Jersey. That bout of adverse weather curbed consumers shopping, except for essentials that were picked up at drug stores. The ICSC-Goldman Sachs consumer tracking survey found a strong rise in drug store business over the past week relative to the same week of the prior year," added Niemira.
The Johnson Redbook index also exhibited softness. The index has expanded 2.7 percent over the past 12 months, which compares with the previous week's 3.2 percent rate of growth. In addition, Redbook's monthly comparison worsened, contracting at a 0.2 percent rate following the previous week's 0.1 percent rate of contraction.
More From Wall St. Cheat Sheet:
Follow Meghan on Twitter @MFoley_WSCS