Americans Don't Trust Obama to Fix the Economy
The U.S. economy grew at 4 percent annual rate in the second-quarter; U.S. employers have added an average of 200,000 jobs in each of the past six months and the long-term unemployment rate has edged down 0.5 percentage points since the end of 2013, accounting for "almost the entire decline" in the headline unemployment rate, which stands at 6.2 percent; consumer confidence is at its highest level since October 2007 and consumer spending expanded at a 2.5 percent pace last quarter; business spending is stronger and, according to Zacks Investment Research, earnings have increased 11.5 percent on average through July 31; and even though home price growth is slowing, they are still rising.
Meanwhile, the latest NBC News/Wall Street Journal poll shows that President Barack Obama's approval rating has decreased to a new low of 40 percent. Congress' approval rating is far worse than that of the president. Gallup has measured the legislative body's favorability as low as 7 percent, while the NBC News/Wall Street Journal placed at 14 percent — a level it has rested at for several years. While Americans rate his handling of foreign policy even lower, at 36 percent, the survey revealed that the public is even more concerned about how elected leaders handle the country's lingering economic problems.
From the data, it is apparent that economic issues will greatly shape upcoming congressional midterm elections. Seventy-one percent of the public told pollsters that the economic problems facing the United States are mostly caused by the inability of elected officials in Washington "to get things done to improve the economy." Sizable numbers of respondents also reported that the Great Recession personally impacted them and continues to affect their finances even now, with 71 percent answering the economic contraction had hurt them "just some" or "a lot" and 64 percent saying that its impact continues "just some" or "a lot."
Economic realities vary greatly between genders; far more men than women believe that anyone can succeed, while more women than men believe the widening income gap undermines opportunity. Far more women believe there is a problem with economic mobility than men believe in the equality of success. To the survey's authors, that divide helps to explain the wide gap in political outlook between the two genders, and politicians campaigning ahead of November's elections will need to heed that difference because it is already shaping the midterms.
Scars of the past recession run deep, and the political stalemate of Washington only serves to irritate those scars. Even five years after the official end of the worst recession to hit the U.S. economy since the Great Depression, Americans are registering record high levels of concern that younger generations will have limited economic opportunities and expressing pessimism about the country's long-term economic opportunities. The poll found that 76 percent lack confidence that their children's generation will have a better life than they do, which is an all time high; 71 percent of adults say the country is on the wrong track, an increase of 8 percentage points from a June survey; and 60 percent believe the U.S. is in a state of decline.
The blame is placed on Washington. "The American public is telling its elected representatives that the economic distress that a significant proportion of them are feeling is directly their fault," noted Democratic pollster Fred Yang, who conducts the poll with Republican pollster Bill McInturff, reported The Journal. "The public seems to have moved beyond the plaintive cry of 'feel our pain' to the more angry pronouncement of 'you are causing our pain.'"
According to the Cook Political Report, "Americans' real economic distress is one reason why President Obama is not getting credit for a steadily dropping unemployment rate and improved economic growth." Even though it is not unreasonable to expect sluggish growth following such a cataclysmic financial disaster as the U.S. experienced, along with two wars that came with huge price tags, it is also glaringly obvious that the economy is nowhere near as strong as it once was; federal reserve economists and the central bank's chair Janet Yellen remain concerned about the ongoing labor market slack, which manifests itself in low labor force participation and sluggish wage growth. Further, "the other reason a (slowly) growing economy isn't boosting Obama's numbers is more political in nature and ultimately more problematic for Democrats," added Cook's Amy Walter.
Democrat-leaning voters may be more likely than Republicans to think the economic situation is improving, but the Democratic party may have difficulties convincing undecided voters of that fact, especially in hotly contested Senate races. Most of those midterm elections will be taking place in Southern, mostly red states, and southerns are far less bullish about the economy than residents of other regions of the country.
A great deal of scholarship has explained why the current economic recovery is nothing like other recent recoveries from recession. The first terms of Presidents Ronald Reagan and Bill Clinton were both marked by economic troubles, just as Obama's was, but as the unemployment rate ticked down during their administrations, the approval ratings of both Reagan and Clinton rebounded. When the unemployment rate peaked at 10.4 percent, Reagan's approval rating stood at 40 percent; by 1985, joblessness was down to 7 percent and 63 percent of the electorate approved of the president's job performance. Similarly, from 1993 to 1997, unemployment declined from 4.9 percent to 4.9 percent, while Clinton's approval rating rose from the 40s to 57 percent by May 1997. By December 1999, when the jobless rate hit 4 percent, 55 percent of Americans approved of his job performance. But Obama's approval rating has little improved — even as the labor market returns to full health.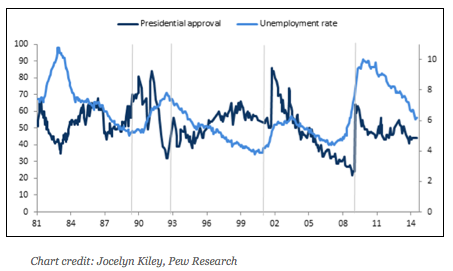 Cook does acknowledge that other events influence a president's job performance rating, noting that "while unemployment continued to drop into 1987, the Iran-Contra scandal took a bite out of Reagan's approval rating" and Clinton's first term was "defined as much by a failed healthcare reform plan and a controversial budget as a weak economy." Yet, regardless of those political missteps, there was a notable improvement in both their approval ratings. During his second term, Clinton's job performance rating even approved among Republicans, and the percentage of GOP voters who believed the country was going in the "right direction" grew.
Back in November of 2010, when the unemployment rate was 9.8 percent, Obama's approval rating was at 44 percent, with only 10 percent of Republicans approving of his job performance. In the next three years, joblessness dropped more than two percentage points to 7 percent, but the president's approval rating was down to 41 percent. Now, with the unemployment rate at 6.2 percent, Obama's approval rating remains in the 40-percent rage, with only 12 percent of Republicans approving of his job performance.
"While economists use data points to make assessments of the economy's health (unemployment rate, GDP growth, etc.), voters are more likely to use their perceptions of the president to determine if things are getting better or not. Those perceptions are driven as much by partisanship as anything else," Walter concluded. "The more Washington engages in partisan fire-fights on issues ranging from Obamacare to immigration, the more hardened those partisan perceptions become, which is why even an improving economy isn't lifting Obama's approval ratings."
Hillary Clinton should take note of the current level of economic anxiety characterizing the American political climate. Walter postulated that the health of the U.S. economy, rather than the foreign policy, will be the former Secretary of State's biggest campaign challenge if she choose to run for president in 2016. The continued violence in Ukraine, Libya, and Iraq mean her tenure as the top State Department official has drawn a great deal of attention, given she was a key figure in the Obama administration's decision to push the "reset" button with Russia, its handling of the terrorist attack in Benghazi and, of course, the withdrawal of U.S. troops from Iraq. But "foreign events can capture Americans' attention, but rarely keep it for long. Events overseas also don't drive elections — unless, of course, the U.S. is somehow intimately involved/impacted," argued Walter. "And, at this point, despite their geopolitical significance, it's hard to imagine that Americans see themselves tethered to events in the Middle East and Ukraine."
But the health of the economy is far more essential to the survival of the United States. Even though emerging unemployment has returned to pre-recession levels, while the stock market has seen large gains over the past year, many Americans are excluded by the incremental gains made by the U.S. economy. Underemployment remains elevated, and wage growth is stagnant. Plus, stock market gains benefit only a small sector of the American public. Obama drew attention to that reality, as he often does, at a July fundraising event. "[W]hat people are also concerned about is the fact that although the economy has done well in the aggregate, for the average person it feels as if incomes, wages just haven't gone up; that people, no matter how hard they work, they feel stuck," he said. That feeling of being "stuck" could be tied to how Americans judge the president's job performance.
More From Politics Cheat Sheet:
Follow Meghan on Twitter @MFoley_WSCS