Americans Still Have Something to Say About Mitt Romney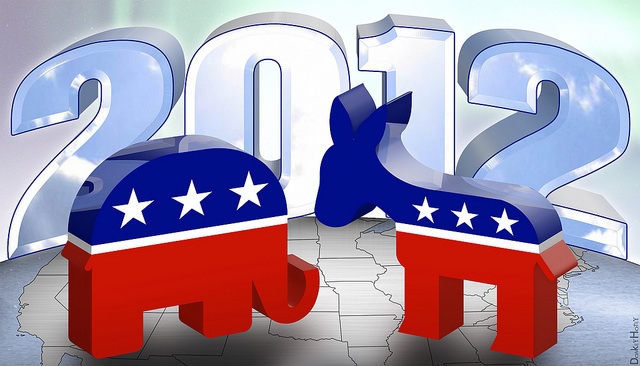 Former Massachusetts Gov. Mitt Romney lost the 2012 election by a little less than four percentage points, earning 206 electoral votes to incumbent Barack Obama's 332 and 59,134,475 popular votes to the president's 62,611,250. But despite the solid loss and his own admission that he would not seek the Republican Party's nomination for the presidency in 2016, the draft-Romney campaign has started to gain momentum.
With Romney's name swirling through early election discussions, Gallup measured how the American public views the former presidential candidate. Just following the election, data showed that 50 percent of Americans held a positive opinion of the candidate, and in the 15 months since Americans last went to the ballot box, that share has dropped just three percentage points, to 47 percent.
The size of the decrease did not suggest to Gallup's Justin McCarthy that public opinion regarding Romney has fundamentally changed — after all, he has always struggled with his popularity in the polls.
During his 2012 campaign, as well as during his 2008 run, which ended in the Republican primaries, the public's opinion of Romney was mixed, with his popularity never exceeding 50 percent. Gallup first polled the American public on Romney's favorability in 2006, when a majority of respondents had either not heard of the then-governor or held no opinion. Those that had an opinion were more likely to view him favorably than unfavorably, by a margin of 19 percent to 12 percent.
As those figures would suggest, Romney had very low name recognition when he announced his bid for the 2008 Republican presidential nomination. And even though he had not insignificant political credibility, being the Republican governor of a strongly Democratic-leaning state and the son of a former Republican presidential candidate, Romney was unable to outshine Sen. John McCain, a decorated war veteran and long-serving lawmaker. Throughout the primaries, McCain's favorability overshadowed Romney's, as McCarthy noted.
Still, Romney did win 11 state primary elections and caucuses, and those victories gave him the name recognition he did not have earlier when he announced his second presidential bid in June 2011. By December of that year, his approval rating — as measured by Gallup — stood at 40 percent. However, the share of Americans who held unfavorable views of Romney was 42 percent. Throughout his 2012 run, Romney's approval ratings fluctuated between 39 percent and 50 percent favorable, settling at 46 percent shortly before Election Day. At the time, 47 percent of Americans viewed him unfavorably.
During his years as a politician, Romney was often criticized for failing to to connect with everyday Americans. That critique was only strengthened in September 2012, when a video was leaked showing the candidate giving his opinion of those Americans who would vote for Barack Obama:
"There are 47 percent of the [American] people who will vote for the president no matter what. All right, there are 47 percent who are with him, who are dependent upon government, who believe that they are victims, who believe the government has a responsibility to care for them, who believe that they are entitled to health care, to food, to housing, to you name it. That that's an entitlement. And the government should give it to them. And they will vote for this president no matter what. …

"These are people who pay no income tax. Fourty-seven percent of Americans pay no income tax. So our message of low taxes doesn't connect … my job is not to worry about those people. I'll never convince them that they should take personal responsibility and care for their lives."
While Romney is no longer under the same level of scrutiny he faced on the campaign trail, the former candidate has received some positive press from the Netflix-produced documentary Mitt, which did humanize him to some degree. Still, he continues to be a divisive politician, and his recent exposure has done little to boost his favorability ratings. It is also important to note how public opinion ranks him in comparison with other former presidential candidates.
His rating is higher than that of John Kerry's – in 2005, 42 percent of Americans held favorable views of the sitting senator in his first post-2004 election poll. Of course, congressmen do not historically receive high approval ratings. But McCain had a much higher favorability rating of 54 percent one year after the 2008 election.
Political experts believe it is highly unlike that Romney will launch a third campaign. Leaders of the Republican Party worry that the possible GOP contenders could have a hard time keeping Democrats — like Hillary Clinton — out of the White House. "Once a month, someone would email or call and say he should run again," longtime Romney adviser Ron Kaufman recently told the Boston Globe. "Now I get it every day — from the grassroots, and from donors. I get it every day." It did take Ronald Reagan three attempts to land in the Oval Office.
More From Wall St. Cheat Sheet:
Follow Meghan on Twitter @MFoley_WSCS