Are Americans Trying to Reinvent Privacy?
In the wake of Edward Snowden's document release, there have been a great many changes in how Americans think about privacy, the National Security Administration, and surveillance within our own borders. Following cyber attacks from China, North Korea, and other foriegn nations, there's also been demand for continuous re-evaluation to keep up with how we need to view national security.
In this way, there has emerged somewhat of a balance between concerns over personal rights and the comprehension of just how large a threat technology can pose between nations if the U.S. doesn't keep a competitive cyber-security program in place. The way Americans view the Internet, and the way different groups now consider their own information security, have changed a great deal. President Barack Obama and other politicians looked into methods for reform, shortly after Snowden's information was published on America's practices. Businesses have gotten more involved in privacy issues such as the mass collection of phone data. Net neutrality was recently protected by the FCC, though there are still efforts in place to alter the ruling.
A Pew Research poll tells us that within the investigative journalism community, there now is a great deal of awareness and suspicion regarding how they are monitored and whether or not data is being collected from them. Some admit that this has led them to change how they reach out to sources (and who those sources are), not to mention how sensitive materials and communications are stored. However, a new study from the Research Centers published on Monday, shows that investigative journalists, businesses (probably Sony), and government employees are not the only ones who are changing how they deal with their information and protect their privacy. This is an issue that has expanded to the everyday American — hardly surprising given how well-followed the issue has been and how extended a problem it's been in the news media.
Pew reports that 31% say they've heard a lot about government surveillance programs, and 56% say they know a little. Only 6% said they didn't know anything. This knowledge is apparently manifesting in tangible ways. The poll shows 17% saying they've changed privacy settings on social media, 15% saying both that they use social media less, or that they avoid certain apps. Thirteen percent respectively say that they avoid using specific words and that they have removed certain apps, and finally, 14% say they actually avoid technological communication more now than they did in the past.
It's also not surprising that public reaction has cropped up given the very real way Snowden made surveillance feel it could be applied to everyone. "When you're an NSA analyst and you're looking for raw signals intelligence, what you realize is that the majority of the communications in our databases are not the communications of targets, they're communications of ordinary people," he said, according to the Guardian, last July. "They're the most deep and intense and intimate and damaging private moments of their lives, and we're seizing [them] without any authorization." He talked about naked photos, about cell phones turned on remotely, and this month, warned IT specialists that they are targeted in particular. Films and documentaries have also been coming out, so Snowden's had a great deal of screen time in the last few years.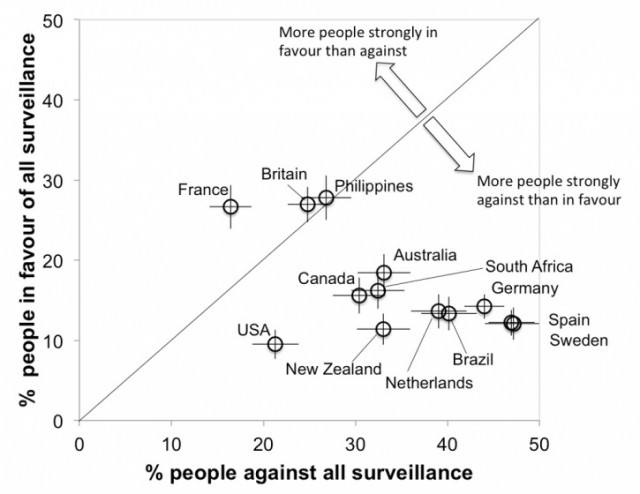 This is also an interesting change in the American psyche because of how we compare against other countries on our surveillance views. The Guardian published a graph (shown above), which illustrates just how weakly our opinions stack up compared to other countries. Britain, France, and the Phiippines all lead on being in favor of surveillance — in fact they're the only three that are more strongly in favor of it than against it, as demarcated by the diagonal line. America, on the other hand, is only in front of France in terms of how many people are against surveillance.
Most other countries, everyone from New Zealand and Brazil to South Africa and Germany, are all more strongly against surveillance than the U.S. Predictably, the Guardian reports that all countries are more OK with monitoring other governments than monitoring one's own citizens; hardly surprising, but the United States had a very clear lead on that stance. This is possibly because it's portrayed so much in America as being a necessary part of national security. Even so, it's clear that sentiments have changed, and will likely continue to do so as technology advances and our understanding of its role develops.
More from Politics Cheat Sheet:
Follow Anthea Mitchell on Twitter @AntheaWSCS
Check out Politics Cheat Sheet on Facebook