Are Homebuilders Feeling Any Better About the Housing Market?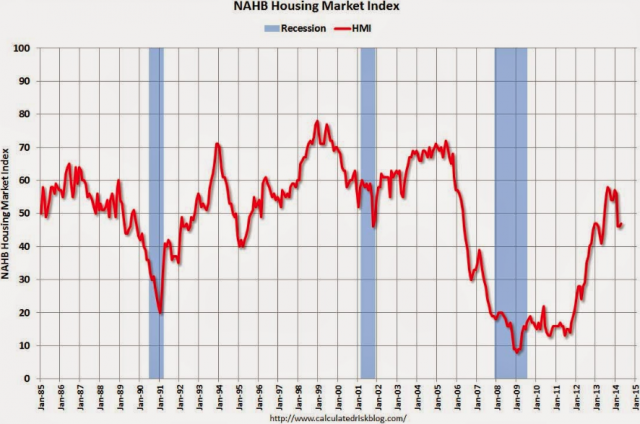 Despite the continuing rebound in house prices, homebuilder sentiment remains on shaky ground as the economy stays sluggish. However, sentiment is expected to improve in the coming months.
The National Association of HomeBuilders/Wells Fargo's index of builder confidence rose only 1 point to 47 in April, compared to a downwardly revised March reading of 46. In February, the index plunged 10 points to 46 and has struggled to recover. "Builder confidence has been in a holding pattern the past three months," said NAHB Chairman Kevin Kelly, a home builder and developer from Delaware.
The results were worse than expected. On average, economists expected the index to reach 49 this month. Any reading below 50 indicates that builders in general hold a negative view on sales conditions. In the five years before the Great Recession, the index averaged 54, and hit an all time low of 8 in early 2009. The index has now been below 50 for three consecutive months.
"Job growth is proceeding at a solid pace, mortgage interest rates remain historically low and home prices are affordable," said NAHB Chief Economist David Crowe. "While these factors point to a gradual improvement in housing demand, headwinds that are holding up a more robust recovery include ongoing tight credit conditions for home buyers and  the fact that builders in many markets are facing a limited availability of lots and labor."
The NAHB/Wells Fargo Housing Market Index (HMI) gauges builder perceptions in three areas of the real estate market, which were mixed in April. The reading for current sales conditions held steady at 52, while sales expectations for the next six months increased 4 points to 57. The component gauging buyer traffic was unchanged at 33.
Sentiment has been weak across the country in recent months. Looking at the three-month moving averages for regional HMI scores, the Northeast and South both fell two points to 33 and 47, respectively. The Midwest dropped four points to 49, while the West plunged nine points to 51.
More From Wall St. Cheat Sheet:
Follow Eric on Twitter @Mr_Eric_WSCS