Volatility: Are Stocks Getting Ready for a Bumpy Ride?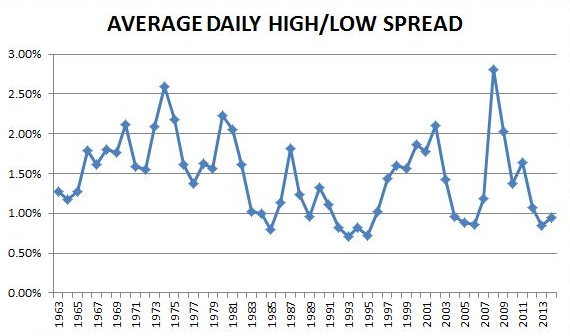 Warren Buffett once said: "I never attempt to make money on the stock market. I buy on the assumption that they could close the market the next day and not reopen it for five years." Unlike Buffett, many people have a different investing mentality. They allow daily market noise to influence their own trading volume. Some investors are becoming increasingly concerned about the market's latest moves, but is volatility really returning to alarming levels?
Investors are realizing just how good they had it last year. After a record-breaking performance by all three major U.S. indexes in 2013, year-to-date returns are relatively flat. Stocks began 2014 with a brief pullback, only to rebound and make fresh all-time highs in early April. Shortly thereafter, the S&P 500 (NYSE:SPY) and Dow Jones Industrial Average (NYSE:DIA) posted one of their worst days this year, while the Nasdaq (NASDAQ:QQQ) logged its worst week in almost two years.
This type of movement can be frustrating for some investors. However, volatility is not as high as one might expect — yet. Daily volatility, as measured by the daily high price divided by the low price, has increased to an average of only 0.95 percent from last year's 0.85 percent, according to a recent analysis from S&P Dow Jones Indices. That is well below the 50-year average of 1.47 percent. In comparison, the high/low spread was 1.07 percent in 2012 and 1.64 percent in 2011.
"The increased perception is due to last year's low volatility, which was the lowest since 1995," said Howard Silverblatt, senior index analyst at S&P Dow Jones Indices. "If you truly want to see volatility look at 2008-2009, when it averaged over 2.4 percent a day, and we saw (many) days where the index was up 1 percent at 3 p.m. and closed down 1 percent."
Of course, not every stock is created equal. Several high fliers have been crushed recently. Shares of Twitter (NYSE:TWTR) and Amazon.com (NASDAQ:AMZN) have plunged 50 percent and 25 percent year-to-date, respectively. Since hitting all-time highs earlier this year, shares of Netflix (NASDAQ:NFLX) are down 29 percent, while shares of Tesla Motors (NASDAQ:TSLA) are down 22 percent. Some hedge fund mangers have shorted these falling stars, while others believe volatility will become more widespread later this year.
In his recent letter to investors, Daniel Loeb warned: "It is important to keep in mind that by this Fall, we will have had negative real interest rates in the U.S. for a longer consecutive period than at any other time — even after the Great Depression. As tapering ends, most likely in October, and the discussion shifts to an impending first rate hike (probably around the time when unemployment is approaching 6 percent and inflation is ticking higher), we will have to buckle our seatbelts for an inevitably more volatile environment."
Here's how the three major indexes traded on Tuesday:

More From Wall St. Cheat Sheet:
Follow Eric on Twitter @Mr_Eric_WSCS