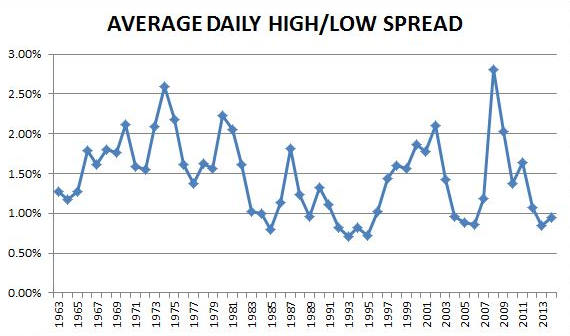 Warren Buffett once said: "I never attempt to make money on the stock market. I buy on the assumption that they could close the market the next day and not reopen it for five years." Unlike Buffett, many people have a different investing mentality. They allow daily market noise to influence their own trading volume. Some investors are becoming increasingly concerned about the market's latest moves, but is volatility really returning to alarming levels?
Investors are realizing just how good they had it last year. After a record-breaking performance by all three major U.S. indexes in 2013, year-to-date returns are relatively flat. Stocks began 2014 with a brief pullback, only to rebound and make fresh all-time highs in early April. Shortly thereafter, the S&P 500 (NYSE:SPY) and Dow Jones Industrial Average (NYSE:DIA) posted one of their worst days this year, while the Nasdaq (NASDAQ:QQQ) logged its worst week in almost two years.
This type of movement can be frustrating for some investors. However, volatility is not as high as one might expect — yet. Daily volatility, as measured by the daily high price divided by the low price, has increased to an average of only 0.95 percent from last year's 0.85 percent, according to a recent analysis from S&P Dow Jones Indices. That is well below the 50-year average of 1.47 percent. In comparison, the high/low spread was 1.07 percent in 2012 and 1.64 percent in 2011.