As Yellen Said: Jobs Recovery Is Far From Complete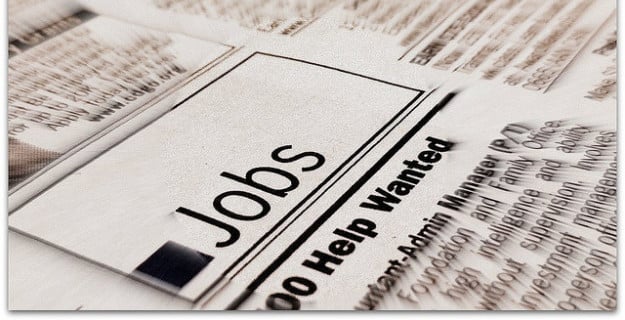 Ticking up 14,000 to 348,000, initial applications for unemployment benefits rose to a one-month high in the week ended February 22, according to data released by the Department of Labor's Bureau of Labor Statistics on Thursday. Despite the increase, the numbers still suggest that jobless claims "have stabilized at levels consistent with a healthy labor-market turnover," as BNP Paribas economist Yelena Shulyatyeva said in a note to clients. Economists say any claims figure below 350,000 indicate moderate job creation. While the analysts projected a smaller, 1,000-claim increase to 335,000 applications and claims numbers have generally been volatile, the numbers still suggest that firings remain muted. As cold weather has slowed many industries, from manufacturing to housing, employers may be holding off on increasing their workforces, but the frigid temperatures have yet to spur mass layoffs.
The good news is that the recent volatility that has characterized jobless claim numbers so far this year did not translate into an increase in the four-week moving average for the most recently reported period. Jobless claims provide the first look at the employment situation for any given month, but since the weekly figures can be volatile, economists use the four-week moving average to understand wider trends. In the week ended February 22, that average remained unchanged from the previous week's downwardly revised average of 338,250. It is important to remember that it is "the trend in employment that matters," according to Mesirow Financial Chief Economist Diane Swonk.
But the number of Americans continuing to receive jobless benefits did rise by 8,000 to 2.96 million in the week ended February 15, the most recently available data. "There have been some weather-related setbacks in hiring, but as it warms up, you're going to see much better performance in labor market activity," TD Securities deputy head of U.S. research and strategy Millan Mulraine told Bloomberg.
But not all analysts are in agreement. "It is possible that the economy has lost some momentum beyond bad weather, and that momentum loss encouraged employees to shed workers," Mitsubishi UFJ Securities' John Herrmann told the publication before the report. "Jobless claims need to be watched carefully to see if they suggest that some other weakness is present."
Initial applications for unemployment benefits — a measure of changes in employment across the country — have been slightly volatile since the beginning of the year. More concerning has been the low levels of job creation recorded in December and January. Initial claims for unemployment benefits — which serve as a proxy for layoffs — paint a picture of a strengthening and resilient labor market; the general downward trend of jobless claims offer a sign that even though job creation was not strong in December and almost equally weak in January, businesses remain confident enough to keep workers even if they have not been inclined to increase payrolls. If initial claims for unemployment benefits defined the whole labor market story, then the narrative of the jobs recovery would be easy to summarize: progress is steady, or at least, the labor market situation is not worsening. But low levels of job creation — the other half of the jobs recovery story — do not indicate the same degree of progress as jobless claim numbers. The U.S. economy created just 75,000 jobs in December and 113,000 jobs in January; both headline numbers were below expectations.
Still, the fact that the unemployment rate declined for the right reason in January cannot be discounted. More people began looking for work last month, a notable change for a labor market often characterized in recent months by its high number of disheartened workers. Since October, the unemployment rate has fallen from 7.2 percent, largely because a high number of disheartened workers have dropped out of the labor force. As a result, the labor force participation rate — the share of working-age Americans who were employed or looking for work — fell to a several-decades low. The fact that more people began looking for work in January was a sign of optimism, and some of those job hunters found employment, which contributed to the percentage point decline in the unemployment rate. From December's 6.7 percent, the unemployment rate fell to 6.6 percent — the lowest rate since October 2008.
The fact that the unemployment rate fell as labor force participation rose by close to half a million suggest that the underlying employment trends are stronger than the headline jobs number would suggest. Capital Economics' Paul Ashworth described the so-called "guts of the January employment report" showed much more strength than payroll additions.
Yet, the president of the Boston Federal Reserve Bank, Eric Rosengren, said Wednesday that the central bank should be patient in tapering the amount of monetary stimulus because of persistent damage to the U.S. labor market, and Fed Chair Janet Yellen said in February 11 congressional testimony that the recovery in employment is "far from complete."
More From Wall St. Cheat Sheet:
Follow Meghan on Twitter @MFoley_WSCS