Audit Shows Returning Veterans Will Pay the Price of Incompetence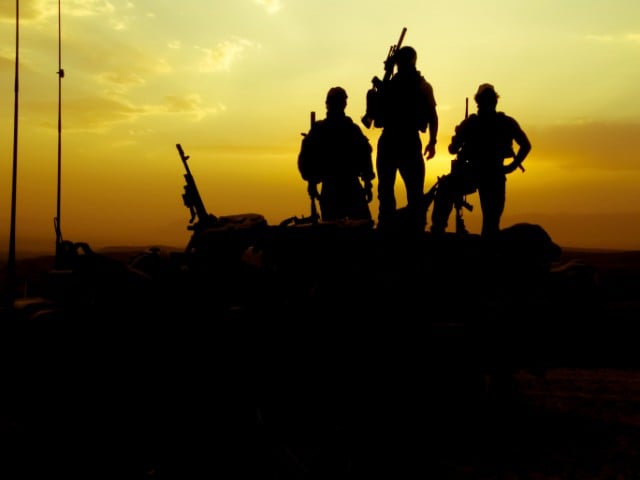 With the resignation of Veteran Affairs Chief Eric Shinseki behind us, the VA still finds itself ill-prepared to handle both the new influx of veterans and the backlog of care requests from older veterans. Up to now, it has been clear that lives had been lost from negligence while veterans waited for care, and Shinseki's departure indicated a recognition of just how badly the VA is functioning. Now, an internal audit of the VA shows just how much repair and revamping needs to be accomplished before demand can be met with appropriate care.
The audit looked into 731 veteran affair service organizations and spoke with 3,700 staff members, finding that as of May 15, 2014 there were over 6 million appointments schedules in the VA, 57,436 veterans waiting to be scheduled, 63,869 who have enrolled in the system but haven't been given an appointment, and that there are 57,436 newly enrolled veterans on the electronic wait list who will have to wait up to and beyond ninety days to receive treatment.
"No veteran should ever have to wait to receive the care they have earned through their service and sacrifice. As the President said last week, we must work together to fix the unacceptable, systematic problems in accessing VA healthcare," said Acting Secretary of Veteran Affairs Sloan D. Gibson in a press release on the audit last week.
According to CNN, a death toll of twenty-three veterans was confirmed for those who sought care but were unable to obtain the help they needed. Previously, CNN reported that documents showed 82 preventable deaths had occurred due to postponed treatment, such as late diagnoses from medical screenings like colonoscopies that were overlooked.
The recent audit targeted a fourteen day wait limit goal the VA had been using to encourage speedy care to veterans who were enrolling, saying the goal was a case of bad managing and leadership; the fourteen day wait limit was unrealistic given demand and resources. "We will remove the 14-day scheduling goal from employee performance contracts to eliminate any incentive to engage in inappropriate behavior," said Gibson. The report found that 13 percent of scheduling staff had been told to enter a different "desired date" to what was actually asked for, and that this was found to be the case at least once in 76 percent of the facilities examined. "Findings indicates that in some cases, pressures were placed on schedulers to utilize inappropriate practices in order to make waiting times … appear more favorable."
As is visible in the table provided within the report, the biggest challenge facing VA facilities are a lack of provider slots to offer veterans. This is a problem Gibson reports is being handled. "We've deployed a dedicated human resources team to support the hiring of additional staff. We are using temporary staffing measures, along with clinical and administrative support … That includes three of our mobile medical units to take care of patients right here," said Gibson, noting that "more work remains."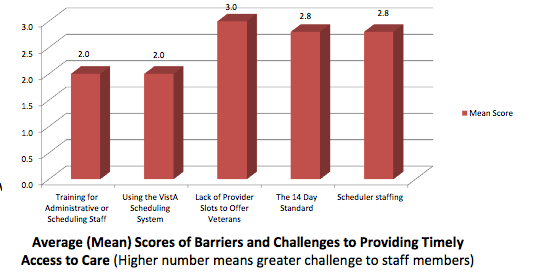 Principal Deputy Press Secretary Josh Earnest — standing in for Jay Carney who will be departing in short order — spoke on efforts being made within the VA to internally repair a broken system. "There have also been some management things that have been put in place," said Earnest. "For example, suspending some performance awards for senior executives at the VHA, and other things. I mention that only because it's also a topic of some discussion on Capitol Hill, and there are some steps that we've already taken proactively as an administration to address some of the management challenges that are associated with this," he said, likely referring to Shinseki's departure. "This is a large task. There's no sugarcoating that. But it is a task that the President has never been more dedicated to."
The first lady, for her part, has been making her own rounds on veteran issues, specifically on homelessness in veterans. "Altogether roughly 58,000 veterans are experiencing homelessness in America today," said Mrs. Obama, stating that thankfully these numbers are decreasing, but noting that "Almost 90 percent of today's homelessness veterans served before 9/11." For this very reason, reports that homelessness are decreasing are perhaps misleading, or at least incomplete. The 2013 Annual Homeless Assessment Report to Congress does indeed state that homelessness among veterans has dropped every year since 2010, falling 8 percent between 2012 and 2013, and overall decreasing by 24 percent between 2009 and 2013. However, as the National Coalition for Homeless Veterans points out, this doesn't address new versus old veteran populations within the homeless demographic. Older veterans from the Vietnam War, Korean War, and others who are of older ages will have died and affected the statistic in that way.
National Coalition for Homeless Veterans reports that the number of homeless veterans from Operation Enduring Freedom, Operation New Dawn, and Operation Iraqi Freedom made up only 8.8 percent of the overall population, 12,700 veterans, in 2010, but that the number of young homeless veterans is actually increasing. So while homeless veterans may be decreasing, this may not be due to services or aid to veterans. The National Survey of Homeless Veterans done in 2011 by 100,00 H0mes, and referenced by VA.gov, notes that veterans from the last wars in Iraq and Afghanistan were "more likely to report a traumatic brain injury and to have received some form of mental health treatment than veterans of other wars." It reports that 27 percent of Iraq and Afghanistan veterans reported traumatic brain injury, while 19 percent of other veterans report the same. The increase in mental health reports — 46 percent compared to 41 percent — is partially explainable by a greater awareness and acceptance of mental illness in recent times.
Mrs. Obama noted aid available through Housing and Urban Development (HUD) or the VA, discussing the Supportive Services for Veterans Families (SSVF) program, and announcing the creation of the Mayors Challenge to End Veteran Homelessness, which will involve seventy-seven mayors, four governors, and four county officials who will be working to target homelessness in their states and areas.
More From Wall St. Cheat Sheet:
Follow Anthea Mitchell on Twitter @AntheaWSCS