Back to Basics: Should You Invest in This Forgotten Sector?
While new-age industries such as social media and cloud-computing generate more than their fair share of headlines, investors may want to start paying attention to one of the world's oldest sectors.
Agriculture sales and production expenses are reaching new record highs. U.S. producers sold $394.6 billion worth of agricultural products in 2012, which cost $328.9 billion to produce, according to the latest Census of Agriculture, released earlier this month by the U.S. Department of Agriculture. Total organic product sales by farms have surged to $3.1 billion, up 82 percent since 2007. Overall, there are now 3.2 million farmers operating 2.1 million farms on 914.5 million acres across the nation.
Eighty-seven percent of all U.S. farms are operated by families or individuals. However, large farms dominate the market. Three quarters of all farms had sales of less than $50,000, producing only 3 percent of the total value of farm products sold. Farms with more than $1 million of sales produced 66 percent of the value. Much of the increased farm income was concentrated geographically, as California led the nation with 9 of the 10 top counties for value of sales.
With the exception of legendary investor Jim Rogers and a few others, Wall Street has been relatively quiet about the agriculture business — a good sign for contrarian investors. Rogers has been bullish on agriculture in recent years and believes it will be one of the most exciting opportunities over the next decade.
Larry Robbins, founder of Glenview Capital Management, announced at the Sohn Investment Conference that Monsanto (NYSE:MON) was a compelling name. "In the real world, we simply cannot solve world hunger on an organic basis. Of the options that are not utopian, we think by far the best options are GMOs and they are here to stay."
Investing in a single stock can be extremely risky. For example, Whole Foods Market (NASDAQ:WFM) outperformed the broad market over the past five years, but is currently down about 40 percent from its all time high made in October. Nonetheless, investors can gain exposure to agricultural through the Market Vectors Agribusiness ETF (MOO). The fund holds names such as Monsanto, Deere (NYSE:DE), Archer-Daniels-Midland (NYSE:ADM), Tyson Foods (NYSE:TSN), Tractor Supply (NYSE:TSCO), and many more. Shares have been ranged bound between $45 and $57 since 2011, but remain an attractive way to invest in agricultural.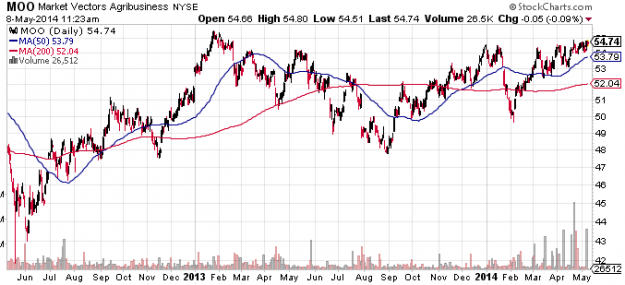 More From Wall St. Cheat Sheet:
Follow Eric on Twitter @Mr_Eric_WSCS