Where Does Talking About Impeachment Get Us?
"This isn't about this lawsuit. You don't sue somebody unless you want to prove that they are wrong. This is about the road to impeachment," said House or Representatives Minority Leader Nancy Pelosi in remarks to the press on Wednesday. Pelosi is, of course, referring to Majority Leader John Boehner's (R-Ohio) efforts to sue President Barack Obama.
Boehner, and the majority of Republican lawmakers who stand behind his lawsuit, argue that Obama has overstepped the boundaries of his political power with his use of executive orders. Party members on the left insist it's a political move with the goal or targeting Obama for impeachment, and a waste of legislative time and tax payers money. Members of the GOP insist its a legitimate and important consideration, not a political play.
In a GOP leadership press conference, Boehner claimed the discussion of impeachment is more Democrats' doing than Republicans, saying its an attempt from the left to exaggerate the GOP's stance and pull in greater funding and voter turnout during the election.
"It's all a scam started by Democrats at the White House. This whole talk about impeachment is coming from the president's own staff and coming from Democrats on Capitol Hill. Why? Because they're trying to rally their own people to give money and show up in this year's elections," he said, according to The Hill. "We have no plans to impeach the president. We have no future plans."
Five Thirty Eight has recently suggested that Boehner may actually be right. Using Lexis-Nexis to search for network transcripts with a keyword filter for "impeach" and "impeachment" — which arguably is a bit limited in terms of the many different ways impeachment could be discussed — and what it found was that left leaning networks seemed to have far more focus on the issue than right. MSNBC showed 448 mentions of impeachment to Fox News' 95. Five Thirty Eight conveniently plotted the two, shown below: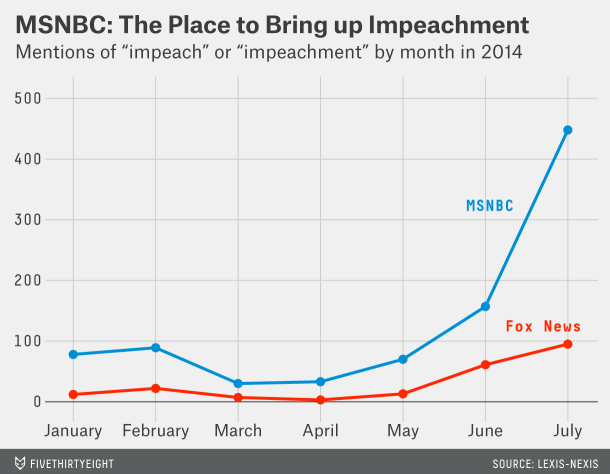 Nate Silver points out that in 2006 when some members of the Democratic party were vying for President George W. Bush's impeachment at the time, Republicans made similar focus of it, with Fox News making 374 mentions and MSNBC making 206.
"This is about the legislative branch that's being disadvantaged by the executive branch, and its not about executive actions; every president does executive orders, most of them though, do them within the law," said Boehner at an earlier press conference.
Palosi points out that one distinct difference lies in that fact that she drew a line in the sand on impeachment. "If it is not [about impeachment], the Speaker can say one simple sentence: Impeachment is off the table. That's what I had to say in 2007. That's what Speaker Boehner should be saying now." Notably, while he's clear the GOP isn't aiming for impeachment as its main goal, he dodges around impeachment discussion. This is probably partly because of support from so many on the far right for impeachment, especially within the Tea Party.
Back in 2008, Pelosi defended her position against those in her party, such as Representative Dennis Kucinich (D-Ohio), who were working to see Bush impeached. She explained that she viewed impeachment efforts as a divisive effort during a time when progress in Congress on a great many number of issues and agendas was important, and when national unity was of greater significance than impeachment. "We have to create jobs, expand healthcare, protect the American people and educate our children. And you can't do that if you're trying to impeach the President at the same time, unless you have the goods that this president committed crimes," she said on ABC's The View.
Looking back on how impeachment efforts effected congressional elections back during Bill Clinton's time as president, Pelosi's stance and Boehner's reticence makes some sense. At the time, House elections were considered in the bag for Republicans, but by the end of election day five seats had been lost, and a number of others had been far closer than expected. CNN reports that at the time Newt Gingrich was quoted as saying "Well, we all misjudged this one."
This time around, House Republicans aren't likely to loose the House, and may very well gain the Senate, impeachment talks or no. However, it would be an ironic turn of events should Boehner's failure to rule out impeachment aid Democrats in their struggle to maintain Democratic control of the Senate, inadvertently handing them a weapon in mass emails as Five Thirty Eight suggests, giving the example of one such email that reads "BREAKING: IMPEACHMENT" in the subject line. Currently, today's outlook on the election from The Washington Post still gives Republicans an 82 percent chance of taking the Senate.
More From Politics Cheat Sheet:
Follow Anthea Mitchell on Twitter @AntheaWSCS